Andrew Yang took to Twitter on Tuesday to condemn a cartoon The Daily News published on Monday depicting him as a tourist as "racist."
Yang, a current New York City mayoral candidate, has recently drawn fire for saying in an interview that the Times Square stop is his favorite NYC subway station. This has added fuel to mayoral opponents' arguments that Yang is like a tourist to NYC and not a "real New Yorker."
"Yesterday, A Daily News cartoon was published that depicted me – or a racialized caricature clearly intended to be me – as a tourist in Times Square...I've seen images like this before," Yang wrote.
"Images of Asians having beady, slanted eyes and buck teeth. It's grounded in a history of casting immigrants and children of immigrants as perpetual foreigners or even subhuman - a stereotype which has been used to divide and exclude people for hundreds of years," he continued.
Yang's statement went on to address a possible anti-Asian hate crime that recently occurred in the city.
"To paint me in the media as a perpetual foreigner to this city is wrong and subtly approves racism at a time when people are being beaten on on the street on the basis of who they are. Every time you say that I'm not a real New Yorker, you're telling another Asian American that they don't belong...all new Yorkers belong," he wrote.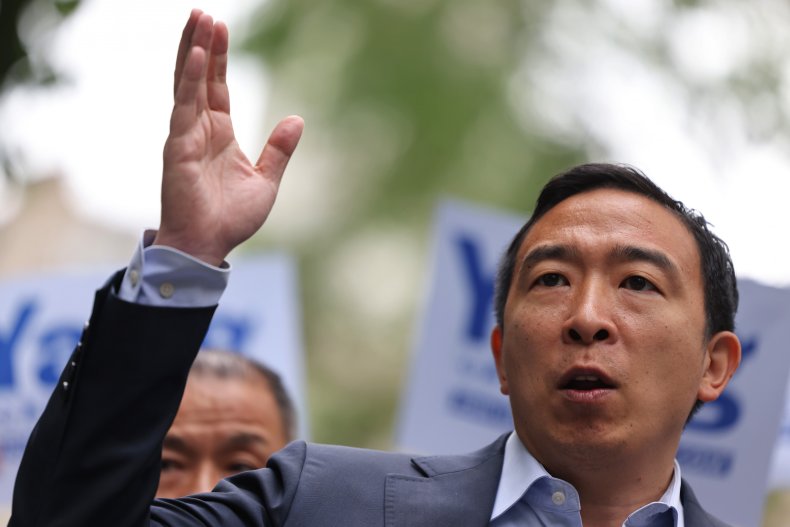 After the original cartoon by artist Bill Bramhall was published in the Daily News print edition, negative reactions to what Yang's wife Evelyn called the "overtly beady, slanted eyes" prompted editors to make minor changes to the online edition of the cartoon after the fact. The eyes appear rounder and less slanted in the edited version.
Josh Greenman, the editorial page editor for The Daily News said, "After Bill tweeted his cartoon yesterday, people reacted badly to how Yang's eyes were drawn...Bill altered the drawing out of sensitivity to those concerns, without changing the concept of the cartoon, which he and we stand by."
Hazel Dukes, president of the NAACP's New York State Conference also pushed back against Yang's claims of "racism" saying, "He didn't do his homework — maybe that's what they're talking about. He has not been able to answer some very pertinent questions about life in the City of New York...I would not say we should label that as racism."
The Asian American and Pacific Islander Victory Alliance said in a tweet about the cartoon on Monday, "This is disgusting and wrong. Every single day Asian Americans have to fight the notion that we are foreigners. We are here and we're not going anywhere. That's why AAPI representation like @andrewyang is so important. Do better @NYDailyNews."