Andrew Yang Sues Over New York's Cancellation of Democratic Primary
Former presidential candidate Andrew Yang is suing the New York State Board of Elections over their decision to cancel the Democratic presidential primary.
The lawsuit, filed on Monday, argues that Yang should be kept on the ballot as he has met all the requirements and did not ask to be removed. Yang and seven other New Yorkers who filed to serve the former candidate as delegates to the Democratic National Convention (DNC) are the plaintiffs of the suit, as well as Jonathan Herzog, a longshot contender running against Democratic New York Congressman Jerry Nadler.
Yang's removal "denies voters due process and denies voters the right to vote, and therefore must be invalidated removing the authority for the Defendant to take the actions complained of herein," they wrote in the suit, first reported by Politico.
The lawsuit comes after the New York State Board of Elections became the first state to cancel its primary to mitigate the spread of coronavirus amid the pandemic. Douglas Kellner, one of the Democratic commissioners on the board, told CNN that the vote to remove candidates from the ballot came after Senator Bernie Sanders suspended his bid for the presidency, leaving former Vice President Joe Biden as the presumptive Democratic nominee. The vote resulted in the primary cancelation.
Yang criticized New York's presidential primary cancelation in the lawsuit. It would be "suppressing voter turnout as voters will have less incentive to vote if they cannot cast a vote for the highest office in the land, and thereby negatively impact challenger candidates," he wrote.
Newsweek reached out to Yang's team for comment. This story will be updated with any response.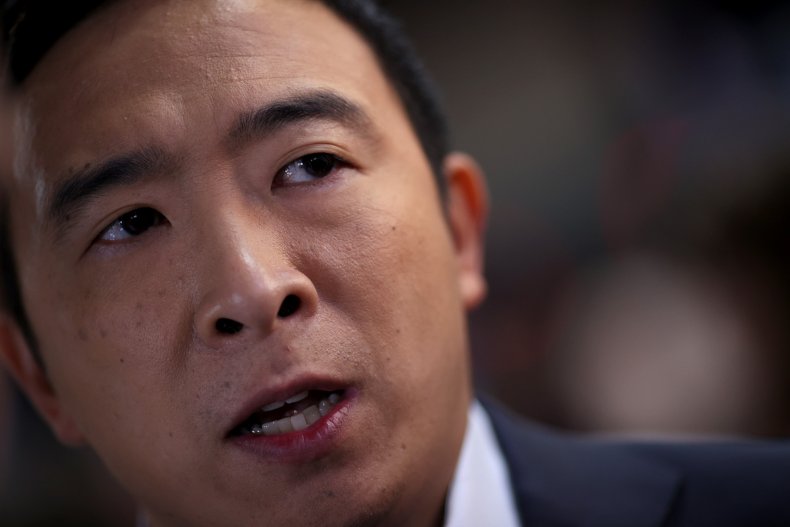 Sanders' campaign has also condemned the decision and called for it to be overturned.
"The decision by the State of New York Board of Elections is an outrage, a blow to American democracy, and must be overturned by the (Democratic National Committee)," Sanders campaign adviser Jeff Weaver said in a statement. "Just last week Vice President Biden warned the American people that President Trump could use the current crisis as an excuse to postpone the November election. Well, he now has a precedent thanks to New York state."
In a statement to CNN, DNC Spokesperson David Bergstein said "any substantive changes" will need to be "reviewed by the DNC's Rules and By-Laws Committee."
"Once the state party submits an updated delegate selection plan, the committee will review that plan and make a determination," he added.
New York Governor Andrew Cuomo on Monday urged citizens not to "second guess" the board's decision. "I know there are a lot of election employees, employees of boards of elections who are nervous about conducting elections," the governor said. "But I'll leave it up to the board of elections."