Andrew Yang Teeters, Eric Adams Leads in Polls With One Day to New York's Mayoral Primary
With one day until New York's mayoral Democratic primary, Andrew Yang has fallen behind as the top choice while Brooklyn Borough President Eric Adams remains the leader in several polls.
A recent poll conducted by Ipsos found Adams edging out Yang in the final round of a ranked-choice voting simulation.
According to the survey, 28 percent named Adams as their initial first choice for mayor, while 20 percent named Yang and 15 percent chose former Sanitation Commissioner Kathryn Garcia. In the seventh round in the ranked-choice simulation, the poll found Adams winning the race over Yang by 12 points (56 to 44 percent).
This poll surveyed 2,924 New York City residents from June 10 to 17, with a margin of error of plus or minus 2.8 percentage points.
Ranked choice allows voters to choose their preferred candidates in ranked order. The first candidate in the mayoral race to reach the 50 percent of votes threshold will be declared the winner.
In response to the Ipsos poll, Yang's campaign directed Newsweek to a tweet from Chris Coffey, a member of Yang's campaign, that said, "Don't sleep on this campaign. Most donors of any campaign in nyc mayoral history. Late breaking momentum."
A poll conducted by the New York Post and McLaughlin & Associates found Adams as voters' top choice in ranked order. Yang dropped to fourth place, trailing behind Garcia and Maya Wiley, a former counsel to Mayor Bill de Blasio.
According to the poll, 21.3 percent named Adams as their first choice for mayor, 16.5 percent named Wiley, 16.2 percent chose Garcia, and 9.6 percent said Yang. The poll also found Garcia leading as voters' second choice, with 12.4 percent.
When the poll combined voters' first and second choices for mayor, Adams led all the others, with 32.7 percent. Garcia came in second with 28.6 percent, followed by Wiley with 28 percent and Yang with 18.8 percent.
The Post poll surveyed 1,000 likely Democratic voters between June 10 and 15, with a margin of error of plus or minus 3.1 percentage points.
Another poll, previously conducted by Change Research, found slightly different results, with Adams leading the race as voters' first choice for mayor but falling behind Garcia in the final round of the ranked-choice simulation.
According to the poll, 23 percent named Adams as their first choice for mayor, while Garcia and Wiley both received 19 percent and 12 percent chose Yang. The poll found Garcia winning the race in the 11th round after receiving 51 percent of votes, compared with Adams' 49 percent.
"Garcia earns 51% of the vote in the ranked choice vote simulation thanks to her strong second- and third-choice rankings among those who rank Wiley, Yang, or Stringer first," the poll said.
Change Research surveyed 822 likely Democratic primary voters from June 11 to 14 and reported a margin of error of plus or minus 3.6 percentage points.
As the candidates have campaigned over the past few weeks before Election Day on Tuesday, Yang's campaign announced this weekend that he would campaign with Garcia. Yang and Garcia both said that they could benefit from each other's supporters under the ranked-choice system.
"Rank me No. 1 and then rank Kathryn Garcia No. 2," Yang said during a recent press conference.
Garcia made similar comments as the two campaigned together, saying, "You don't have to pick between Andrew Yang or Kathryn Garcia.... You can vote for both of us."
Adams criticized the two candidates' decision. "For them to come together like they are doing in the last three days, they're saying we can't trust a person of color to be the mayor of the city of New York when this city is overwhelmingly people of color," he said according to The New York Times.
In response to Adams' comments, Yang said, "I would tell Eric Adams that I've been Asian my entire life."
According to the New York City Board of Elections, 91,197 voters had submitted early voting ballots as of Sunday.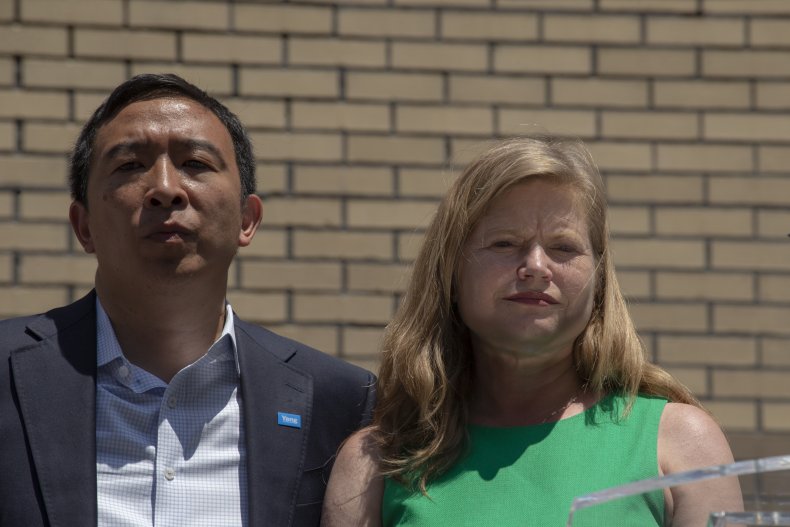 Newsweek reached out to the Adams and Garcia campaigns for comment but did not receive a response in time for publication.