Andrew Yang Tells MSNBC'S Chris Hayes That He'd 'Never Do Anything to Increase the Chances' of Trump's Reelection
After a boycott of MSNBC that lasted more than a month, 2020 Democratic presidential candidate and entrepreneur Andrew Yang told host Chris Hayes that he "would certainly never do anything to increase the chances of Donald Trump becoming president again."
Yang appeared on the network Friday night as a guest on All in with Chris Hayes for a short interview segment near the end of the show.
After mentioning that Yang had been instrumental in bringing new blood and revitalized interest into the political arena, Hayes asked the candidate what he felt his role was within the Democratic party.
"To me, the Democratic party needs to try and dig deeper and figure out how we're going to solve the problems that got Donald Trump elected," Yang said. "I've been a loyal Democrat for years. I'm just trying to provide new energy and new ideas to the Democratic party to help us all move forward in the 21st century. I would certainly never do anything to increase the chances of Donald Trump becoming president again or staying president. And I'm thrilled that I'm bringing Independents, Libertarians and disaffected Trump voters into the fold. That's how we're going to grow the Democratic party and that's how we're going to beat Donald Trump in 2020."
Host Hayes asked him to clarify some questions he had about Yang's healthcare plan.
"The first ad that your campaign was with your wife and you talk about your son and she says you would fight for Medicare for All," Hayes said. "You recently put out some language on your website where you said you support the 'spirit' of Medicare for All, which leaves me slightly confused about what you would actually programmatically want to see happen."
"What Medicare for All means to many Americans is universal health care," Yang replied. "That's high quality and low to zero cost. That is exactly what I'm championing."
Yang went on to explain that he would not get rid of all private insurance plans immediately because many Americans who are currently enrolled in those plans are satisfied with them.
"The goal of the government has to be that we can outcompete the private insurance plans and squeeze them out of the market over time," Yang said.
Yang acknowledged the similarity of his healthcare plan to the ones suggested by former Vice President Joe Biden and South Bend, Indiana Mayor Pete Buttigieg.
"Our plan has lower minimal costs for many Americans and then copays just so that you have a little bit of skin in the game."
Yang addressed his universal basic income plan by clarifying that it is an opt-in plan. Those who chose to enroll would forego some cash or government benefits.
"The last thing I would ever do is take something away from Americans or leave someone worse off," Yang said.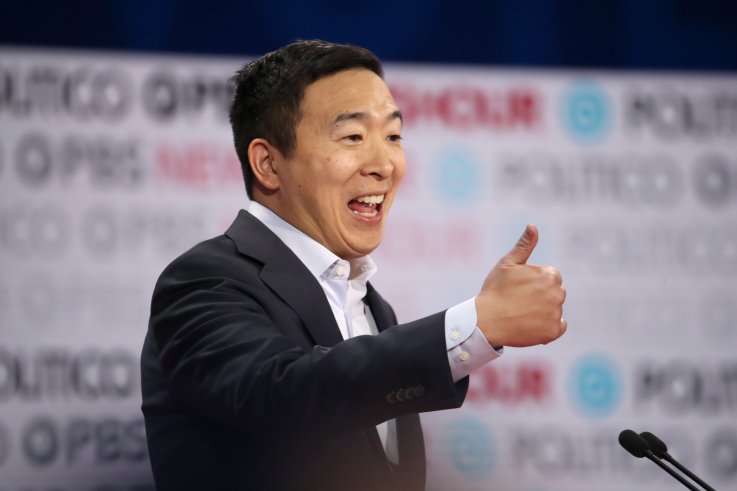 Yang said 30 percent of Americans that are eligible for the Earned Income Tax credit don't receive it because "they don't understand how to file for it and there are massive timing-of-payment issues."
"If your car breaks down now and I tell you you're going to get a tax refund next spring," Yang continued, "it doesn't help you get to work."
"We have to build a foundation or a floor that elevates us all and starts to move us forward in the 21st century because we're going through the greatest economic transformation in our country's history right now."
Yang had previously complained publicly of MSNBC's apparent mishandling of his presidential campaign.
"They've omitted me from their graphics 12+ times, called me John Yang on air, and given me a fraction of the speaking time over 2 debates despite my polling higher than other candidates on stage," Yang tweeted in November. "At some point you have to call it."
Yang capitulated after journalists from the network contacted him. "I decided that I'd prefer to speak to as many Americans as possible - our message is too important," Yang tweeted Friday.
As previously reported by Newsweek, a recent poll found Yang edging ahead of South Bend, Indiana mayor Pete Buttigieg to become the candidate with the fourth highest net favorability ranking. Polling by Morning Consult put Yang at 34 percent, only one point ahead of Buttigieg.
Andrew Yang Tells MSNBC'S Chris Hayes That He'd 'Never Do Anything to Increase the Chances' of Trump's Reelection | Politics