Andrew Yang Tests Positive for COVID-19, Says He's Experiencing 'Mild Symptoms'
Andrew Yang announced on Tuesday that he has tested positive for COVID-19 and is experiencing "mild symptoms."
"After testing negative as recently as this weekend, today I took a COVID rapid test and received a positive result. I am experiencing mild symptoms, but am otherwise feeling well and in good spirits. I will quarantine in accordance with public health guidelines and follow the advice of my doctor," said Yang, who recently announced he is running for New York City mayor, in a statement.
"During this time, I will continue to attend as many virtual events as possible, in addition to working with our incredible campaign team to continue our mission of getting New York City back on its feet. When the time is right, I look forward to once again hitting the campaign trail and advancing a positive vision for our city's future," the statement said.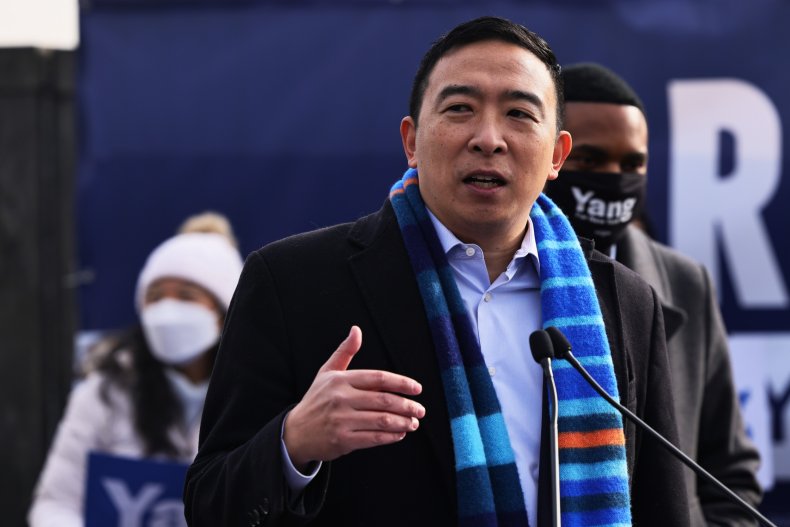 Yang's statement noted that his campaign team "has begun the contact tracing process to notify anyone who may have been in close contact with me."
The former Democratic presidential candidate also announced his positive test on Twitter, and noted that his wife Evelyn has him "very well-contained and cared for."
The announcement by Yang comes less than a month after he announced that he was quarantining after one of his campaign staff members tested positive for the novel coronavirus, which has infected more than 26 million Americans.
"The most recent event the campaign staffer attended was an outdoor event on Sunday. In keeping with New York State guidelines, Andrew will conduct all campaign activities remotely for the next eight days," his campaign team wrote in a statement on January 19. "He will not resume in-person events until he receives a negative PCR test after that period."
Last month, Yang announced that he will run for mayor of New York City.
"I'm running for mayor for a very simple reason—our city is in crisis and I believe I can help," Yang wrote in a statement on January 14. "As Mayor, I will launch the largest basic income program in the history of the country, right here in New York City. We will lift hundreds of thousands of New Yorkers out of deep poverty, putting cash relief directly into the hands of those who desperately need help now."
Yang, a native New Yorker and son of Taiwanese immigrants, would become New York City's first Asian-American mayor, if elected.
Newsweek was directed to the statement issued by Yang after reaching out to his campaign for comment.