Andrew Yang Trails Eric Adams by 3 Points in New NYC Mayoral Poll
Brooklyn Borough President Eric Adams currently leads Andrew Yang by three points in the New York City mayoral Democratic primary election race, according to a new poll.
Conducted by Change Research, the study found 19 percent of New Yorkers supporting Adams, while 16 percent sided with Yang.
In an email to Newsweek, Adams' campaign manager, Evan Thies, wrote, "Clearly Eric Adams has the momentum in this race, driven by everyday New Yorkers who agree Eric can deliver a safer, fairer, more prosperous city for all."
Following behind the two, the poll found City Comptroller Scott Stringer receiving 9 percent of support, while Maya Wiley, former counsel to current Mayor Bill de Blasio, and former New York City Sanitation Commissioner Kathryn Garcia both received 7 percent.
About 22 percent of respondents said they are currently undecided.
Among different racial demographics, the poll found Adams receiving the most support from African-American voters, with 41 percent. On the other hand, 34 percent of Asian-Americans said they plan to vote for Yang, making him the first choice for this group of New Yorkers.
Adams also ranked in the top four across all other racial and ethnic groups while Yang ranked in either first or second place across the same groups.
Newsweek reached out to Yang for comment, but did not receive a response in time for publication.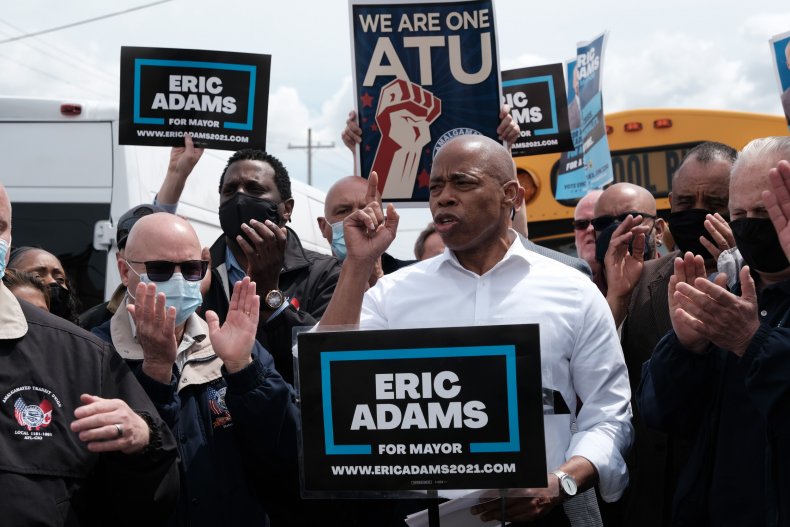 Change Research surveyed 1,422 likely Democratic primary voters in New York from May 6 to May 12. The poll reported a margin of error of plus or minus 2.6 percentage points.
Since announcing his bid for New York City mayor in January, Yang has remained a top choice in polls, but it is not the first time he has trailed Adams via this latest survey.
In a different study from earlier this month, Adams led the field of mayoral candidates, unseating Yang as the top choice for the first time. This poll, which was conducted by GQR and obtained by Politico, found 21 percent of respondents siding with Adams, while 18 percent said they support Yang.
The most recent poll's findings come shortly after Yang faced backlash after issuing a statement throwing his support for Israel and condemning the Palestinian militant group known as Hamas amid escalating tensions between the two.
"I'm standing with the people of Israel who are coming under bombardment attacks, and condemn the Hamas terrorists. The people of NYC will always stand with our brothers and sisters in Israel who face down terrorism and persevere," Yang wrote in a tweet on May 10.
Shortly after his tweet, Yang was criticized by many, including New York Representative Alexandria Ocasio-Cortez, who called his comments "utterly shameful."
Yang then issued a new statement on Wednesday, backtracking on his previous comments.
"I spoke to a group of volunteers for the campaign yesterday, some of whom have been with me for years. Many of them were upset with my recent tweet expressing solidarity with the people of Israel in conjunction with the violence in the region this week that has claimed the lives of innocents and children on both sides," Yang said.
"They felt that my tweet was overly simplistic in my treatment of a conflict that has a long and complex history full of tragedies," he continued. "And they felt it failed to acknowledge the pain and suffering on both sides. They were, of course, correct."
Updated May 14, 2021, 10:42 a.m. ET, to include a statement from a spokesperson for the Adams' campaign.