Andrew Yang Excites Young NYC Crowd by Sidestepping Trump and Talking His 'Humanity First' 2020 Plan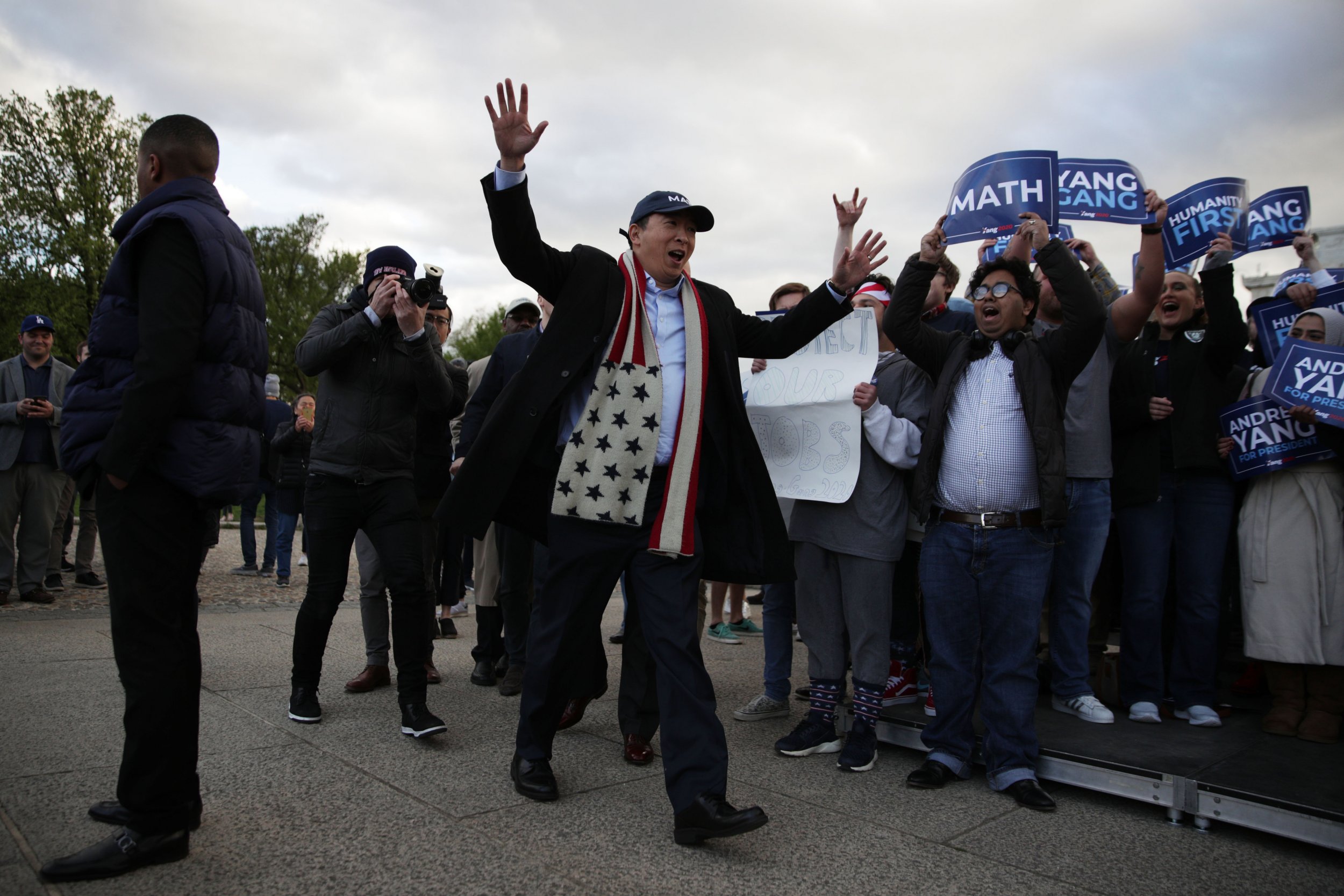 Donning an American flag scarf, a "MATH" baseball cap and armed with rally signs stating, "Yang Gang" and "Humanity First," 2020 Democratic candidate Andrew Yang stepped up on a stage under Washington Square Arch in New York City on Tuesday night for what he had hoped would be his largest campaign rally yet.
"Most of you know I am not a career politician. Yeah some of you like that," Yang, 44, said drawing some cheers from the relatively young crowd.
"I'm an entrepreneur, I'm a problem solver and I'm here with you all to solve the biggest problem that faces our country, the problem that's caused a lot of confusion over the last two-plus years," Yang continued. "And the problem is this: How the heck did Donald Trump become president in 2016?"
As the New York native continued his speech, it became clear that his platform doesn't revolve solely around attacking President Trump. Yang's "Humanity First" slogan is about fighting automation technology like artificial intelligence, which he claims could soon eliminate one-third of American jobs.
Yang has devised a "universal basic income" proposal that would hand all American citizens over 18 years of age $1,000 per month, which he argues would both combat job loss to robots and stimulate the economy.
"I looked at the numbers," Yang said, a line that drew cheers every time. The crowd also erupted when he said "challenge f***ing accepted" regarding running for president, and referenced himself as "the Asian man standing next to Joe Biden" in the Democratic debate he has now qualified for.
Asked by Newsweek after the rally how he would debate Trump, Yang avoided personal attacks and addressed policy concerns.
"I would debate Donald Trump by focusing on the problems on the ground that are experienced by Americans every day," Yang said. "When I've talked to Trump voters around the country, they've said that they're disappointed in what they've gotten from the administration. They feel like a lot of it was bluster and hot air."
Yang promised, "I'm going to be offering real solutions" and that "Americans will immediately see the difference and that's how we're going to win in 2020."
His rally in New York City received 5,000 RSVP's and over half of them showed up on the rainy evening, Yang's press secretary Randy Jones told Newsweek. Attendance did not surpass that of a rally in Seattle, which had more than 4,000 supporters.
But on the ground, it seemed Yang touched some attendees in the way he intended.
Peter Chow, 31, who works in the tech industry, said he's "not super into politics" but was intrigued to check out Yang's rally with his friend, who came dressed in a robot costume.
Chow said he didn't know how much of Yang's message was applicable to New Yorkers but that it seemed like an important one for people in the Midwest or rust belt. While he wasn't ready to identify himself as part of the Yang Gang, Chow said that he agreed with a lot of Yang's ideas and "he's pushing in the right direction."
"It's hard to say if that's enough to make him a presidential candidate," Chow said. "But I think he has a lot of good ideas for whomever is the presidential candidate on either side—Democratic or Republican. They should rea​​lly give him a thought to be some kind of adviser."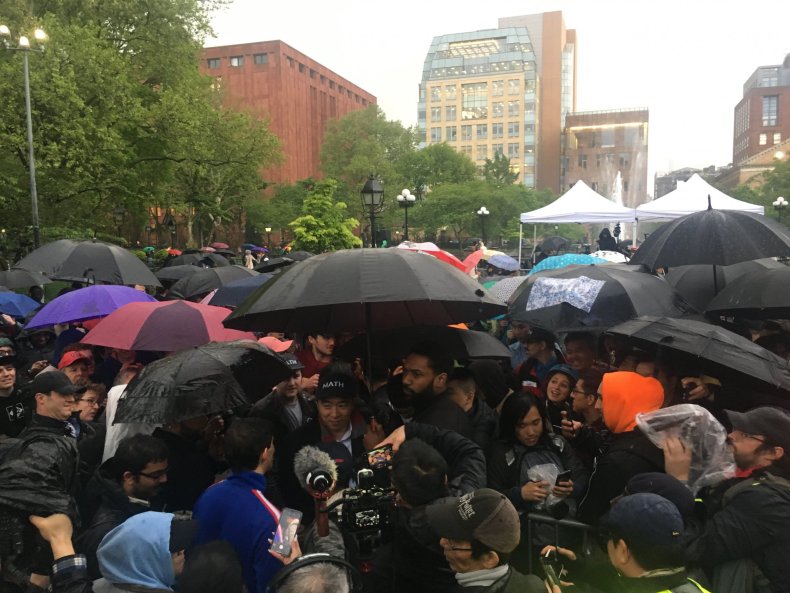 New Jersey resident Rafael Flores, 27, came across Yang while looking up Democratic candidates and, after seeing a past rally on YouTube, decided to join in person.
"He's one of the few candidates that had written policies of what he wanted to do," Flores said, adding that one of the main reasons he attended was because he works scheduling shifts for truck drivers.
"Until another Democrat can come up with as many policies in detail," Flores said, "I'll probably be sticking with him."
Yang who said he has raised more than $3 million and has been polling at 3 percent nationally, although an average of recent polls shows him at around 1 percent. The founder of the nonprofit Venture for America, which helps entrepreneurs create jobs in cities, Yang is proud of FiveThirtyEight founder Nate Silver's read in March that "we can no longer say with confidence that he is any more of a long shot than several other candidates."