Andrew Yang: Universal Basic Income 'Inevitable,' Lauds $1K Payments as Best Part of Campaign
Andrew Yang may not have won the presidential election, but he credits his campaign with moving the country towards the "inevitable" implementation of a universal basic income program in the United States.
Yang has become synonymous with universal basic income and initially sought to focus his presidential campaign around the concept, not himself. Once a fringe theory, the possibility of the government sending monthly payments to Americans has gained traction, especially among young people, and was a main attractor of people to Yang's campaign.
"Most people agree that we succeed in putting universal basic income, once considered a quixotic idea, onto the national political radar," Yang wrote in his new book, Forward. "By raising the profile of universal basic income and focusing on issues like automation, we had accelerated the end of poverty in our society years, perhaps even generations."
In August 2020, a Pew Research poll found only a slim majority of American adults oppose a nationwide universal basic income program. However, a majority of young people, aged 18-29, would support a UBI program that issued $1,000 monthly payments to every citizen, as did the majority of Black and Hispanic people, polled.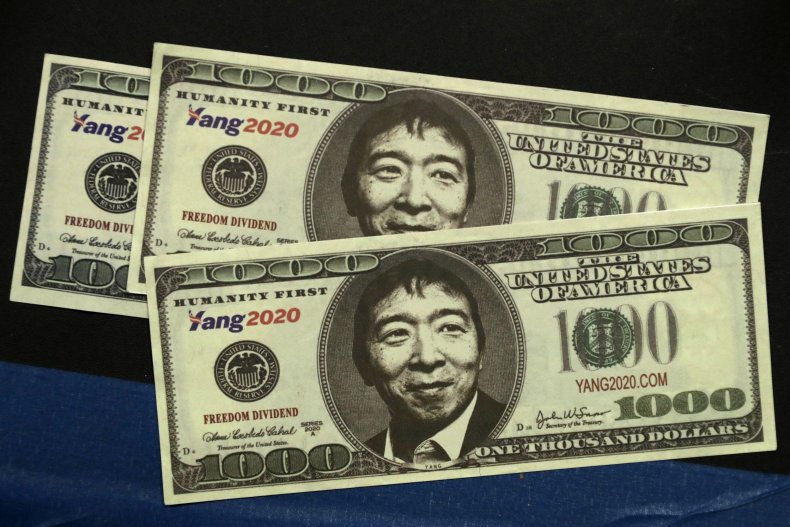 People got a small taste of what a universal basic income program would be during the pandemic in the form of stimulus checks. While not nearly as routine as a UBI program would be, the issuance of the payments boosted the appeal of guaranteed monthly payments among Americans. It sparked conversations about a nationwide program and in July, Representative Ilhan Omar introduced a bill to make UBI a reality in America.
UBI hasn't garnered the congressional support needed to become a mainstay in Americans' way of life, but Yang believes it will one day. After discovering universal basic income, Yang wrote in his book that it struck him as "inevitable" that America would adopt the program "eventually."
While self-described Democrats back universal basic income at relatively the same level regardless of what it's called, Yang learned through his campaign that the name is vital to getting Republicans on board. When a polling firm tested the appeal of different names for the program, including "Social Security for all," and "prosperity dividend," the name that appealed to self-described conservatives at the same level as Democrats was "freedom dividend."
Still, the name was only appealing to about 30 percent of self-described conservatives, so Yang faced an uphill battle.
In an attempt to convince people about the benefits of UBI, Yang tried to show voters the impact it would have. His campaign gave away $1,000 a month to several families, totaling $120,000. It was criticized for being a ploy to bribe voters into supporting Yang and some questioned if it was even legal, but the entrepreneur stood by the decision.
"[It] was one of the best things we did on the campaign," Yang wrote in his book, adding that a nationwide Universal Basic Income program would be the "largest, most fundamental shift in modern history, and one that would finally unlock the potential of the American people."