Andrew Yang: What Can Trump 'Beat Me at, Being a Slob?'
2020 Democratic presidential candidate and entrepreneur Andrew Yang slammed Donald Trump during his trip to Iowa this past weekend by challenging the president to "any physical or mental feat under the sun."
"I mean, gosh, what could that guy beat me at, being a slob?" Yang said during a gun violence panel at the Iowa State Fair. "Like, what could Donald Trump possibly be better than me at? An eating contest?"
"Like something that involved trying to keep something on the ground and having really large body mass? Like, if there was a hot-air balloon that was rising and you needed to try and keep it on the ground, he would be better than me at that," Yang continued. "Because he is so fat."
The president "might be able to beat me at golf, though I'm told he cheats a lot, so who knows what his true golf ability is," the presidential candidate, who recently qualified for the Houston Democratic debate in September, added.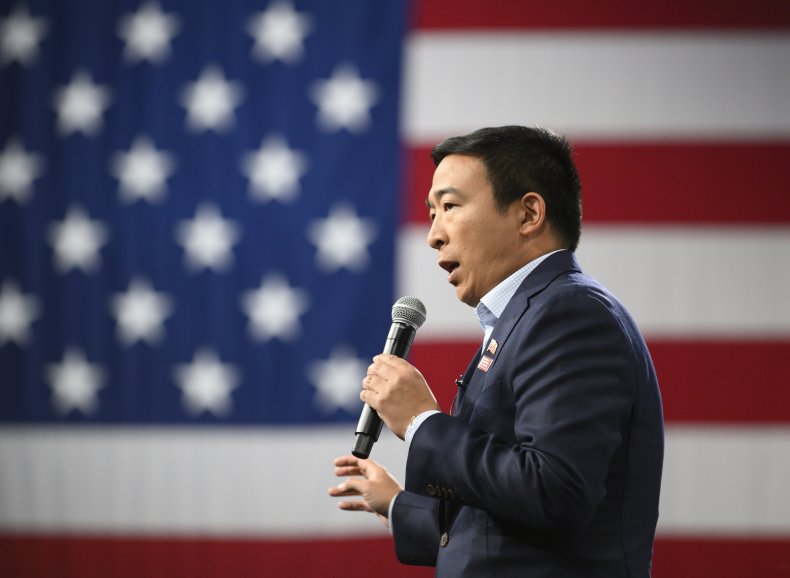 Trump, whose business empire owns several golf clubs across the U.S., has repeatedly been accused of cheating at golf. American sports writer Rick Reilly wrote a book published in April titled "Commander in Cheat: How Golf Explains Trump" that explores the president's alleged history of cheating while playing against friends.
Yang's remarks came shortly after he shed some tears for a mother who spoke about her child being shot. The candidate appeared to have been angered by her story, before then lashing out at Trump.
"No one wants a president who doesn't seem like they can run a mile," Yang said. "I don't think Donald Trump could run a mile... what does he weigh? Like 280? I say he like passes out at like the quarter-mile mark."
Rebecca Alexander, plus-size activist and founder of the AllGo app, on Thursday condemned Yang's critique of the president. He "should focus on Trump's inhumane policies and unprecedented corruption," Alexander told Newsweek. "Poking fun at Trump's weight is a distraction from how monumentally serious the 2020 election is."
"Any Democrat who hopes to beat Trump in 2020 will need the support of at least some of the 100 million people in the U.S. who are plus size," she added. "Using fatness as a punching line is not an effective way to get the support of these voters."
The presidential candidate's signature universal basic income policy promises $1,000 per month to adults. Yang has previously highlighted the stark differences between him and the president on numerous occasions. I'm "an Asian man who likes maths," he once said.
Yang isn't the first 2020 Democrat to challenge Trump to a physical activity. Last month, former Vice President Joe Biden suggested he would challenge the president to a push-up contest if he continued to dig on his age and mental health.
"I'd say, 'C'mon Donald, c'mon man. How many push-ups do you want to do here, pal?'" Biden said on MSNBC. "I mean, jokingly. C'mon, run with me, man."
In February, Trump completed his latest physical examination at the Walter Reed military hospital. The president is in "very good health overall," according to the results.
Watch Yang's speech below:
This article has been updated to include comment from Rebecca Alexander.