Andrew Yang Won't Rule Out Being Vice President to Another Democratic Candidate
Entrepreneur Andrew Yang doesn't plan on giving up his run for president anytime soon, but if things don't work out in his favor, he would accept the position of vice president.
"I just want to help make the country a better place for my kids," Yang told MSNBC's Stephanie Ruhle on Wednesday.
After he failed to meet the polling threshold, Yang was kept off Tuesday's Democratic debate stage and thought candidates should have focused more on a positive vision for America's future. Although he was forced to watch the first debate of 2020 from the sidelines, he told Ruhle that resources from his supporters, known as the "Yang Gang," would carry him through the primary season.
"We're gonna be here the entire way all the way to the White House," Yang explained.
While Yang has exceeded expectations in a crowded Democratic field, The New York Timesreported national polling averages don't put him as a top contender for the nomination. Regardless of whether he's selected as the Democratic nominee for president, his desire to help the country will remain intact.
"I've said already that I want to help solve these problems as president, but the problems are gonna be here anyway," Yang said. "So if it's not as president, as vice president also great, some other capacity, fine too."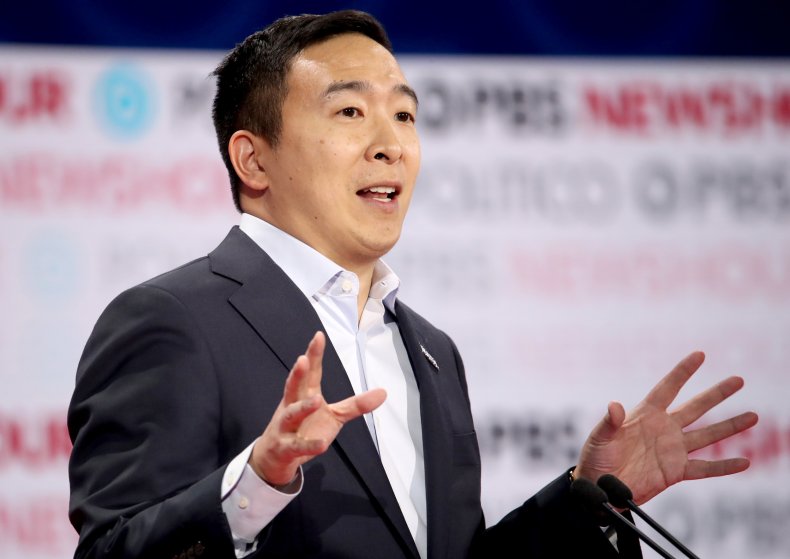 Newsweek reached out to Yang on Twitter but didn't receive a response in time for publication.
Yang didn't elaborate on whether there were specific candidates he would like to be on the ticket with, but earlier in the conversation, he told Ruhle that he and former Vice President Joe Biden see eye-to-eye on the Fourth Industrial Revolution.
A term used to describe a world filled with smart technology and machines that can interact with each other, it's been a key message of Yang's campaign. Similar to its predecessors, the Fourth Industrial Revolution's could also disrupt the labor markets by replacing human workers, and Yang has called for America to prepare so people aren't suddenly out of jobs.
"He's genuinely concerned, he sees the same problems," Yang said of Biden.
Yang also agreed with Senator Amy Klobuchar, who said on the debate stage that America will have a shortage of plumbers while she was advocating for K–12 education funding. He pointed out that the shortage is already here, showing a need for technical and trade programs at the high school level.
"One of the jokes we told, Stephanie, is that I'm either gonna become president or the other candidates are going to sound a whole lot like me," Yang told Ruhle.