Andrew Yang's Mayoral Plans Include Average $2,000 Yearly Payments to 500,000 New Yorkers
A year after giving up on his White House dreams, Andrew Yang is setting his political sights on the New York City mayoral race, but he's bringing one of his key presidential platforms with him: basic income.
Yang, who dropped out of the presidential race in February, officially announced on Wednesday that he was pursuing the job of New York City mayor. He's been criticized for not living full time in New York City during the pandemic, but Yang's promoting himself as the man to help the city through the current crisis and put it on a positive trajectory for "decades" to come.
Part of Yang's plans for New York City's future is launching the "largest basic income program" in the country. As part of Yang's program, 500,000 New Yorkers with the "greatest need" would receive an average of $2,000 per year.
"Our goal is to end extreme poverty in New York City by putting cash relief directly into the hands of those who desperately need help right now, ensuring that every household has an annual income that is at least above extreme poverty, taking into account the true cost of living in New York City," Yang's campaign website says.
The program will be available to all New Yorkers living in "extreme poverty" regardless of their immigration status or past experience with the criminal justice system. The goal is to start with providing people with an average of $2,000 per year and then allow it to grow over time as funding increases.
A total of $1 billion per year will be invested, according to Yang's campaign website.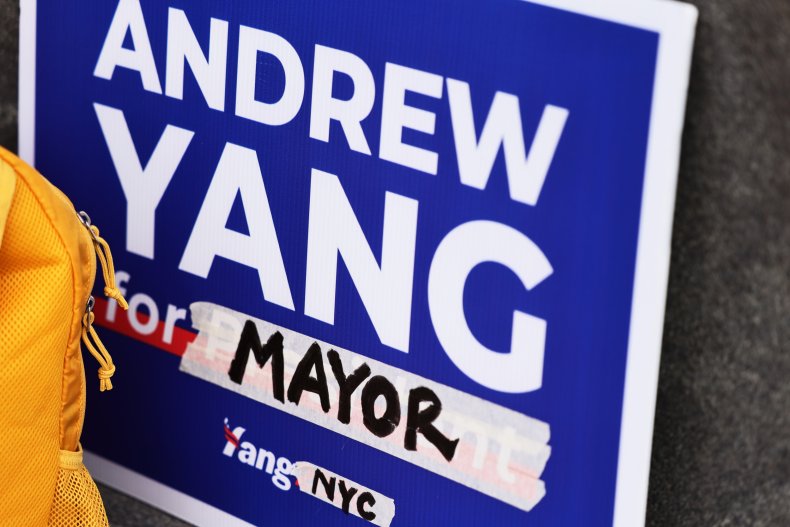 It's not surprising Yang's pushing for a basic income program as a mayoral candidate, as it's a measure he's long supported and included as a staple of his presidential platform. The Freedom Dividend was an expanded version of what he's proposing for New York and would provide all U.S. citizens over the age of 18 with $1,000 per month, "no questions asked."
While the concept of universal basic income is gaining traction, it hasn't infiltrated the mainstream political arena on a large scale, although that may be changing. President-elect Joe Biden reportedly spoke to Yang's nonprofit, Humanity Forward, about recurring checks for Americans in December.
"I don't want to give away too many details, but we have discussed with them our support for direct recurring economic relief," Humanity Forward press secretary Greg Nasif told Business Insider.
Nasif added that the Biden administration is "open to new ideas" but it would be a significant shift for Biden to endorse recurring payments past pandemic relief. In 2018, Biden told Pod Save America during an interview that universal basic income was not the way "America is built."
"Every time someone would lose a job, my dad would say, 'You know, Joey, a job is about a lot more than a paycheck. It's about dignity, it's about respect.' It's about your place in the community. It's about being able to look your kid in the eye and saying, 'Honey, it's going to be OK.' That's what it's about. Dignity," Biden said. "Getting an annual wage, you sit home and do nothing. You strip people of their dignity."
After leaving the race, Yang endorsed Biden and has expressed interest in helping the next president in any way he can. For now though, his sights seem set on the mayoral race and a December poll from Public Policy Polling put him as a favorite. However, that was before he faced the backlash for not living full time in New York City and his one point lead was within the margin of error, so he could be looking at a hard-fought race.