Andrew Yang's Predictions for 2021 Include More Cash Relief and a New Third Party
Andrew Yang, the tech entrepreneur who ran for president in the 2020 Democratic primary, has released his political forecast for the new year.
On Thursday, Yang released three of his predictions for 2021. He anticipates that more cities and states across the country will adopt ranked-choice voting systems, that there will be more cash relief from the federal government and that there will be an emergence of a third political party.
The predictions were explained on an episode of his podcast Yang Speaks, which was hosted by his 2020 campaign manager Zach Graumann and finance director Carly Reilly. Yang was not present for the podcast, but he did post his political projections in a tweet.
Earlier this month, Yang filed paperwork to run for mayor of New York City. But he has yet to officially declare his candidacy for what is expected to be a crowded race to replace outgoing Mayor Bill de Blasio.
Though polling shows Yang, who was born and raised in New York state, would be a top contender. A survey released by Public Policy Polling found Yang at the top of the field even before he filed paperwork. The tech entrepreneur had 17 percent support among likely voters and leading other likely favorites who have held elected office for years such as Brooklyn Borough President Eric Adams and New York City Comptroller Scott Stringer.
Yang made waves in the 2020 Democratic primary for president with his Universal Basic Income (UBI) platform. The policy would involve sending $1,000 a month to all Americans over the age of 18. The no-strings-attached payments would be funded by a tax on companies benefitting from automation.
While his UBI proposal sparked a large following, his presidential bid failed to win over voters and he dropped out of the race after the New Hampshire primary in February. Yang later endorsed President-elect Joe Biden, stating he was "the right man for the job to help us not just defeat Donald Trump, but govern the country in the years ahead."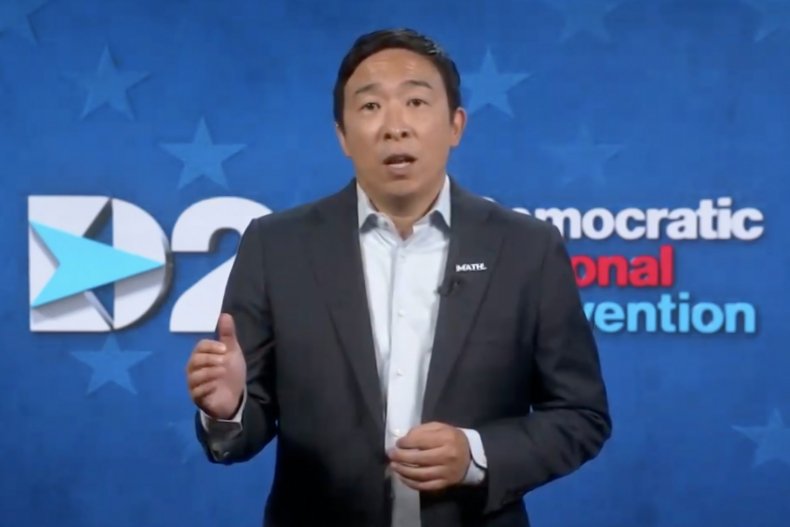 After dropping out of the presidential race, Yang launched the nonprofit Humanity Forward to "champion the main ideas" of his 2020 campaign. The organization has started a trial run of his UBI policy in New York.
Right now, Yang is devoting his efforts to helping Democrats Jon Ossoff and the Reverend Raphael Warnock in Georgia, who are running against Republican incumbents David Perdue and Kelly Loeffler. The two Senate runoffs, which take place on January 5, will determine which party controls the upper chamber in the next Congress.
At a get-out-the-vote event in early December, Yang told Georgians: "My message for people who came out here today is that your vote matters, and here in Georgia your votes on January 5th are of historic weight and so the country has its eyes on you, so please get out and vote. If you vote and make your voices heard, you can help push our country in a better direction."
Newsweek reached out to Yang's team for additional comment but did not receive a response in time for publication.