Italian authorities have seized a superyacht worth $578 million from a Russian billionaire who was sanctioned by the the European Union following Russia's invasion of Ukraine.
Andrey Igorevich Melnichenko's 470-foot Sailing Yacht A—believed to be the world's biggest—has been sequestered at the northern port of Trieste, the Italian prime minister's office said.
Industrialist Melnichenko, who owns the fertilizer producer EuroChem Group and coal company SUEK, is among several prominent Russian oligarchs sanctioned by the EU since the start of the Ukraine War. He is worth around $11 billion according to Forbes.
Italian police said they had over the last week seized villas and yachts worth 143 million euros ($156 million) from five Russians on the sanctions list.
Italian media released footage that reportedly showed Melnichenko's yacht being seized.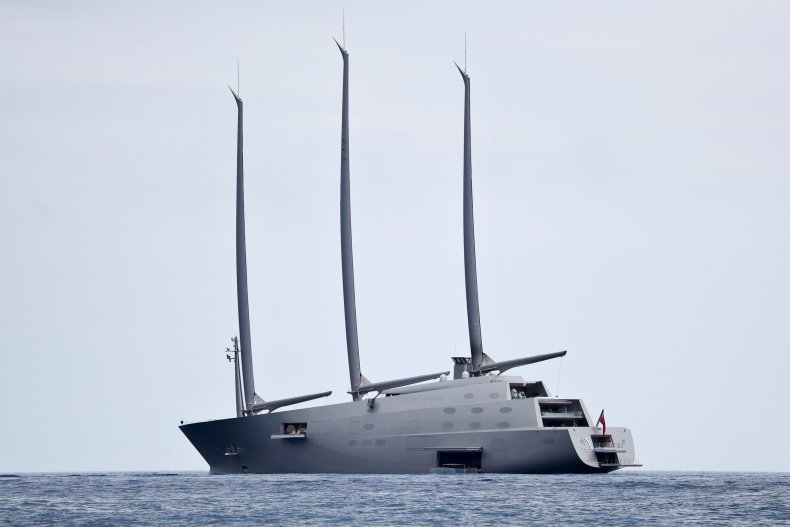 In announcing the sanctions against Melnichenko, the EU council called him "a member of the closest circle of Vladimir Putin" and that he "is supporting or implementing actions or policies which undermine or threaten" Ukraine.
"It also shows that he is one of the leading businesspersons involved in economic sectors providing a substantial source of revenue to the government of Russia, which is responsible for annexation of Crimea and ​destabilization of Ukraine," it added.
The U.S. has also imposed tough sanctions on business elites and the inner circle of President Vladimir Putin, including the Russian president's spokesperson Dmitry Peskov's wife and two adult children.
Also targeted by the U.S. are eight oligarchs and nearly two dozen of their family members and associates whose assets in the U.S. have been frozen.
"The goal is to maximize the impact on Putin," President Joe Biden said last week.
The U.S. Treasury has also blocked a $90m private jet and a yacht owned by businessman Viktor Vekselberg.
The EU, the U.K and the U.S. have all slapped tough sanctions on Russian oligarchs to punish Moscow for its invasion of Ukraine and the symbols of opulent wealth are a target.
Last week, French authorities seized a $120-million super yacht owned by Igor Sechin, the CEO of Russian state-controlled oil giant Rosneft. The yacht, Amore Vero, was moored in La Ciotat in the south of France.
Meanwhile, Roman Abramovich has been disqualified as a director of Chelsea Football Club, the Premier League announced on Saturday.
The U.K. government has frozen Abramovich's British assets, but has granted Chelsea a license until May 31 that will allow the club to continue to train and play its fixtures.