Andy Beshear: Kentucky at 'Record High' Number of COVID Hospitalizations, Ventilator Use
Kentucky Governor Andy Beshear said the state is at a record high number of hospitalizations and ICU patients due to COVID-19 on Monday, calling the spread of the virus "preventable."
In total, 1,893 Kentuckians are hospitalized, 529 are in an intensive care unit, and 301 are on a ventilator with the virus Monday, he said during a press conference. The state reported 2,596 new cases, an increase from 941 cases one month earlier.
"They are sick enough to where they need hospitalization," he said. "Not monitoring, but an actual staff hospital bed."
He said the state reached this point "so much quicker" than at other points in the pandemic and warned that the number of people becoming seriously ill from the virus will continue to grow. he said the state is "getting really close" to every single bed across the state being fully. Between 21 and 25 regional hospitals are at a critical staffing shortage stage, and up to 11 are facing nursing shortages.
Beshear said that given the availability of vaccines and the science proving masks prevent the spread of the virus, the high number of new cases is "preventable."
"At a time when we have vaccines, safe and effective out there that cut down on a virus. At a time when we have proven in the past how masks work. We have had the third highest week of the pandemic at a time it is preventable," he said.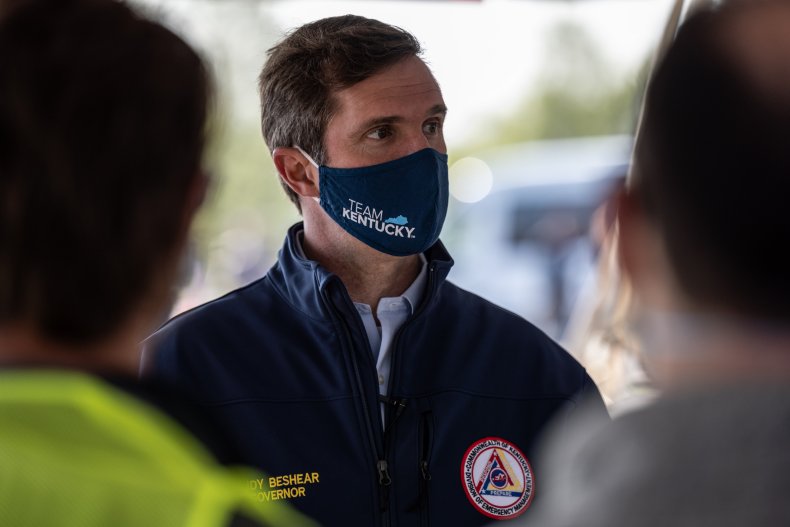 The positivity rate in the Bluegrass State is also the highest it has been since the state has had the ability to calculate an accurate rate, he said.
"COVID is burning through our population here in Kentucky," Beshear said.
During the press conference, Beshear thanked healthcare workers and featured testimonies from several, who outlined what their experiences working through the Delta-fueled surge in cases. He declared this week to be "Health Care Heroes Appreciation Week."
"We think a lot, and we should, about that individual that we lose. We don't think a whole lot about the trauma of watching those people pass away," he said. "It's a powerful message to get vaccinated, and it also shows you what these healthcare heroes are going through."
He also encouraged residents to get vaccinated against the virus. About 48 percent of Kentucky residents have been fully vaccinated, below the national average of about 52 percent, according to data from Johns Hopkins University. He pointed the FDA granting full approval to the Pfizer vaccine as evidence that it is safe and effective.
"Anyone worried that it hasn't been studied enough, this is full approval," he said.
The Delta variant has spurred an increase in COVID-19 cases across the United States. On Monday, the country had a 7-day-average of 149,675 new cases, compared to an average of 45,754 one month earlier. Several southern states including Mississippi have been hit particularly hard by the latest surge.