Andy Dick 'Mad At' Girlfriend After She Spoke Out on His Arrest
Andy Dick is said to be "mad at" his girlfriend, Elisa Jordana, after she shared details of his recent arrest on her YouTube channel.
Comedian Dick was arrested for felony assault with a deadly weapon in Los Angeles on Saturday, and released from custody on Tuesday after posting a $50,000 bond, according to Us Weekly.
On the same day Dick, 55, was released, radio personality Jordana, 33, shared a host of allegations surrounding the arrest on her YouTube show, Kermit and Friends.
In her video, Jordana alleged that Dick was arrested after attacking a man called "Lucas" with a metal chair, as she said: "He could have killed him. I saw pictures, I saw video; it's not good."
Adding that she felt "relieved" Dick was in jail because she felt that his friends were "more dangerous," Jordana went on to recall the events leading up to his arrest.
Recounting how they went out to dinner together, while Dick brought along "two or three guys, as usual," Jordana said: "He was in rare form that night. It was really bad. He stole cutlery, he stole some wine glasses, he stole plates, he asked for a doggy bag that he could put all that in."
Elsewhere in the video, Jordana said: "This is new thing for me. I've never really dated someone in jail before... It's very odd. It was just the worst week with him. It was getting worse and worse and worse. Every day there was some kind of problem. There were signs that this was gonna happen."
"I was on the phone with several officers talking about the bail," she continued. "I'm not really inspired to pay any bail right now."
In addition to that, she alleged, Dick had spent the week staying in a hospital after getting evicted from his apartment, but "he brought 11 people to the hostel and he got kicked out of there."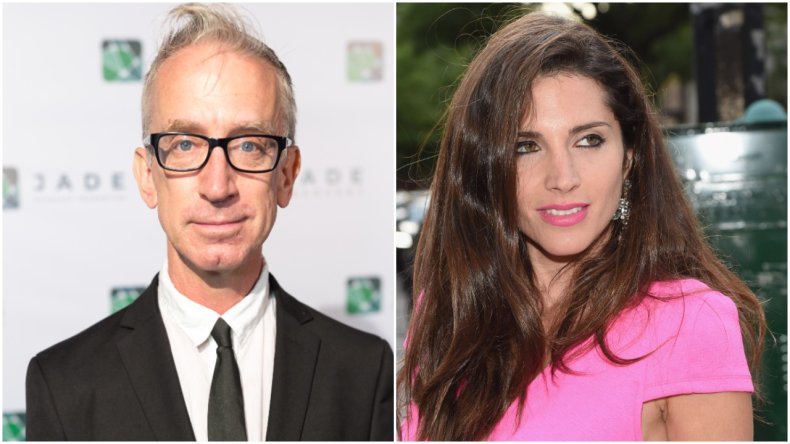 Jordana's decision to share the series of allegations publicly left Dick unimpressed, according to Jordana, who has since expressed "regret."
"He's mad at me," she told Us Weekly. "I regret saying it, but I want to help. I want someone to help me. It's very hard dealing with these things. I love Andy and he is the best in many ways. In hindsight maybe I shouldn't have said anything, but I did. And I feel alone."
Expressing hopes that there will be a positive outcome to Dick's woes, she added: "He's a cute guy. A talented guy. He's helped me tremendously, he makes me laugh, he has a lot of characteristics that are really good."
South Carolina native Dick, who has been known to expose his genitals onstage and in public in the past, has also previously been arrested on drug and sexual battery charges.
Dick was dismissed from the film Raising Buchanan in 2017, after allegedly groping people's genitals, kissing and licking the cheeks of others and propositioning people on the set.
Addressing the claims in an interview with The Hollywood Reporter, Dick said: "I didn't grope anybody. I might have kissed somebody on the cheek to say goodbye and then licked them. That's my thing—I licked Carrie Fisher at a roast. It's me being funny. I'm not trying to sexually harass people."
"I didn't grab anybody's genitals," he continued, but did admit to propositioning others, saying: "Of course I'm going to proposition people. I'm single, depressed, lonely and trying to get a date. They can just say no, and they probably did and then I was done."
In 2018, Dick came under renewed criticism after footage resurfaced of him groping Ivanka Trump on an episode of Jimmy Kimmel Live!—resulting in him being taken off the stage by security and host Jimmy Kimmel, according to People.
During the episode of Kimmel's show, which was shot in 2007, Dick was seen reaching out and stroking Trump's legs, while asking her about the glitter on them.
"Andy, don't, please don't touch Ivanka," Kimmel said as both he and Trump attempted to bat him away, with the former president's daughter laughing nervously as Dick continued to touch her.
"Oh wait, did I say I was single? I meant I had a boyfriend," Trump said as Kimmel held Dick's hands away from her.
"Andy, please don't. Donald Trump will kill both of us," Kimmel said, to which Trump responded: "Actually prior to my coming on this show I think my father made you promise to defend my honor—and that was before he knew Andy would be on it with me."
Newsweek has contacted a representative for Andy Dick for comment.