Who Are Larry King's Children? Andy, Larry Jr., Chaia, Chance and Cannon
Larry King, the television broadcast legend and former CNN talk show host, died on Saturday at the age of 87. He is survived by three of his five children, whom the journalist had over the course of his eight marriages.
King's children are Andy King (65), Larry King Jr. (59), Chaia King (51), Chance King (21), and Cannon King (20).
Tragically, two of King's children, Andy and Chaia, died last year within weeks of each other, USA Today reported. Andy died unexpectedly of a heart attack on July 28, while Chaia passed away on August 20, shortly after having been diagnosed with lung cancer.
"It is with sadness and a father's broken heart that I confirm the recent loss of two of my children, Andy King, and Chaia King," King said in a statement on August 22. "Both of them were good and kind souls and they will be greatly missed."
"Losing them feels so out of order," King added. "No parent should have to bury a child.
Andy and Chaia were both children with former Playboy bunny Alene Akins, who King married two separate times. King adopted Andy, who Akins had prior to their first marriage in 1961. After the couple divorced and then later remarried, the two welcomed Chaia.
Larry Jr. is King's son with Annette Kaye, while Chance and Cannon are both children with actress Shawn King, whom King divorced in 2020 after 22 years of marriage.
While King's romantic relationships have been a topic for years – King has been married eight times to seven different women – his relationship with his children have appeared both loving and strong.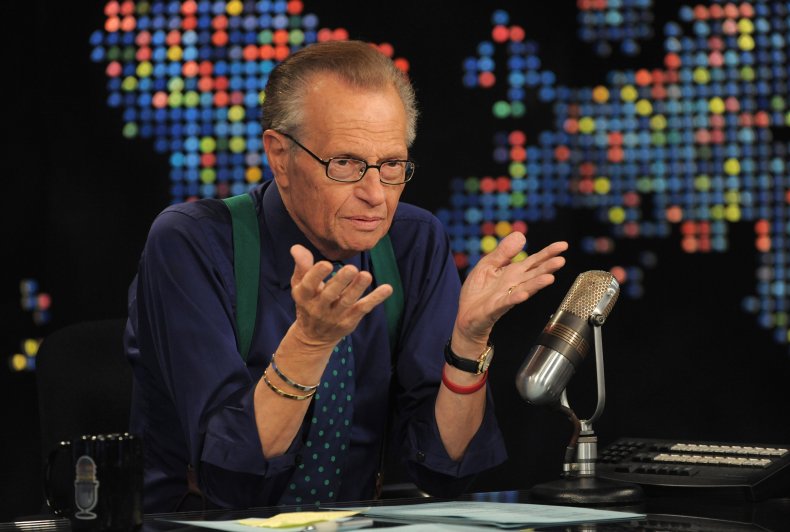 In 1997, Larry and Chaia worked together to co-write a book called "Daddy Day, Daughter Day," which was inspired by King's second divorce from Akins and offered ideas about how families can help heal the pain of going through divorce.
King's younger children have both offered praise for their famous father on social media.
When it was discovered the King faced a number of health issues in 2020, Chance King wrote online that "I will be forever grateful for my Dad and the amazing man and example he is to me. Our love for each other is endless and everlasting."
On King's last birthday, his youngest son, Cannon, said: "You are an extraordinary, encouraging, and inspiring person. There's nobody like you."
King was reportedly admitted into the Los Angeles hospital earlier this month with complications stemming from coronavirus. He had previous health issues, including a heart attack back in 1987 and a near-fatal stroke in 2019.
Larry King Jr., told the Tampa Bay Times in an article published Tuesday that the three surviving children were in touch with their father "via video calls on a daily basis," after King began receiving greater medical care in late December.
King's legacy will be remembered with over 30,000 interviews throughout his 25-year career at CNN. King interviewed every president from Richard Nixon to Donald Trump, and international figures including Vladimir Putin and Nelson Mandela.
"Whether he was interviewing a U.S. President, foreign leader, celebrity, scandal-ridden personage, or an everyman, Larry liked to ask short, direct, and uncomplicated questions," Ora Media said in a statement on Saturday. "He believed concise questions usually provided the best answers, and he was not wrong in that belief."
Newsweek reached out to representatives with King's family for additional remarks and reaction Saturday morning.