'Murray Mound' Roars as Brit Brings Home 2nd Wimbledon Title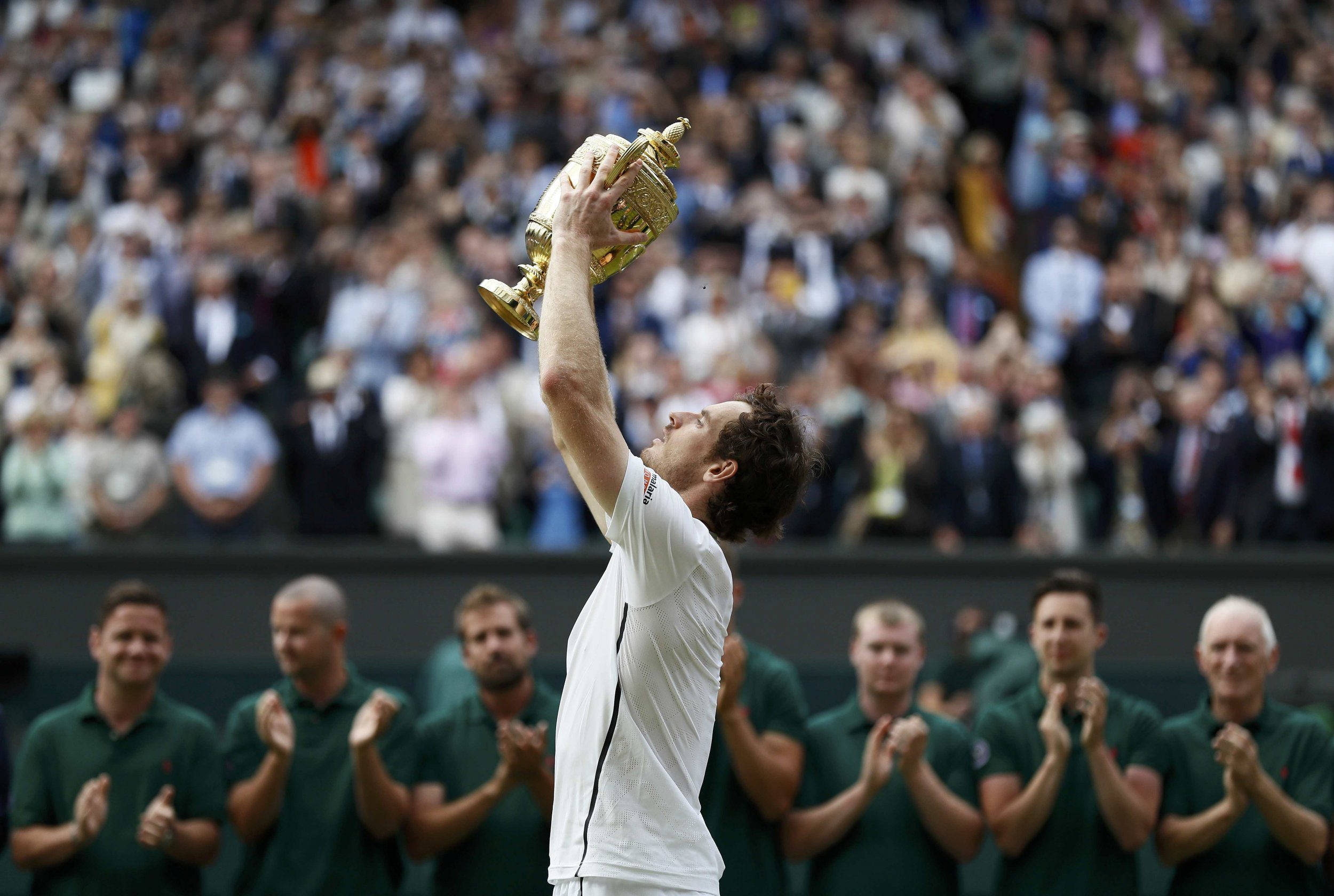 In the days when "Tiger Tim" used to get near enough for motherly love if not a father's hard-eyed admiration, they used to call this "Henman Hill." Tim Henman is present today, on media duty, looking as sleek and scrubbed and generally well turned-out as he ever did during his heyday, so almost great they named some geography after him.
His Hill is steep, rising up out of the bowels of No 1 court at Wimbledon. Walking up it, you hear the cries of those wags who will never do less than polarize. "Come on Tim." It's 15 years, give or take a week, since Tim had his greatest come on moment at the All England Club. He was about to beat Goran Ivanisevic when the rain pittered, the brooding Croat recovered, and beat Pat Rafter in the final. Time is a healer but Tim hides his disappointment well these days, ensconced as he is within the well-buttoned hierarchy of the All England Club.
If Henman was famous for getting close to finals, Andy Murray has become as well known for getting close in them. That sounds strange, because Murray had two Grand Slams—one here at Wimbledon in 2013, and another at the 2012 US Open. But without Novak Djokovic, without question the greatest player of this half-post-Roger Federer era, Murray would have had many more majors.
These two weeks have been different, because Djokovic, apparently made of extra pliable reinforced steel, smelted in a major way in the third round against Sam Querrey and lost the chance to defend his title.
Murray is unused to being a favorite for a Grand Slam. This was the first time in a final he has been in that position. Milos Raonic, the Canadian with the crunching serve, was in a Grand Slam final for the first time. Raonic exudes control on and off the court—right down to his hair, immaculately styled, which seems not to move an inch even during high exertion. But he must be several bags-for-life of nerves.
Get to the Hill early on finals day, or risk watching the backs of nervous heads for four hours. It's a lesson I learn early, too late—an hour and a half before the coin toss, there's not a spare patch of parched green to be found. Still, unlike if you are sitting on Centre—if you're a Royal, or someone with notes burning through your trouser lining—here it's only half about the tennis.
Folk come to the Hill to party, quietly, genteelly, with blankets and smoked salmon sandwiches and bottles of Prosecco. This is how the other half lives, girls in summer dresses wrapped up in Scottish saltires, kneeling at the altar of Murray, pensive.
The game begins. Raonic faces an early break point, saves it, and instead of wobbly legs he seems assured, sticking to a gameplan of serve and volley when he can. It's a tactic encouraged by John McEnroe, who joined Raonic at the start of the grass-court season.
Murray does what Murray does, though, especially against the giant servers—at 3-3, he ramps up the intensity, gets Raonic on the move and the big body lumbers and stumbles.
I know there's a break of serve because the Hill moves, the Saltires flap, there is a polite roar, hands come together in pleasant exultation. Debonair Raonic is struggling, and he doesn't have many fans up here to lighten his mood. Eugenie Bouchard, his compatriot, was in this position two years ago and got flattened by Petra Kvitova, the Czech. This is going a similar direction, Murray faster, more powerful, more experienced—battle-hardened.
On the Hill, under the hanging baskets, behind the koi carp, you are watching people watching people watching tennis. There are two ripples of acclamation, two sets of groans when the home favorite misses a shot—from the immediate vicinity first, and then from the giant television screen showing action taking place no more than 200 meters away. Without the intensity of a theatre to concentrate the mind, conversation drifts, from Glastonbury to the British Grand Prix. In between times, Murray saunters to the first set.
Occasionally, at times of high excitement, Centre Court performs a sop and turns the cameras on the Hill, so for a second or two, the people are watching and cheering themselves.
Distractions are needed. Try as he might, and beneath the calm exterior he is trying, Raonic cannot grab a foothold. Even in his first service game of the second set, he has to scrape for all he's worth to hold. Tennis is, to quote a cliché, a funny old game because momentum shifts can happen imperceptibly, and yet equally, there are times like this when nothing could be surer than that Murray is going to breeze through a sunny summer's afternoon in three sets.
"No room at the inn," says Luke 2:7, and a 1945 play by Joan Temple. "No room on the hill" is the cry at the end of the second set from the G4S security guards, who move the crowds along with the air of patient men coaxing water from parched oases.
It's a curious Britishism—plenty of space on Court Three, where the game is being shown on another screen. But no, everyone wants to be here, as afternoon sun considers turning to evening, and Murray whips and hammers and topspins his way to a second Wimbledon title.
The third-set tie-break is as emphatic as the second. "Murray Mound," they call it now, screams. It was once Henman Hill. It could have been Raonic Rock for a year. I think, by now, Britain's greatest Scot has made it his own, permanent monument.