How Tennis's Flawed Ranking System Made Andy Murray World No. 1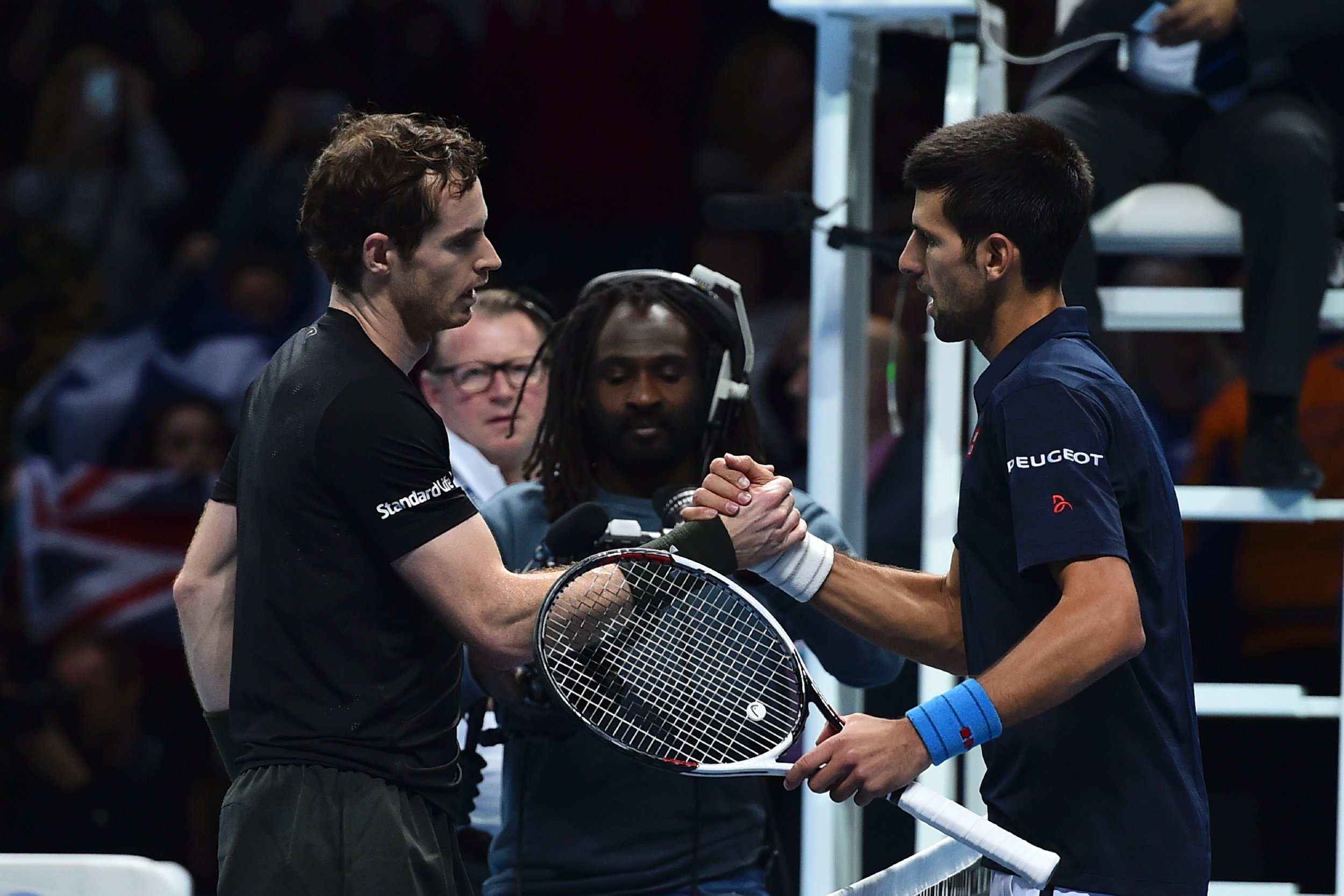 Andy Murray is the world's tennis number one for 2016, and nobody is arguing. His main rival, Novak Djokovic, said after their deciding match at the World Tour Finals in London: "Andy is definitely number one in the world."
In terms of rankings, yes, that's true. But dig a little deeper and the picture looks a little more complicated than that. Rankings are a reflection of the past 12 months. Are commentators and players alike forgetting the first six months of 2016?
In essence, the year is split in two: the first half dominated by Djokovic, the second half by Murray.
In terms of the big events, it goes like this:
Newsweek subscription offers >
TOURNAMENT/WINNER
Australian Open: Djokovic
Indian Wells: Djokovic
Miami: Djokovic
Monte-Carlo: Nadal
Madrid: Djokovic
Rome: Murray
French Open: Djokovic
Wimbledon: Murray
Canada: Djokovic
Olympics:* Murray
Cincinnati: Cilic
US Open: Wawrinka
Shanghai: Murray
Paris: Murray
World Tour Finals: Murray
* no ranking points
Yet in only two of these big events did Murray beat Djokovic—the last one, of course, and the Rome final in May. Djokovic beat Murray in the two grand slam finals of Australia and France, and in the final of Madrid. Head to head in 2016, it's 3-2 to Djokovic (the players didn't meet in any other event).
Newsweek subscription offers >
In fact, the full head-to-head rivalry is not even close. Djokovic has won 24 times to Murray's 11, including 16 of the last 20. In Murray's rise to the top spot in his dominant second half of 2016, he has met Djokovic just the once—in the very last match.
Tennis is often compared with boxing these days: we talk of heavyweight matches, as several commentators did about the recent match in London. But in boxing, while it is often said that you are only as good as your last fight, tennis is supposed to take a longer view—a full year.
Are the rankings a true reflection of the last 12 months? Yes and no. They are certainly a reflection of momentum at the moment—Murray is on a 24 game winning streak that takes in the World Tour Finals, two Masters events and a couple of other tournaments as well. Djokovic, by contrast, has not won a tournament since Canada in July.
So we are in a conundrum. In terms of the majors and finals by which history judges players, Djokovic has certainly had the better 2016: two slams to Murray's one; four Masters events to Murray's three. And the superior head-to-head, as mentioned earlier. Murray did win the Olympics, which is clearly a huge prize, but awards no ranking points to players. So how is Murray number one?
When you break down the world ranking of both players into component parts, Murray is up by 905 points, leading by 12,685 to 11,780. How is he nearly 1,000 points ahead?
Djokovic has 1,030 points more than Murray in grand slams and Masters events. However, Murray has the edge in the recent World Tour Finals in London, getting 500 points more than Djokovic. He then outscored Djokovic by a whopping 1,435 points in the lesser events–Vienna, Beijing and Queens. That makes up for his shortfall in the bigger events and gives him the lead.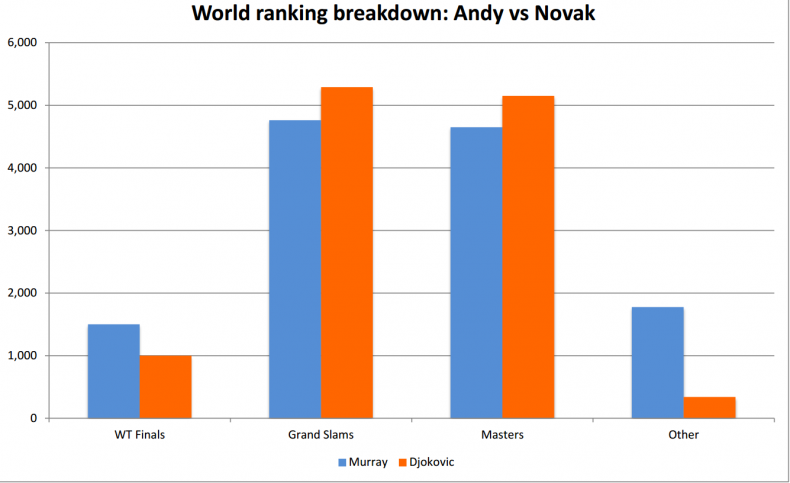 Does this make a mockery of the rankings? Arguably yes, but not just because Murray has had statistically inferior year to Djokovic in terms of the big events.
Murray has also won many of his matches against lower-ranked opponents. The Elo ratings compiled by Tennis Abstract's Jeff Sackmann show that Djokovic is still statistically the better player. Elo ratings were devised by the Hungarian Arpad Elo for chess as a way of measuring relative player strength, but can be applied to other sports. The point is that you get credit for who you play, not tournament results.
This is backed up when you look at the rankings of the opponents beaten. Leaving aside the Olympics, (when Murray beat a resurgent Juan Martin Del Potro who had a ranking of 141), in 2016 the average ranking of those players beaten by Murray in a final was 12.5. For Djokovic, it was 5.2. It's a similar story in semi-finals, too: Murray's vanquished opponents were ranked 14.6; Djokovic's were 8.7.
This doesn't necessarily mean Murray is the lesser player, it just highlights how the ranking system doesn't factor in the strength of opponents, and Murray beat some weaker players in the latter stages of tournaments.
Of course, there's another measure that shows who has had the better year: prize money. Murray won $13.3 million to Djokovic's $12.6 million. In tennis, some things matter more. Would Murray swap his 2016 for Djokovic's? Right now, he would probably say no. But looking back in a few years time, the answer might be different.
Rob Minto is the author of Sports Geek: A Visual Tour of Sporting Myths, Debate and Data . (Bloomsbury, £12.99/ eBook £10.99)
How Tennis's Flawed Ranking System Made Andy Murray World No. 1 | Sports