Andy Richter has spoken out against a "nanny state" policing freedom of speech amid the uproar over Joe Rogan's hugely popular Spotify podcast.
In recent days, musicians including Neil Young, Joni Mitchell and Nils Lofgren have announced plans to pull their work from Spotify, amid accusations that Rogan has been sharing COVID misinformation on his show, The Joe Rogan Experience.
But as a growing tide of detractors speak out against the former Fear Factor host, Richter told Newsweek that while he agrees with the consensus that COVID vaccine misinformation is harmful, moves to silence Rogan are also not helpful.
"There's a sticking point where like, functionally, vaccine misinformation has been harmful. We can just sort of look at it and see that that's the truth," said the erstwhile Conan star. "But then I also think, 'Yeah, but not everybody is tricked by misinformation.'
"A lot of people hear misinformation and say, 'Hey, that sounds fishy. That sounds wrong. I think that's misinformation,' and sort of make a big fuss about silencing people who are giving misinformation.
"It's kind of, I've never used this phrase, but it does kind of seem a little nanny state, for people who don't know better than to protect their own lives and the lives of others."
The TV personality, whose podcast, The Three Questions with Andy Richter, is also available on Spotify, added: "I do like freedom of speech, but then also on one hand, you can say, without defaming people, you can say whatever you want on your podcast, and people have to be wise consumers.
"But then in the real world, you see... people are not wise consumers. And they do demonstrative harm to humanity by paying attention to this misinformation. So I'm a little torn, like, how you regulate it and how you don't? And I'm just glad it's not my job!"
Away from the world of podcasts, Richter has been busy gearing up for the grand unveiling of his first-ever starring role in a Super Bowl ad, a teaser of which debuted on Thursday.
As the Los Angeles Rams and the Cincinnati Bengals battle it out for glory, Richter will pop up during a first quarter commercial break in full Roman-era regalia—molded breastplate and all—as part of an ad for Avocados From Mexico (AFM).
The teaser shows the TV favorite sitting before a plate of fries and avocado dip as he psyches himself into playing Julius Caesar on a film set. The commercial, Richter revealed, was shot in Mexico.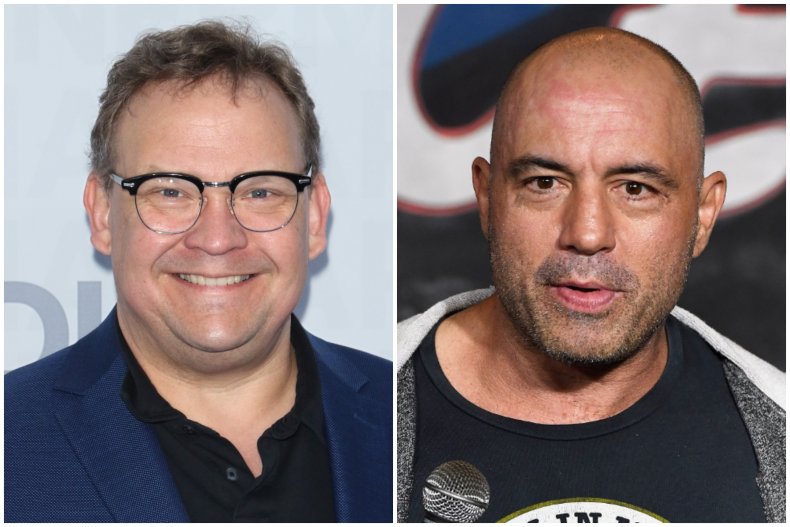 With Super Bowl commercials proving to be big business, Richter quipped to Newsweek that "hopefully this will start an avalanche for me."
As for why he chose to team with AFM, which is the number one selling avocado brand in the U.S., he laughed: "Well, a Super Bowl ad when you're an attention whore, that's a big deal."
"I mean, it's avocados, you know, we're not selling, like, predatory loans—it's avocados! And everybody loves those," Richter went on. "And also, the Avocados From Mexico commercials are really strikingly funny and great.
"They have a history of doing some good work in these commercials. And I know everyone makes a big fuss on these commercials. It's little chunks of good television, basically."
Impressive Costume
The self-confessed avocado lover joked that he was so impressed with his custom made costume that he may take to wearing it on nights out.
"I wasn't actually a wear costumes on a night out kind of guy. But that goes anywhere," he said of his ensemble, which included a golden crown.
Having spent a sizable chunk of his life in Los Angeles, it should be easy to predict who Richter will be rooting for when the Big Game kicks off at the City of Angels' SoFi Stadium on February 13, right? Well, not exactly.
"I'm very compromised," admitted Richter. "I live in Los Angeles and I really loved the Rams. My brother used to tease me because he said it was just because I like the uniform, which I'm looking back on I think well, yeah, I was eight or nine! What am I supposed to like, the statistics on the team?
"But Cincinnati is such an underdog that I think I'm pretty much... I'm kind of rooting for them, although people in Los Angeles will kill me for that."
"I'm more of a baseball fan anyway," he added. "So I'm in a position where whichever team wins, I'm going to be happy in one respect or the other... I say football—that's who I'm rooting for!"
Richter's Avocados From Mexico Super Bowl ad will air during the first quarter of the Super Bowl LVI on February 13.