Tennessee Pastor Gets Standing Ovation After Admitting 'Sexual Incident' With Teen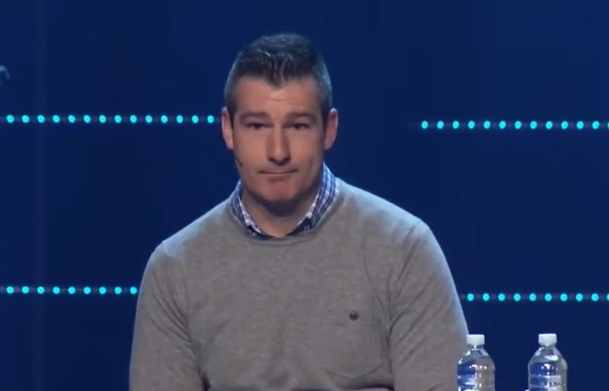 A Tennessee pastor who publicly confessed to having a "sexual incident" with a high school student in 1998 received a thunderous standing applause when he asked to be forgiven.
Before asking for forgiveness, Andy Savage, the megachurch pastor, sat on a wooden stool on the stage at Highpoint Church in Memphis on Sunday and admitted that he was guilty of sexual activity with a teen, according to video footage of the event.
"As a college student on staff at a church in Texas more than 20 years ago, I regretfully had a sexual incident with a female high school senior in the church," he said.
After his confession, the congregation congratulated the pastor for his honesty with loud cheers and a standing ovation.
The victim, Jules Woodson, claimed that Savage assaulted her 20 years ago, when she was a 17-year-old student. On Friday, Woodson went public with her story on Watch Keep, a Christian blog, after the rise of the #MeToo hashtag empowered her to come forward and break the silence that protected her assaulter.
According to Woodson, the assault occurred when Savage, a 22-year-old youth minister, was giving her a ride home from the Woodlands Parkway Baptist Church, just north of Houston.
Woodson wrote that Savage pulled over the car, unzipped his jeans, pulled out his penis and asked her to perform oral sex.
"I was scared and embarrassed, but I did it. I remember feeling that this must mean that Andy loved me. He then asked me to unbutton my shirt. I did. He started touching me over my bra and then lifted my bra up and began touching my breasts," she continued.
Woodson claimed she notified Larry Cotton, associate pastor of the Baptist church, after the incident but was told to keep quiet.
"Through the tears, I told him that I was too embarrassed to tell my mom what had happened. He said not to worry, that they would talk to my mother as well. He then told me not to mention anything that had happened to anyone else," she wrote.
A few weeks after Woodson's complaint, Savage mysteriously left the church.
In a recent video released by CBS, Woodson said she complied with Savage at the time because she was in shock, scared and didn't understand what was happening.
"An apology does not change the fact that what happened to me was against the law and that it was wrong," she said.