'Angel' Amazon Driver Delivering Bike Pump Rescues Family With Baby From Colorado Fire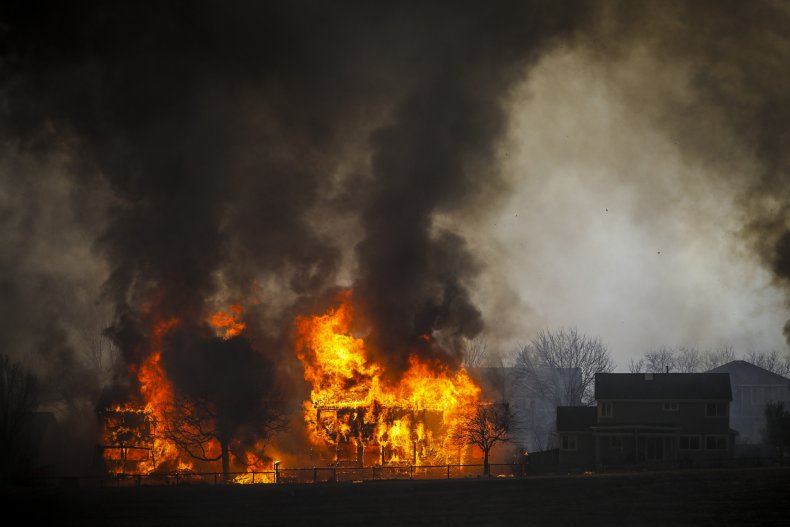 A Colorado mom has reportedly credited an "angel" Amazon delivery driver with saving her family, including a 4-month-old baby, from the raging Marshall Fire as it blazed through their neighborhood on Thursday.
Mary Stanley told Denver Fox affiliate KDVR that she, her husband and their infant son "could be dead" if not for an Amazon delivery driver identified only as "Luanne" apparently deciding to risk life and limb to deliver a bicycle pump amid the inferno in Superior, Colorado. Stanley explained that the family car was out of commission due to a failed battery, leading to her husband relying on a bike for transportation instead and ordering the pump from Amazon.
"We woke up from a nap with our 4-month-old son and we smell smoke in the air," Stanley told KDVR. "We were like, 'What is that?' We go outside, we see flames over the hill. We were like, "We need to leave now.' We gathered the things that we could ... my husband tried to run to the neighbors. No one was home and we had no idea how we were gonna get out."
"Right then, an Amazon driver showed up to drop off the bike pump," she added. "She came out the door and was like, 'You guys need help?' ... I believe that we would have died if she hadn't been there ... We could be dead if it wasn't for Luanne. That's the driver's name, her name is Luanne. She was our saving grace, a little angel right at the moment that we needed her."
In her van, the Amazon employee drove the family to a nearby community center. Stanley said they were then picked up by a friend and taken to the home of Stanley's mother-in-law, who was out of town. The family's next move is uncertain, given that they later received "aerial confirmation" of their home being destroyed in the fire.
Newsweek reached out to Amazon for comment and additional information.
The Marshall Fire, driven by heavy winds, had ripped through a minimum of 6,000 acres near Superior and neighboring Louisville as of Friday. At least 500 homes were confirmed destroyed in the fire, while Boulder County Sheriff Joe Pelle said during a news conference that the total could reach 1,000 homes by the time crews finish assessing the damage.
While at least six people were reported injured during the rare winter fire, there were no reports of deaths, something that Colorado Governor Jared Polis called "our very own New Year's miracle." The cause of the fire is still under investigation. Officials initially suggested that downed power lines could be to blame but the Boulder Office of Emergency Management said that investigators had found no evidence to support the theory as of Friday.