WNBA's Angel McCoughtry Wants Police Brutality Victims' Names on Jerseys
As coronavirus cases continue to decrease in some parts of the country—and increase in others—the world of sports is steadily making efforts toward reopening, beginning with the NBA and WNBA. Players for the men's and women's leagues are scheduled to return to the court later this summer, and while some athletes are eager to get back to work, many of them are hoping to continue speaking out on behalf of activism as well.
Over the past several weeks, thousands of people have taken to the streets protesting police brutality and racial injustice in the wake of George Floyd's death. Many basketball players have joined the marches, shouting the names of those Black Americans who have been victimized and killed by police and systemic racism.
Some players have donated to bail funds for protestors, signed petitions and used their social media followings to encourage others to join them in movements to defund the police. Other players, meanwhile, are making their awareness efforts a full-time job. Such is the case for WNBA star Renee Montgomery, who announced last week that she would sit out of the upcoming 2020 basketball season to focus solely on social justice reform.
And then there's Angel McCoughtry, who is set to start her first season with the Las Vegas Aces this year. The two-time Olympic gold medalist is hoping to take her activism directly to the court with a new initiative that will allow players to use their jerseys as a form of solidarity and awareness.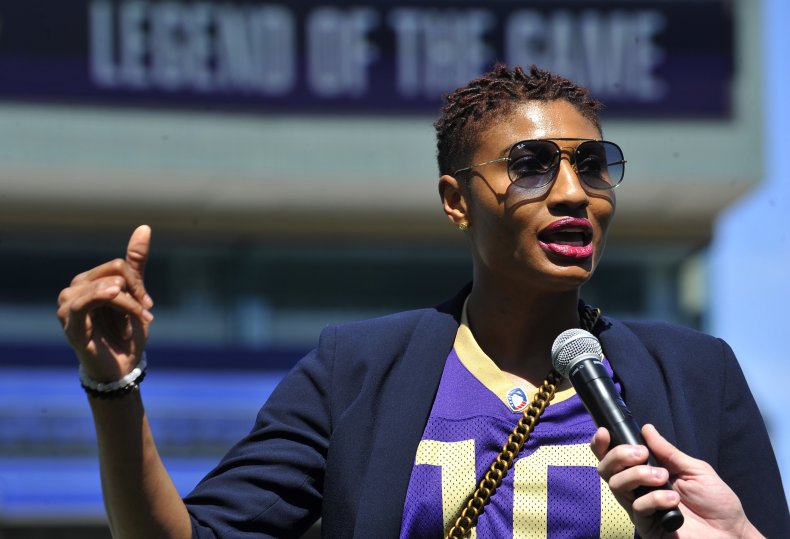 "I believe that the best way to keep shining a light on social issues is by highlighting it when we get back on the court," McCoughtry told Newsweek over email on Tuesday. "We already have ads on our jersey, why not market things that are important to us?"
On Monday, McCoughtry launched the #SayTheyName Jersey campaign with a Change.org petition, requesting that the WNBA allow jerseys to depict the names of those who have suffered from police brutality. For example, instead of McCoughtry having her own name stamped across the back of an Aces jersey, it would be replaced by the name of Breonna Taylor—a 26-year-old emergency room technician who was fatally shot by police officers in Louisville, Kentucky, in March. She'd also like for some jerseys to also bear the names of frontline workers who have been helping people with coronavirus. In showcasing the names of all these people on WNBA jerseys, McCoughtry believes it will allow players to play "for a bigger purpose than just wins and loses."
"Personally I hope to keep awareness alive and give athletes a chance to develop relationships with the names of their choice to wear on their uniform," the 33-year-old said. "We have been taught for a long time to make your name mean something, well that's not just athletes, that's also for our medical [heroes] on the frontline and for victims of injustice as well."
The Aces management is 100 percent supportive of the idea, according to McCoughtry, and she said that women across the league were eager to get involved from the moment that she launched the petition.
"Some players in other sports are doing similar Black Lives Matter messages and that's great," McCoughtry said. "I just think if the league gave us the option to replace a name with Breonna Taylor to highlight her and help continue to promote her name, maybe that can lead to justice for her."
When reached for comment on the initiative, the Las Vegas Aces directed Newsweek to the WNBA. As of time of this article's publication, Newsweek has not received a comment from the WNBA.
However, in a statement announcing the league's 2020 season, WNBA Commissioner Cathy Engelbert said that along with new guidelines to keep players and staffers safe from coronavirus, the organization "will build on its commitment to social justice and will support players in launching a bold social justice platform as a call to action to drive impactful, measurable and meaningful change."
In that same statement, the league said that the forthcoming season is tentatively set to tip off in late July.