Who Are 'Angel Moms?' Trump Jr, RNC Tout Victims's Families to Promote Border Wall
Donald Trump Jr. lashed out against cable news networks over what he says is a failure to interview "Angel moms" and other family members of Americans killed by undocumented immigrants.
The president's son joined the Republican National Committee (RNC), Kellyanne Conway and conservative news publications in demanding MSNBC, CNN and other media organizations end their "silence" and begin booking "Angel Moms" and "Angel families." An RNC analysis released this week criticized the networks for not booking one surviving family member of an American killed by an illegal or undocumented immigrant in the U.S. The outspoken group of parents and family members were brought on stages during Donald Trump's 2016 campaign rallies and have been widely featured on Sean Hannity's Fox News program.
Several parents of victims in both accidental and intentional killings perpetrated by undocumented immigrants or gang members appeared on Hannity's show Friday to blast Democrats for not funding Trump's border wall.
"Since January 1, neither CNN nor MSNBC has booked a single Angel Mom — mothers of children brutally murdered by illegal aliens — as guests on their networks, per @GOP analysis. I WONDER WHY?" Donald Trump Jr. tweeted Monday morning. The Twitter post featured a Breitbart News article headlined, "Silence of the Moms: Media Refuse to Discuss Angel Families."
"Angel moms, Angel dads and Angel kids...their pain is real and raw, not "manufactured," Kellyanne Conway tweeted Monday, prompting a retweet from the president's son.
The president himself popularized the term "angel moms" during an August 2016 campaign rally in Arizona in which he called several of these parents to the podium to tell the stories of how they lost a son or daughter to an "illegal alien." The group resurfaced in the national spotlight these past few weeks to condemn Democrats and tout the need for Trump's border wall.
A right-wing, pro-Trump nonprofit, America First Policies, told the Washington Examiner they will continue to run digital ads showing interviews with the "Angel families" in 2020 campaign swing states until a deal is brokered to fund the president's border wall. On Friday, Fox News' Hannity hosted several parents and family members on his program to blast Nancy Pelosi, Chuck Schumer and other Democratic leaders for not backing Trump's border wall.
"I would like to invite Nancy and Chuck Schumer to my son's grave on January 28 so they can celebrate, well not celebrate, cry with me at his 'manufactured grave," said Agnes Gibboney, mother of Ronald Da Silva, who was slain by a known gang member later identified as Luis Gonzalez in April 2002 in El Monte, California. "This is permanent family separation."
Each member of the panel raised their hand when Hannity asked who among them had ever "met the president." In 2017, several "Angel moms" told Politico they had been "abused" and "exploited" as they appeared at Trump's 2016 presidential campaign rallies.
"Chuck Schumer and Nancy Pelosi are just hypocrites," said Steve Ronnebeck, whose 21-year-old son, Grant, was killed Apolinar Altamirano, 29, an illegal immigrant, in January 2015. Ronnebeck met privately with Trump in January 2017 immediately after the president signed controversial executive orders regarding border security and undocumented immigration.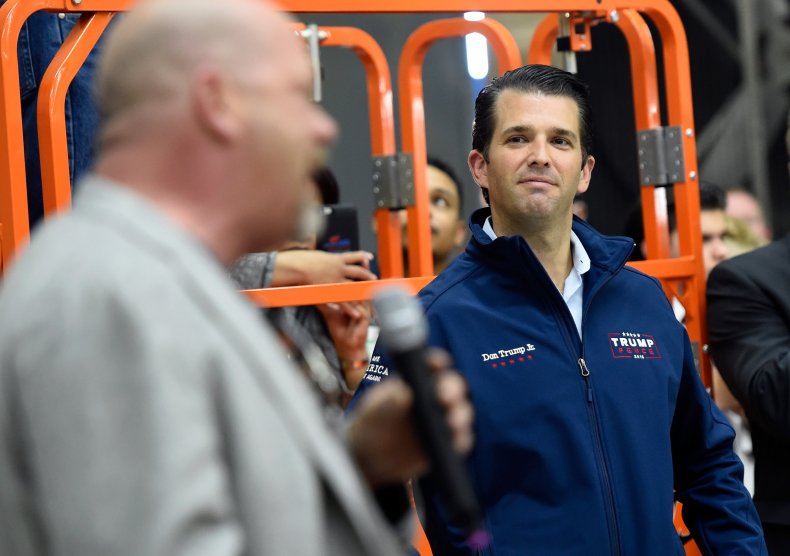 Andrew Surabian, current adviser to Trump Jr. and a former Trump campaign official, told Breitbart News Monday, "One thing is clear, the last thing that Democrats and their allies in the establishment media want to do is have a conversation about the plight of Angel Moms and the very real tragedies that all too often occur because of illegal immigration and our unsecured southern border."