Angela Merkel 'Boosted Brexit Campaign'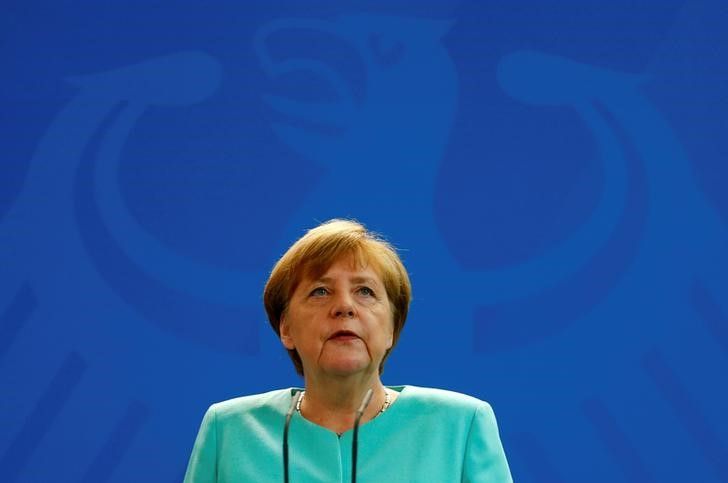 Angela Merkel's liberal approach toward asylum seekers helped to push Britons toward voting for Brexit, a leading academic has claimed.
In a paper published Sunday by the Sheffield Political Economy Research Institute, one year on from Merkel's September 2015 decision to open Germany's borders to asylum seekers, German political economist Wolfgang Streeck argues that the move was "without doubt a major force" behind the U.K.'s vote to leave the European Union on June 23.
"When hearing about the refugee policies sold by the Merkel government to the German public as European policies," Streeck writes, the British public, "Must have feared that at some stage these would have to be adopted by their country as well."
"Looking across the Channel at the Continent, British voters may rightly have been afraid of being burdened with yet another quasi-constitutional, democratically unchangeable obligation to unconditionally open their borders and their labor markets," he continues.
Streeck argues that Merkel's asylum policy was made in response to domestic circumstances, calling it an "'immigration policy camouflaged as asylum and refugee policy." Merkel was motivated in part, he argues, by the German economy's "chronic hunger for labour," and by "a desire to divert attention from the German-inspired massacre of the Greek Syriza government."
Merkel then, he claims, required other European states to go along with the German "interpretation" of EU asylum law, to legitimize the policy.
"The slogan of the Leave campaign, 'Taking back control'," Streeck writes, "must to an important extent be read to reflect a desire not to be subject to the mysterious idiosyncrasies of a German government endowed by its political system with almost unlimited freedom of maneuver and permitted by a skillfully cornered opposition to present its domestic needs as European interests informed by European values."
Merkel is facing mounting criticism of her asylum policy within Germany.
Sunday sees voters go to the polls in the northern state of Mecklenburg-Western Pomerania. The right-populist Alternative for Germany (AFD) is expected to perform well, having capitalized on discontent with high immigration to Germany under Merkel's government.