Angela Merkel Ends Summer Holiday Traveling to Far-Right Stronghold, Is Greeted by Protesters Yelling She 'Must Go'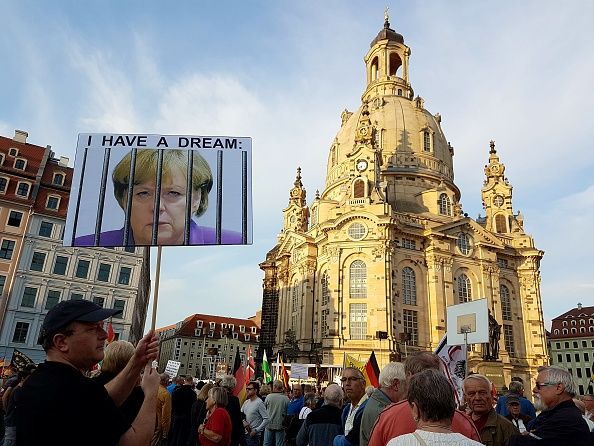 German Chancellor Angela Merkel pledged Thursday to speed up the deportation of rejected asylum seekers after hundreds of far-right protesters greeted her in Dresden to demand her resignation.
The chancellor had headed straight for the eastern Germany city, a stronghold of the far-right Alternative for Germany party, to meet with regional lawmakers after finishing her summer break. Supporters of the AFD and members of the far-right, anti-Islam group PEGIDA, which organized the protest against Merkel's immigration policy, gathered there, chanting "Merkel must go!" and "Get lost!" according to Reuters. During a news conference after the meeting, Merkel said the government would work to expedite deportations of failed asylum seekers.
"I made clear that we have a situation now where not all problems have been solved, especially deportations are still a big problem," Merkel said. "The federal government will assume more responsibility here, especially by helping to procure the needed documents."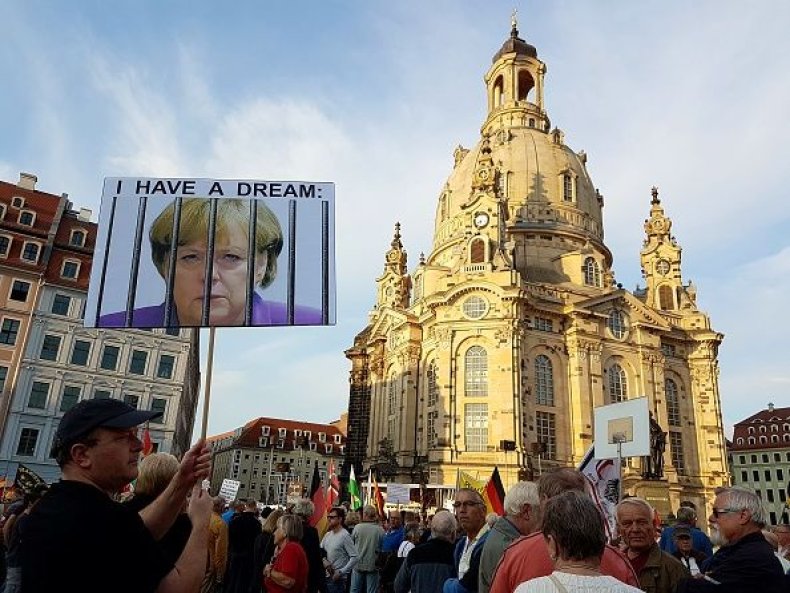 Merkel has been under attack, particularly in more conservative eastern Germany, since she made the decision to admit refugees for humanitarian reasons. Since the migration crisis began in 2015, about 1 million refugees have entered Germany. Recently, she has come into conflict with members of her own coalition for not deporting individuals with rejected asylum claims quickly enough.
In order to prevent her government from falling apart, Merkel was forced to seek a deal with leaders of other members of the European Union to have some asylum seekers transferred out of the country. Meanwhile, Berlin is also expected to pass a new immigration law this year, and even some left-wing parties have argued that Germany's complex immigration laws need to be overhauled and simplified. Currently, some lawmakers say the law doesn't differentiate clearly enough between asylum seekers and others seeking the right to immigrate to Germany.
National politics are divided over immigration affairs. Germany's Social Democrats argue that skilled migrants who have not yet received residency status should be allowed to work legally. Another right-leaning region, Bavaria, opened its own center to facilitate the deportation of people with rejected asylum claims. Merkel's conservative coalition partner, the Christian Social Union, runs the government there.
The country is experiencing a demographic shift. The population of foreign-born residents reached a record 10.6 million in 2017, according to the Federal Office of Statistics. The number of foreigners in Germany grew by 5.8 percent that year.
Angela Merkel Ends Summer Holiday Traveling to Far-Right Stronghold, Is Greeted by Protesters Yelling She 'Must Go' | World