Angela Merkel's Party Wins Election, German Exit Polls Say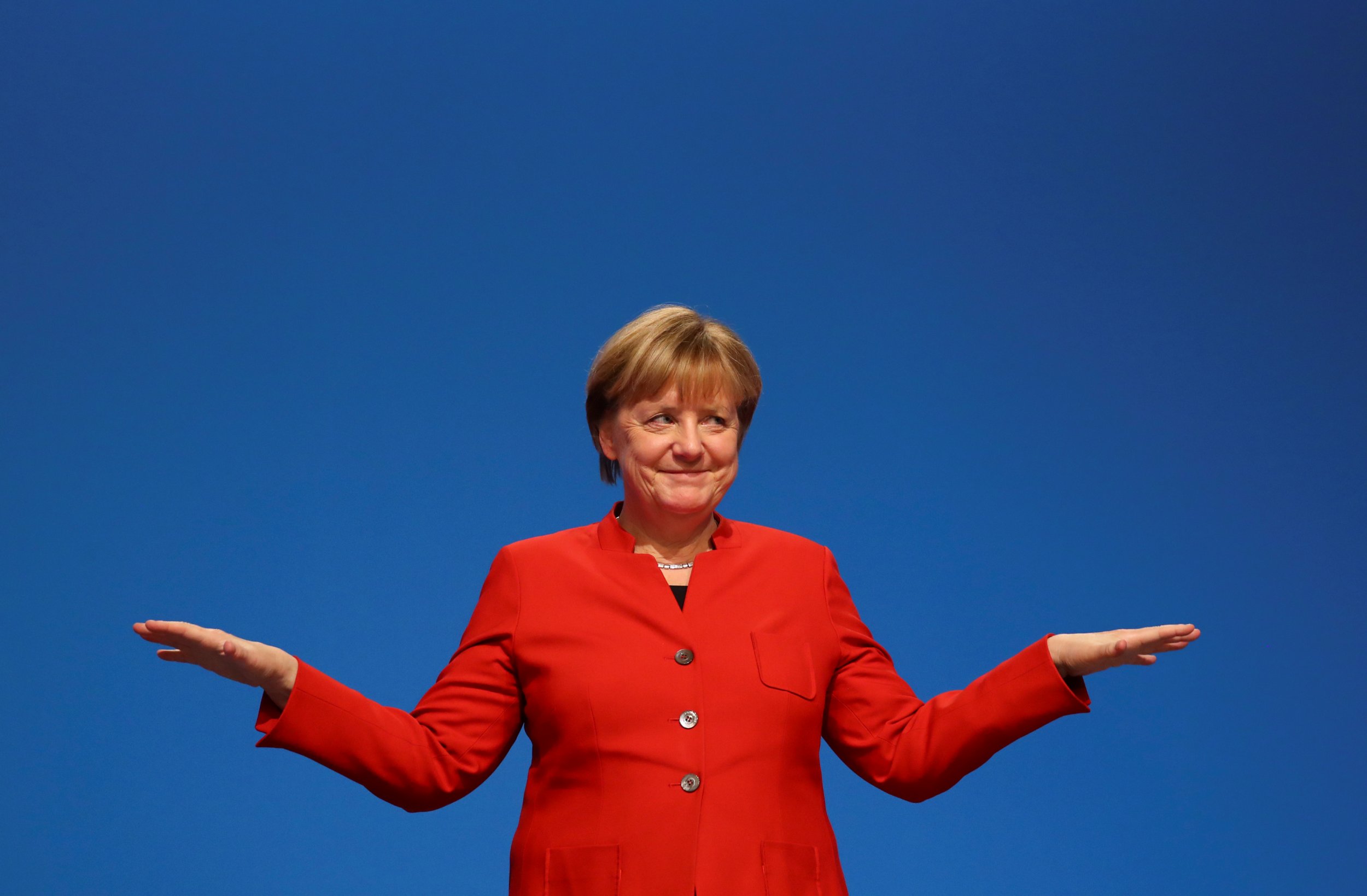 German Chancellor Angela Merkel's party has won the country's general election albeit on a reduced vote share, according to projections of results released as polls closed.
Citizens finished voting at 6pm local time (12pm EST) on the vote to decide the composition of the federal parliament, or Bundestag, which will then appoint a chancellor to lead Germany for the next several years.
Merkel's Christian Democratic Union (CDU), in partnership with its sister party the Christian Social Union (CSU) is projected to take 32.5 percent of the vote in the exit poll conducted by ARD/Infratest Dimap.
Her nearest rival Martin Schulz, of the center-left Social Democrats (SPD) is projected to secure just 20 percent.
If confirmed, the result would be a clear lead for Merkel but not a storming victory. In 2013, her party took 41.5 percent of the vote. This outcome would also be a slump for the SPD, who won 25.7 percent last time.
Another exit poll by ZDF showed similar results, with Merkel's party taking 33.5 percent to the SPD's 21 percent.
While parliament must now elect a chancellor in the coming days, if Merkel's party does win the largest number of seats it is unlikely that anyone else will take the job.
According to the ARD/Infratest Dimap prediction, the hard-right, anti-Islam Alternative for Germany (AfD) party will become the third largest party, with 13.5 percent of the vote. This will grant the party its first ever seats in the federal parliament since its formation in 2013.
The environmentalist Greens are predicted to take 9.5 percent, the classically liberal, pro-business Free Democrats (FDP) are expected to earn 10.5 percent, and the democratic socialist Left Party are set to secure 9 percent.
The result will be confirmed Sunday night. In general, German exit polls have been fairly accurate in the past. If the projections are borne out, it will usher in fevered coalition negotiations that could last days or weeks, as Merkel seeks to cobble together a governing majority by making deals with other parties.
Her CDU has since 2013 governed in a "grand coalition" with the SPD, but many in the center-left party are unwilling to repeat the exercise, believing that their party needs a spell in opposition in order to rediscover its purpose and present a more original message to the electorate by the time of the next vote.
If the exit polls are confirmed, the result will open a debate over Merkel's continued popularity. While she has decisively seen off the opposition, this is a significant slump in support for a woman once considered so impervious she was known as "Teflon Merkel." Merkel faced criticism from rightwingers during 2015 for her liberal approach to refugees and migrants.
Merkel worked hard before the election to neutralize opponents on both the left and right.
While the anti-immigrant AfD is set to pick up its first seats, Merkel put to bed much of the criticism of her immigration policy by brokering a deal with Turkey in 2016 that partly stemmed the flow of migrants into Europe, and toughened up German asylum rules, while promising to explore a ban on Muslim face veils in some circumstances.
Meanwhile, she saw off one potential line of attack for more liberal parties by allowing a parliamentary vote in the summer to legalize gay marriage in Germany, though she herself voted against.
The close of polls comes after a lengthy campaign during which, thanks to the over-riding assumption of Merkel's victory, heated debate failed to ignite.
International commentators have derided the low-energy contest, coming after more nailbiting fights in France and the U.S., as dull.
But Germans appear to have looked at the uncertainty in Britain and the U.S. after votes for Brexit and Donald Trump and plumped for stability.