German Chancellor Angela Merkel has had a fraught relationship with her Russian and U.S. counterparts. Nevertheless, when asked during her summer press conference how she felt about the friendly relationship between President Donald Trump and Russian President Vladimir Putin, she said she was "glad" Trump invited Putin to Washington.
"I think it should become normal again that Russian and American presidents meet with each other, since these two countries hold 90 percent of the world's nuclear weapons," she said. "I think we live in a very interesting, exciting and crucial time, when things are changing in the global order."
The U.S.'s relationship with its allies in the North Atlantic Treaty Organizations (NATO), the European Union and the Group of 7 has never been more strained. Washington has entered a trade war with China and imposed tariffs on some EU products. Populism has gained a foothold in both Europe and the United States in a way few analysts would have predicted years ago. And Trump has held friendly meetings with erstwhile foes North Korea and Russia, holding joint summits that all sides described as successful.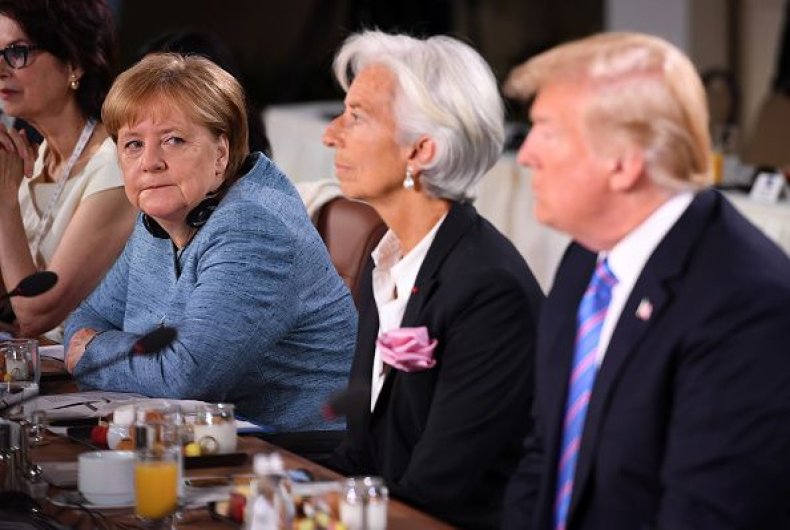 Meanwhile, Merkel's relationship with Trump has been especially bad in recent months. Trump attacked Germany during a recent NATO summit, and some reports suggested that he threw candy at Merkel during the G-7 meeting in Canada in June. Nevertheless, Merkel had continued to insist that Germany's relationship with the U.S. was an important one.
"The transatlantic working relationship, including with the U.S. president, is crucial for us, and I will carry on cultivating it," Merkel told reporters on Friday.
However, she did speak out against Trump's recent comments that questioned the necessity of NATO's collective defense clause Article 5. During a recent TV interview, Trump asked why the U.S. should come to the defense of a smaller NATO member like Montenegro.
Speaking to reporters on Friday, Merkel reiterated her belief that NATO's Article 5 was the bedrock of the military alliance.
"I believe this Article 5 is valid for all NATO member states, not just for big ones or small ones, or for some," Merkel said, adding she was glad Montenegro was a member. Putin, who is vehemently opposed to Montenegro's NATO membership according to some reports, has been invited to visit the U.S. in the fall.
Merkel also told journalists that the current trends in global politics could still change.
"When the generation that survived the war is no longer here, we'll find out whether or not we learned from history," she said.