Angela Merkel Identifies U.S. as Global Rival That, Along With China and Russia, Europe Must Unite Against
German Chancellor Angela Merkel lumped in the United States with Europe's other global adversaries on Wednesday, arguing that the countries on the continent need to band together against the challenges posed by Russia, China and the U.S.
"There is no doubt that Europe needs to reposition itself in a changed world…. The old certainties of the postwar order no longer apply," Merkel told the German media on Wednesday.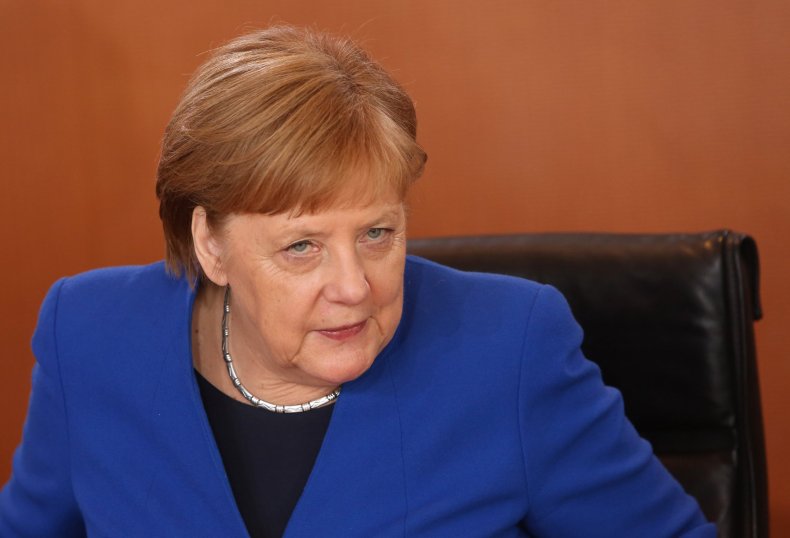 "They [China, Russia and the U.S.] are forcing us, time and again, to find common positions. That is often difficult given our different interests. But we do get this done—think, for example, of our policy regarding the conflict in Ukraine," Merkel added. "Our policies on Africa, too, now follow a common strategy, which a few years ago would have been unthinkable. So we keep putting one foot in front of the other. However, our political power is not yet commensurate with our economic strength."
The comments hinted at the fact that at least some European leaders no longer view the United States as primarily an ally of the European Union. Merkel, for example, pointed to the U.S. dominance of technology as a challenge for Europe. U.S. companies such as Google, Facebook and Amazon have long dominated global markets, and in some high-profile cases have gotten into long legal battles with the EU over antitrust and regulatory policy.
In March, the British government released a report recommending that the country establish a new regulator to monitor the activities of major tech giants. The European Union's commissioner for competition has issued billions of dollars in fines for Google, and additional probes into Amazon and Google are ongoing. But European companies have still struggled to compete with Silicon Valley due to a dearth of venture capital on the continent.
Meanwhile, the U.S. relationship with Europe has become increasingly uncertain under President Donald Trump, who has criticized both the European Union and the North Atlantic Treaty Organization (NATO). The U.S. and EU are also still locked in negotiations over proposed tariffs on auto parts.
Reports recently suggested that Trump might delay the implementation of new tariffs as he continues to fight his trade war with China and negotiate with Europe and Japan. But the president has only until May 18 to decide whether to levy new tariffs on auto parts coming from Europe. Many analysts have argued against stymieing trade with a U.S. ally.
EU officials, meanwhile, have pledged to retaliate with their own set of tariffs if the U.S. moves forward with the plan. Cecilia Malmström, the chief trade negotiator for the EU, said the European Union is preparing a list of U.S. products that would be subject to tariffs if Trump moves forward with his protectionist measures.