Ivanka Trump White House Role: First Daughter To Visit Angela Merkel In Germany 'Very Soon'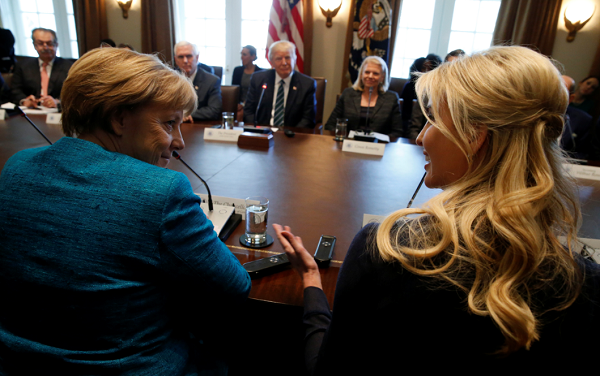 Ivanka Trump will make her first international public appearance on the behalf of the U.S. when she travels to a Women20 empowerment summit in Berlin sometime in April. During her trip to Germany, President Donald Trump's older daughter will reportedly meet one-on-one with Chancellor Angela Merkel, whom she met for the first time recently.
After the Associated Press announced the trip, Ivanka Trump took to her social media to express excitement about her first official "first daughter" appearance at the event, which she will attend with four other U.S. delegates.
"Looking forward to promoting the role of women in the economy and the future of our workforce globally #W20," Ivanka Trump wrote on Twitter Sunday.
The event, which brings together women in G20 states including Argentina, Australia, Brazil, Canada, China, France, Germany, Italy, Mexico, Russia and others aims to promote female labor-market participation as well as ways to provide financial backing to women entrepreneurs and closing the gender gap within the digital space, according to the event website.
Although Ivanka Trump hasn't been given an official title in her father's administration—her husband, Jared Kushner, is a senior advisor to Donald Trump—Ivanka Trump has been one of the president's most trusted advisers since working with him at the Trump Foundation. Ivanka Trump recently received an office in the West Wing as is expected to serve as her father's "eyes and ears" during his presidency, Ivanka Trump's attorney Jamie Gorelick said to CNN recently.
"She will not be his only source of input and insight, obviously, but she may be able to provide insights into the concerns of people whom he might not meet as President," Gorelick told CNN in an email statement.
It is unclear what Ivanka Trump and Merkel will discuss during their one-on-one meeting when Ivanka Trump arrives in Berlin. President Trump told reporters Monday that his daughter's meeting with Merkel would take place "very soon."
Earlier in March, Merkel visited the White House for her first meeting with Donald Trump, during which they discussed issues concerning NATO and immigration among several other topics.