Angela Merkel Appears to Knock Donald Trump in New Year's Speech: 'In Our Own Interest, We Must Take On More Responsibility'
In what appeared to be a rebuke to President Donald Trump, Chancellor Angela Merkel said, without alluding to the U.S. leader, that Germany would have to assume a greater role in the midst of international crises.
During her New Year's speech, she pointed to the "pressure" international cooperation entailed. Even though she did not provide any examples, she seemed to be referring to the strained relationship between the U.S. and Europe in recent months. "In such a situation, we have to advocate, argue and fight for our beliefs with more conviction," she said, according to German broadcaster Deutsche Welle.
"In our own interest, we must take on more responsibility," she said.
She later said that her country would champion "global solutions" as it joined the United Nations Security Council as a temporary member starting January 1. Merkel, who will step down as chancellor in 2021, said that "we are continuing to increase our funding for humanitarian and development aid, and are also boosting our defense spending," adding that Berlin would work to make the EU "more robust and capable" and foster a stronger relationship with the United Kingdom.
This year, Merkel and Trump have sparred over foreign policy matters and Germany's domestic issues. Germany had previously said that Trump was attempting to dismantle a global order that had helped rehabilitate her country after World War II. "Fortunately, the lesson of World War II was to create a multilateral framework," Merkel told the Bundestag (Germany's federal parliament) in November, and explained that the United Nations allowed countries "to work with one another to solve problems instead of against one another," Politico reported.
During the NATO summit in Brussels last summer, Merkel traded barbs with Trump after the U.S. leader criticized Germany for contributing "too little" to European defense, and said that Europe's largest economy was a "captive of Russians" because of Berlin's dependence on Moscow's energy supplies.
Merkel, meanwhile, did not mince words. With respect to her country's reliance on Russian fuel, she said that she didn't need lessons from authoritarian regimes, and noted that "I have experienced myself how a part of Germany was controlled by the Soviet Union. I am very happy that today we are united in freedom, the Federal Republic of Germany. Because of that we can say that we can make our independent policies and make independent decisions. That is very good, especially for people in Eastern Germany."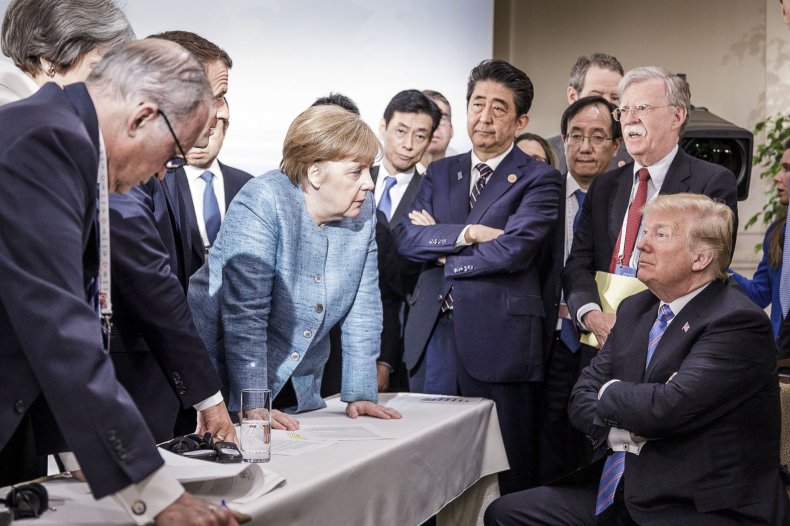 Addressing Trump's remarks on Germany's help to NATO, Merkel said that her country "is the second largest provider of troops, the largest part of our military capacity is offered to NATO and until today we have a strong engagement toward Afghanistan. In that we also defend the interests of the United States."
Trump and Merkel were perhaps part of one of the most iconic images of 2018. At the G7 summit in Canada on June 9, a photo captured the moment Trump was sitting while surrounded by world leaders—including Japan's Prime Minister Shinzo Abe and French President Emmanuel Macron—with Merkel placing her hands over the table and leaning toward the U.S. leader. The photograph depicted what appeared to be a tense moment, which stemmed from Washington's "America First" foreign policy that has been criticized by traditional allies.
At the G7 summit, Trump said Russia must be reinstated into the group of the world's most advanced economies, and complained that Washington was the "piggy bank that everybody's robbing."