Angela Merkel Mixed COVID Vaccine Doses to Encourage 'Cross-Vaccination'
German Chancellor Angela Merkel received two different COVID-19 vaccines to show her country's people that they should not be afraid of getting a mix of shots if advised to do so.
Merkel received a first shot of the AstraZeneca vaccine on April 16, despite concerns at the time about blood clots, and then received the Moderna vaccine for her second dose, spokesman Steffen Seibert told the Associated Press.
"And so she can now perhaps take away the fears of people...who were or are worried about this so-called cross-vaccination," he said.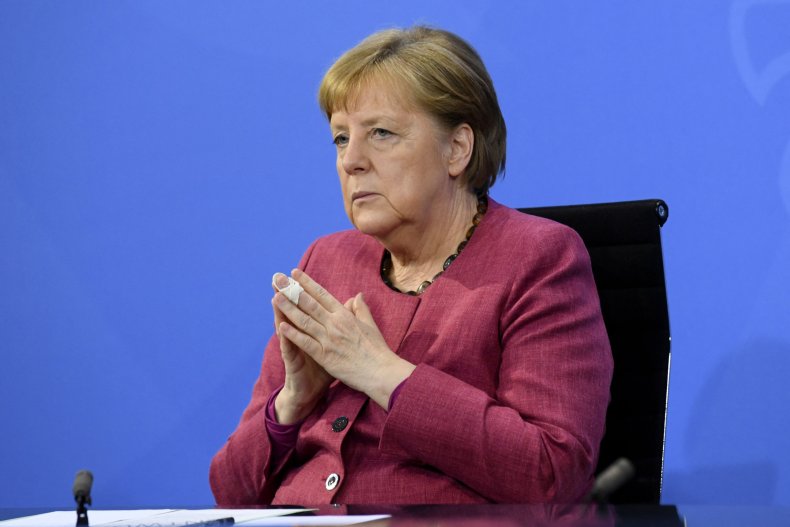 For more reporting from the Associated Press, see below:
Meanwhile, more countries around the world are expanding eligibility for a COVID-19 vaccine.
Turkey's health minister said anyone 18 years old and older will be eligible to receive COVID-19 vaccines as of Friday, as the country ramps up its vaccination campaign.
Speaking after a meeting of the country's scientific advisory council on Wednesday, Fahrettin Koca said the government aims to administer at least one dose to around 70 percent of the 55 million people that are eligible to be vaccinated by mid-July.
So far, close to 30 million people in a population of 84 million have received their first dose, and 14.6 million people have received both doses.
Koca said 40,800 people would be involved in the late-stage trial of Turkey's first local COVID-19 jab, which had been named TURCOVAC. The vaccine that uses the "inactivated virus" technology was developed by Turkey's Erciyes University.
Some volunteers would be administered the vaccine developed by China's Sinovac biopharmaceutical company instead of a placebo, allowing researchers to compare the two inactivated vaccines' safety and efficacy, the minister said. Volunteers in Hungary, Azerbaijan and Kyrgyzstan would also be involved in the trials.
In Belgium, teenagers aged 12 to 15 with underlying conditions will be able to get vaccinated with the Pfizer-BioNTech vaccine.
The move was adopted Wednesday following a meeting of the country's health ministers.
They said COVID-19 shots will be offered to youngsters affected by pathologies such as leukemia, Down syndrome or liver and kidney diseases because their risk of developing a severe form of the disease requiring a stay in hospital is higher than the general population.
A decision has not yet been made on the vaccination of others in that age group.