Angela Merkel Says Germany Is Still at the 'Beginning' of Coronavirus Pandemic: 'We Are on Thin Ice'
Although Germany has started to reopen, Chancellor Angela Merkel implored residents not to fall into a false sense of security because the nation is still at the beginning of the pandemic.
With 150,729 cases, Germany has had the fifth largest outbreak worldwide, according to a tracker maintained by Johns Hopkins University. The country's managed to keep its death toll comparatively low at 5,315 people and had the most recoveries of any country. But Merkel warned returning to normal life too soon will erase the progress they've made.
"We are on thin ice, the thinnest ice even," Merkel told the Bundestag lower house of parliament, according to Reuters. "We are not living in the final phase of the pandemic, but still at the beginning."
The German chancellor added that the country's "interim result is fragile," and that the nation is far from "out of the woods."
On Monday, stores that were up to 8,600 square feet, car dealers, bicycle shops and book shops were allowed to start reopening, as long as they still adhered to social distancing and hygiene rules. They'd been closed since March 17, when the lockdown went into effect.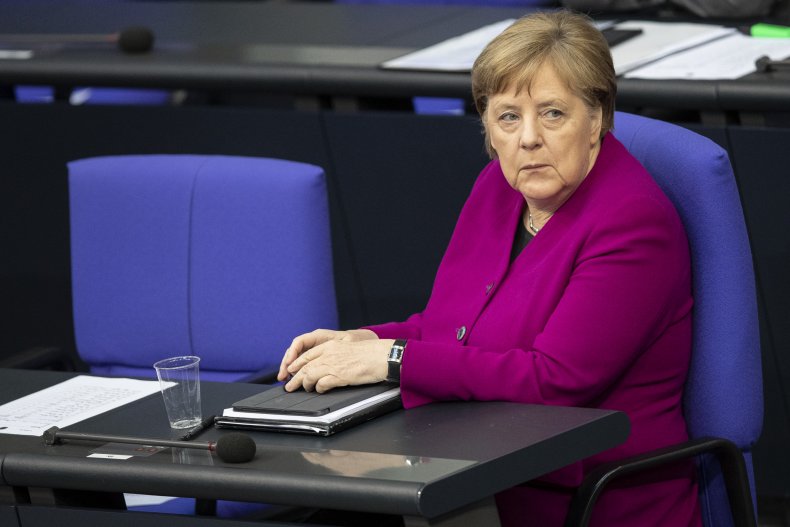 Some students also returned to school on Monday to take their final exams, with schools expected to gradually reopen on May 4. That same day, hairdressers will also be able to resume business.
However, the beginning of May won't be life as usual for those in Germany, as they still will be prohibited from holding meetings in churches, mosques and synagogues as well as partaking in any religious celebrations or events. Large-scale events are banned until at least August 31. People are also still being asked to not engage in any private travel or visits.
President Donald Trump told reporters on Sunday that Germany opening up shops gave him hope that some European countries were on the mend. He compared Germany's plan to reopen to America's and noted that every European country won't be able to lift restrictions at the same time.
He said on Saturday that Germany is one of the only countries that possibly had "better health outcomes" than America. With 842,624 cases, the United States has had the highest number of cases and also leads in deaths as more than 46,000 people have lost their lives.
Trump claimed that on a per capita basis, the mortality rate is "far lower" than Western European nations, except potentially Germany. Compared to Spain, Italy and France, the three countries with the largest European outbreaks that have between 10 and 13 percent mortality rates, Germany's had a mortality rate of about 3 percent.
Karl Lauterbach, a professor of health economics and epidemiology at the University of Cologne, attributed Germany's low mortality rate to a number of factors, including the initial impact to younger patients and delay in the wave of infections. He told CNBC it was also helpful that the country saw a slow increase in the number of infections. CNBC noted that Germany's testing capacity is reportedly far higher than other countries.
Christian Drosten, a top virologist at Berlin's Charite Hospital, credited widespread testing for helping Germany in its early days of the crisis, according to Reuters. However, he and Merkel expressed concerns that lifting lockdowns too soon could have an adverse effect.
"I regret to see that we are perhaps about to lose this advantage," Drosten said.