Angela Merkel Steps Into the Breach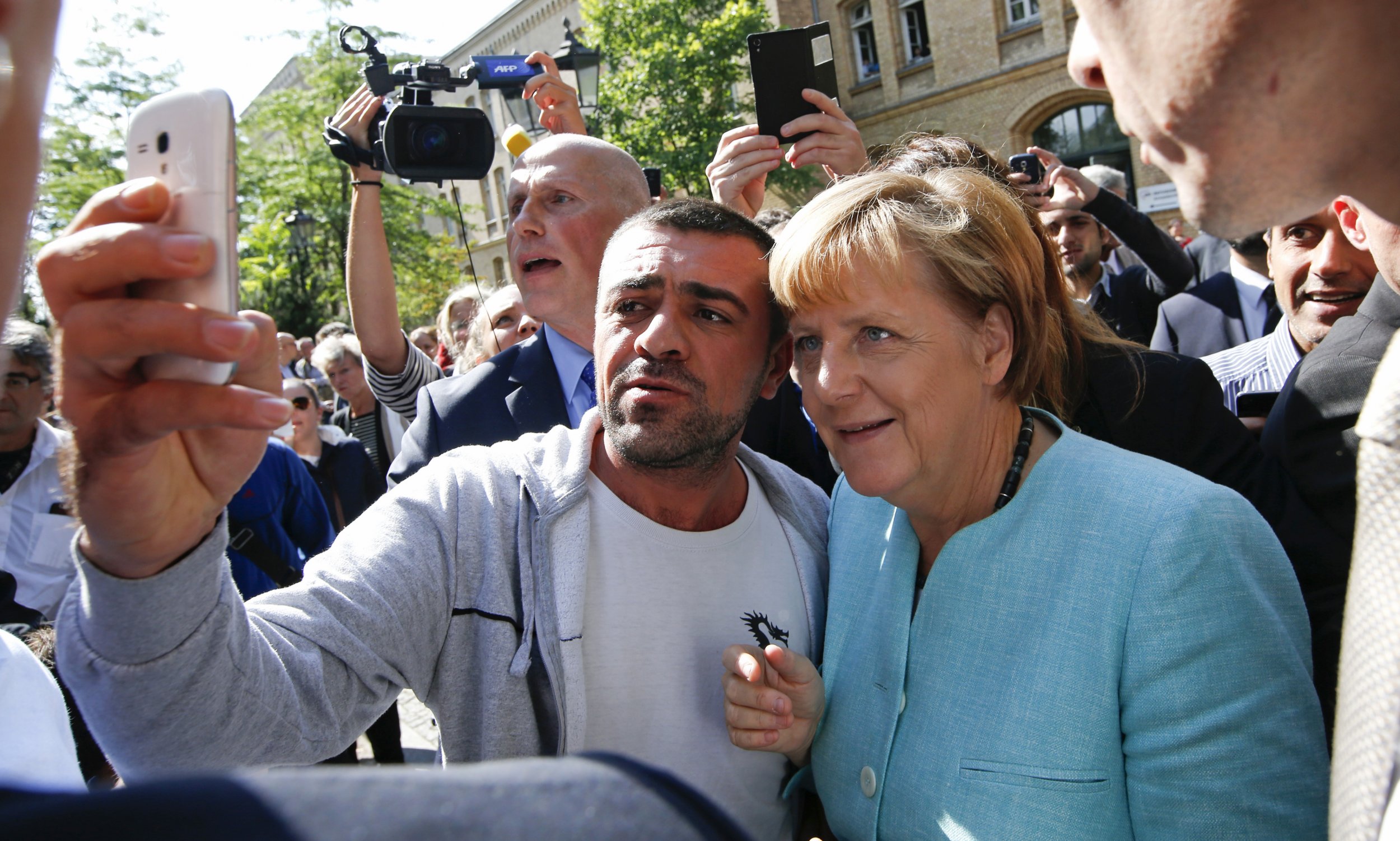 This article first appeared on the Carnegie Europe site.
When she chooses to do so, Angela Merkel can speak with real conviction. So it was on August 31 during her one-and-a-half-hour summer press conference in Berlin.
It was an impressive performance for the German chancellor, who continues to deal intensively with the ongoing conflict in Ukraine, Greece's eurozone woes, which are far from over, and now Europe's biggest refugee crisis since the former Yugoslavia erupted into civil war in the early 1990s.
Indeed, it is Germany that is taking the lead on these three highly complex issues, not the EU institutions or any other leader in Europe. In short, Germany is shouldering a big responsibility for problems that should have been the remit of the EU's foreign, security and defense policy.
But because the EU has been so abysmal at anticipating crises—and even worse at stopping them from deepening—it has fallen to Merkel, with the help of her Finance Minister Wolfgang Schäuble and now her Interior Minister Thomas de Maizière, to prevent the implosion of the EU. And that is what is at stake.
Related: Angela Merkel: Europe's Conscience in the Face of a Refugee Crisis
If EU leaders, whether in Lisbon or London, Budapest or Madrid, do not realize this and instead delude themselves into believing that Europe can continue to muddle through various crises, they are seriously mistaken.
Russia's invasion of eastern Ukraine, Greece's debt troubles, and now Europe's gargantuan refugee crisis threaten the very foundations of the EU and everything it stands for. Merkel knows this. As she said during her August 31 press conference, "if Europe fails on the question of refugees, [its] close link with universal civil rights [will be] broken."
She is right.
Germany's stance is not just about the country's past, which has bequeathed to its postwar citizens a sense of responsibility coupled with guilt. Merkel has also spoken out against those countries that have tried to turn away refugees forced to flee the wars in Syria and Iraq and the appalling repression in Eritrea.
As if EU member states needed reminding, there were plenty of European countries that were reluctant to offer refuge to Jews fleeing Nazi Germany or Austria in the 1930s and 1940s. And there were plenty of countries—including Hungary, which is now doing everything to stop refugees from using it as a transit country—that in the closing stages of World War II rounded up their large Jewish populations and deported them to Nazi concentration camps.
It is remarkable and easy to forget how, on the ruins of Europe, and with much strategic foresight from the United States, today's European Union was conceived.
Apart from the internal market and the free movement of labor and people, the EU was built on values. Commitment to the values that underpin liberal democracies—freedom and solidarity, the market economy, the separation of church and state, the offer of safety to those who need it, and the basic human rights that Europeans take for granted—is what defines Europe.
Yet in the case of the refugees, with few exceptions, EU member states' reactions have been shameful and damaging to Europe's commitment to those values.
So where does this leave Merkel? Actually, in an unenviable situation, but also in one that gives her the ability to change Germany in a very positive way.
It seems that the majority of refugees fleeing Syria for Europe want to make Germany their destination. Who knows if 800,000 will apply for asylum in Germany, as forecast by Berlin? The issue is how the German federal and local authorities will deal with such large numbers. It is about providing an entire infrastructure—housing, health care, food, clothing, counseling, children's care and education facilities—for these people.
Supporters of far-right movements have already burned buildings set aside for the refugees. And there are Germans, especially in the eastern part of the country, who are highly suspicious of foreigners, to put it mildly.
This is where not only the German leadership but also grassroots organizations have come into play in a big way.
On September 2, de Maizière announced plans to speed up the process of integration. He wants to break through the bureaucratic maze of how to process asylum seekers. De Maizière, who is probably Merkel's closest confidant and has worked with her ever since she entered politics in 1989, has already made it clear that those fleeing war—meaning the Syrian refugees—will get priority in the asylum application process.
Integration is something Germany has been trying to grapple with over the past few years, given the disparity in education levels and opportunities between the country's large Turkish community and the local population. Germany did not have any integration policy for its Gastarbeiter, or guest workers, because it assumed the Turks would go home someday.
The country is now learning from that mistake. The Merkel government is making an all-out effort to ensure that all children attend kindergarten from the age of 3. And for refugees who settle in Germany, Berlin wants to integrate them as quickly as possible.
Germany's attitude toward the refugees could go dreadfully wrong unless Merkel and de Maizière succeed in pushing the EU to finally forge a common refugee and asylum policy. The country's xenophobic and racist Far Right but also Euroskeptics are waiting for their moment in Germany. So far, Merkel's policies, backed by an impressive plethora of movements and individuals helping the refugees, hold sway.
But Germany cannot go it alone: it is not sustainable, either domestically or from an EU perspective. That is why Germany, along with France and Britain, has called a special meeting of EU interior ministers for September 14. But surely it is time for a summit of EU leaders—and soonest—at which Merkel can make her case. It is not only about agreeing on a long-overdue asylum and refugee policy for the EU. It is about the legacy of World War II.
Judy Dempsey is a nonresident senior associate at Carnegie Europe and editor in chief of Strategic Europe.