Angela Merkel Vows to Tackle Anti-Semitism At Holocaust Art Opening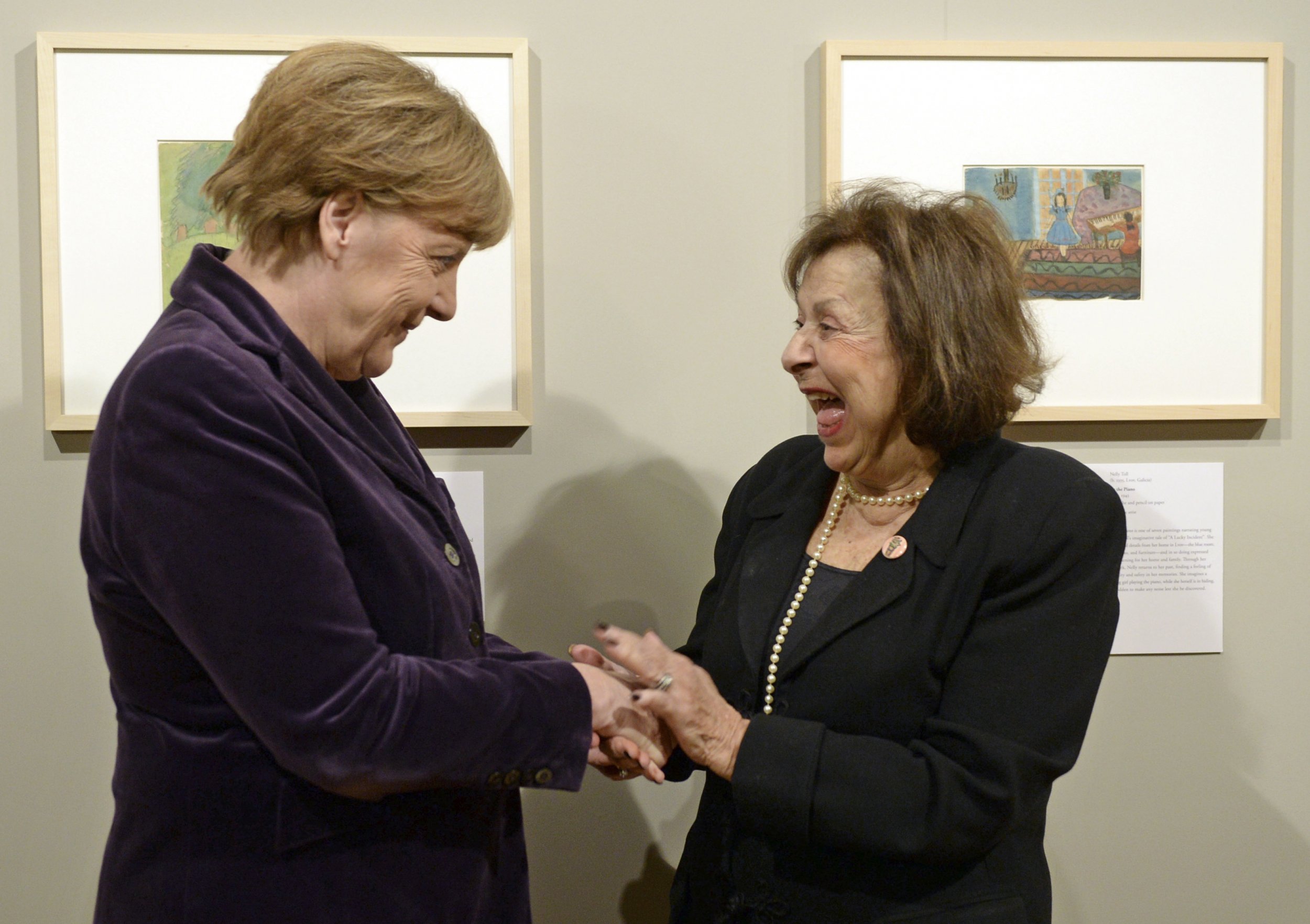 German Chancellor Angela Merkel opened a Holocaust art exhibition displaying works from Jewish concentration camp prisoners on Monday, ahead of International Holocaust Remembrance Day, and vowed to tackle rising in anti-Semitism in Germany.
The exhibition, entitled "Art from the Holocaust," presents 100 pieces from Israel's Holocaust museum, known as Yad Vashem. They include works from 50 artists, including 24 who did not live beyond World War II, who created their art in secret between 1939 and 1945, during their time in concentration camps or Nazi ghettos.
Merkel said that the German leadership needs to learn from the lessons of the Holocaust to help the country adapt to the more than a million asylum seekers who arrived in 2015, many whom she suggested came from countries with a deep-rooted dislike for Jews.
"We must focus our efforts particularly among young people from countries where hatred of Israel and Jews is widespread," she said.
She was joined at the opening by the only surviving artist from the Holocaust collection, Nelly Toll, and said that the Israeli-based artworks were delivered to Germany in two shipments "in case something happened, so that they would not all be damaged."
Avner Shalev, the head of the Yad Vashem memorial, told AFP news agency that the exhibition was "the right time, the right place, to bring this collection to Germany."
He referred to the pieces as "treasures" and "the expression of human beings under these unique circumstances to try and prevail...above the atrocities and deaths."
Germany's Jewish leaders have said that Jews feel a greater insecurity in the country after the influx of refugees from mainly Muslim-majority countries. "No, we are no longer safe here," Daniel Killy, spokesman for Hamburg's Jewish community of 2,500 members, told the Jerusalem Post last week.
In 2014, anti-Semitic incidents in Germany rose to 1,596 from 1,275 the previous year, a five-year record and higher than in any other European Union country.
Leonie Goldberg, head of the Wuppertal Jewish community, expressed similar views to Killy, telling Germany's Spiegel that she "thought the time of the packed suitcases was for always over." Some 200 German Jews made aliyah —or emigrated—to Israel in 2015. But that's a much lower figure than France, which more than 7,000 Jews left for Israel in the same year.