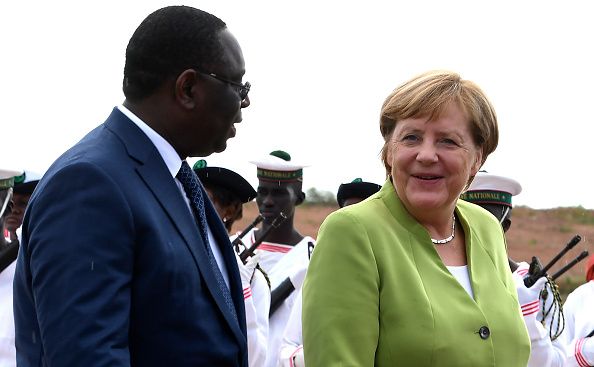 German Chancellor Angela Merkel is on a tour of West Africa this week, where she is floating the idea of investing more in the continent to keep migrants from moving to Europe in search of opportunities. Nearly a dozen German CEOs have joined Merkel to visit Senegal on Wednesday and will travel to Ghana and Nigeria.
"We must not be accomplices of the people smugglers. We must fight illegality but also create legality and conditions for work here on the ground," Merkel said after meeting with Senegal's President Macky Sall, according to the Associated Press.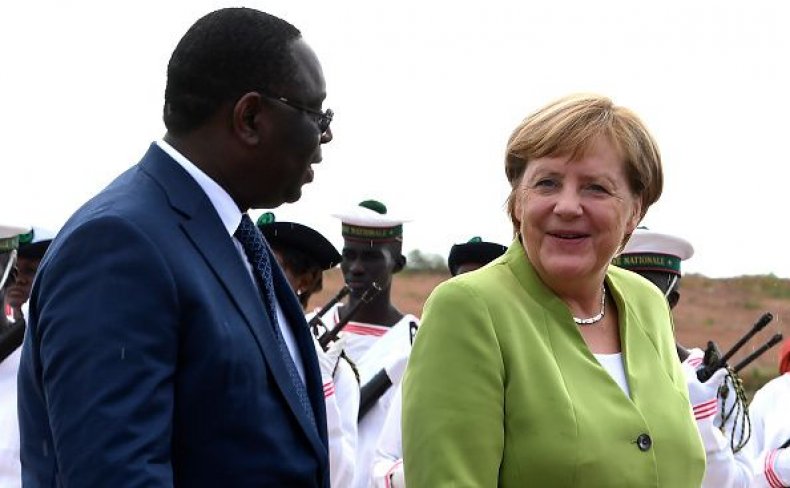 Migration has become one of the most contentious and salient political issues in Europe since millions of refugees first began traveling to the continent from the Middle East and Northern Africa in 2015. Over 1 million refugees arrived in Europe that year, and migrants have continued to travel to Europe ever since. But the number has decreased each year since the peak in 2015.
"A record 1.3 million migrants applied for asylum in the 28 member states of the European Union, Norway and Switzerland in 2015—nearly double the previous high water mark of roughly 700,000 that was set in 1992 after the fall of the Iron Curtain and the collapse of the Soviet Union," according to a 2016 Pew Research Center analysis of data from Eurostat, the European Union's statistical agency. In 2017, for example, an estimated 186,000 migrants arrived in Europe, and asylum applications were down by 25 percent in the first quarter of 2018 compared to the same time period of 2017.
Despite the decline in the number of arrivals, the fate of the millions of migrants already in Europe—and how to process the migrants still arriving—has become a key political debate in countries around the EU. Germany alone took in around 1.6 million migrants, and popular backlash against this decision has created instability in Merkel's government and led to the rise of far-right factions.
Italy recently began turning away charity boats that rescued migrants who were stranded at sea after being smuggled from Libya and other parts of North Africa. Many migrants come originally from countries like Eritrea, Nigeria and Sudan.
In order to address these issues, officials in Europe have considered pouring money into stabilizing Libya in order to crack down on human traffickers profiting off of the migrant crisis. Many of these traffickers take large sums from migrants and then smuggle them on dangerous, rickety boats from the coasts of Libya. Many migrants have drowned or need to be rescued at sea. EU proposals include setting up regional disembarkation centers on the northern tips of Africa so people seeking asylum cannot reach Italy.