Angelina Jolie Pays Tribute to Refugee Mothers' Strength on This Mother's Day
In a personal essay written for Mother's Day 2020, Angelina Jolie recognized women with children who are refugees, acknowledging their marked strength and sacrifices.
Her essay, published by the New York Times on Saturday, spoke to the challenges faced by refugee mothers caring for families without economic resources or physical security.
"This Mother's Day, I think of refugee mothers I have met, living in poverty and displacement," wrote the actor, filmmaker and activist, who became a Special Envoy to the United Nations' Refugee Agency (UNHCR) in 2012. "Every one began her journey of motherhood with a promise to do all she could to protect her child. To lay down her life if necessary. And if she is defeated and silenced, few things are more tragic."
Continuing, Jolie shared lessons she has learned about motherhood from interactions with women living as refugees.
"I've come to believe that a mother is the strongest person on earth," she said, referencing the elevated incidence of gender-based violence against women in areas of conflict. As human rights organizations like UNHCR have noted, many women refugees have experienced abuse, with some seeking asylum specifically to escape it. According to a report from the Migration Policy Institute, it is not uncommon for women and girls pursuing refugee status to encounter continued threats to their physical safety along the way.
In her personal essay, Jolie paid reverence to women refugees and others who have survived gender-based violence, calling particular attention to the prioritization of their children's safety.
"Women who are abused aren't 'weak women,' they are often mothers. They are often trying to manage danger with no way out. They will stand between their child and harm. They will face isolation and criticism. But their only thought will be: 'Hurt me, not my child. Insult and ignore me, not my child. Take away my food, but not my child's,'" she wrote, adding, "to the mothers everywhere who feel helpless — yet who still give every last bit of energy, every last bite of food and the only blanket to their children — I honor you."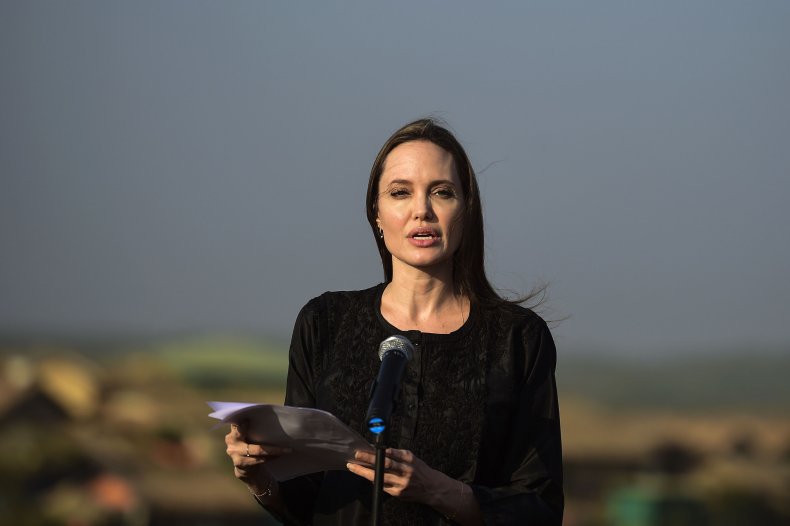 UN Women, a branch of the global organization dedicated to advancing gender equality and women empowerment, has raised awareness about an observed spike in violence against women since the start of the new coronavirus pandemic. In a statement released April 6, UN Women Executive Director Phumzile Mlambo-Ngcuka noted that domestic violence help lines and shelters across the world have reported requests for help and support in increasing numbers.
Last week, 24 United States attorneys general issued a letter urging the Senate to reauthorize the expired Violence Against Women Act in response to the rising prevalence of domestic violence reported nationwide.
In a news release dispensed alongside the letter, Washington state Attorney General Bob Ferguson emphasized the pressing need for reauthorization. He wrote: "As the COVID-19 pandemic keeps people at home with their abusers, I urge the Senate to reauthorize these important protections for women in danger of domestic violence."