Angelina Jolie: Spy Master?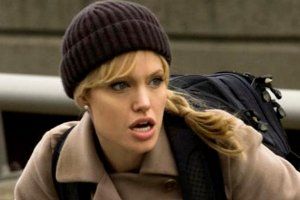 Who's the mastermind of the Russian spy ring? It's obvious. It's Angelina Jolie.
Consider: Angie's thriller Salt opens in less than a month, and it just so happens that she plays an American woman who is accused of spying for the Russians. Now, if folks are finding it hard to believe that the Russians—decades after the end of the Cold War—had engineered some kind of long-range plan to infiltrate Washington think tanks, is it any less conceivable that yesterday's news was really a ruse created to drum up publicity for a movie? Angie is at least as powerful as anyone in the federal government, and she could well have been using her worldwide baby-finding missions as a cover to recruit actors capable of staying in deep character after the FBI knocks on their doors.
Anna Chapman, the 28-year-old real-estate agent who the government alleges is crafty enough to communicate with her Russian contact from the cozy confines of a New York Barnes & Noble, doesn't quite fill out her dress as curvaceously as Jolie. But she's got enough va-va-voom going on—the New York Post hyperbole machine says she has a "Victoria's Secret body"—to make for moviegoers weakened by the summer heat to see a connection between her and Jolie's character, Evelyn Salt. Certainly someone will soon ask Jolie about the connection between real and reel life. The question is, will we believe what she says?
Angelina Jolie: Spy Master? | Culture