'Angels in America' Review: Andrew Garfield Leads Strong Cast in the British National Theatre's Revival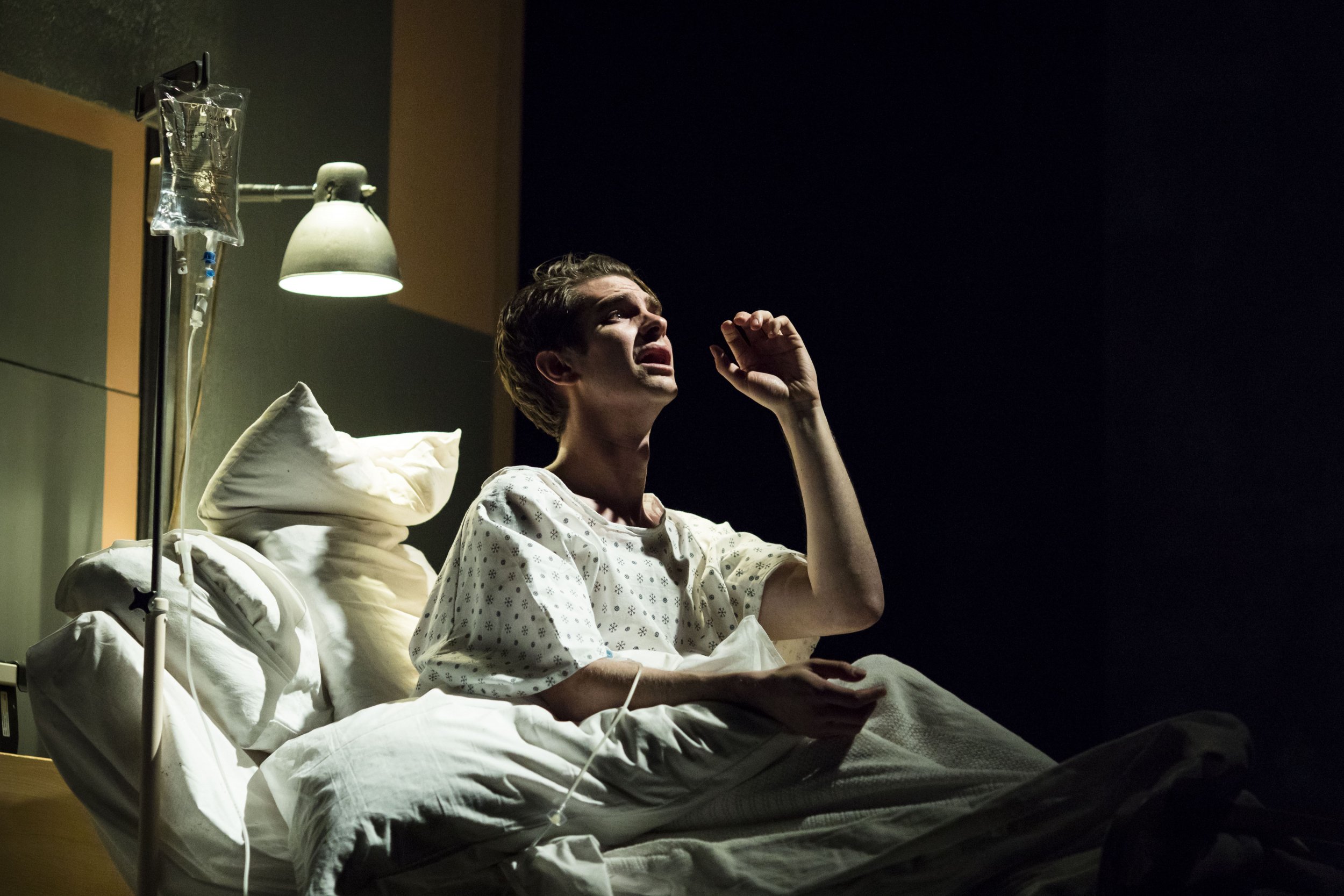 As the first half of the U.K. National Theatre's new production of Angels in America, playwright Tony Kushner's two-part theatrical epic, draws to a close, Andrew Garfield's AIDS patient Prior Walter has a fever dream in which an angel comes to him with a revelation. In this fastidiously acted—and directed—take on Kushner's work, Garfield is a revelation as the lead.
Angels in America—written in 1993 and the winner of a Tony Award and a Pulitzer Prize for drama—begins in 1985 as AIDS ravages the nation's gay community. In New York, Garfield's Prior is one of them, abandoned by his boyfriend, Louis Ironson (played by James McArdle), as his condition worsens. That is the short version of the story, anyway. The play is told over two separate performances— Part One: Millennium Approaches and Part Two: Perestroika —that span nearly eight hours together, during which we see other interconnecting stories, of a closeted power lawyer and a closeted Mormon and his pill popping wife, as well as Prior's apparent spiritual awakening. It requires a lot of its audience, and its cast, but so engulfing are Kushner's themes and characters that even the lull periods, of which there are a few in Perestroika as Kushner sweeps us away in abstract fantasy, are compelling.
Subtitled a "gay fantasia on national themes," Kushner's play expounds on the nationwide panic about AIDS in the 1980s that led to intolerance and discrimination against gay men. This is never more apparent than when closeted Roy Cohn, a conservative lawyer—played by veteran theater actor Nathan Lane—refuses to accept he, too, has the disease: "AIDS is what homosexuals have," he says coldly. More chilling is that Cohn is based on a real person. The play also waxes philosophical on liberalism versus conservatism as Reagan enters his second term as president, and offers a searing indictment of race relations in the U.S., as illustrated by Cohn's treatment of his black, gay nurse Belize, which makes for an uncomfortable yet fascinating parallel to America today.
Garfield's portrayal of Prior at first seems more ostentatious than truly comfortable, particularly in the almost-involuntary head tosses and flailing hand gestures in the first few scenes, for example. But the British actor settles into Prior's rapidly diminishing, lesioned body with an integrity that is surely the performance of his career, eschewing Spider-Man and building on the successes of his character work in Martin Scorsese's Silence and Mel Gibson's Hacksaw Ridge —both of which gained him considerable esteem from critics. Garfield's boyish figure, made more noticeable by Prior's baggy wardrobe, adds to the actor's extraordinary ability to convey Prior's moments of sheer rage and hopelessness with his searing eyes and affecting, guttural shrieks as his condition worsens.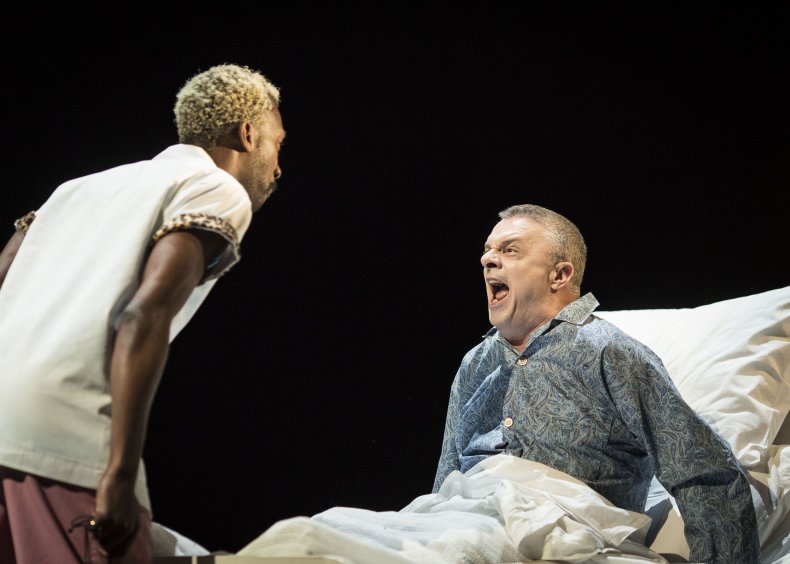 Surrounding Garfield is a cast that would be worth the price of admission even without him. Lane, the U.S. actor best known for appearing in Broadway and West End musical The Producers , is exhilarating as the loathsome Cohn, forcefully pounding on his phone and screaming at the top of his lungs at the people around him. Yet as deplorable as Cohn is, Lane manages to elicit empathy from the audience. Denise Gough, the U.K.'s most in-demand theater actor of the moment, is also a delight to watch playing Harper Pitt, the Valium-addicted wife of gay Mormon Joe Pitt (Russell Tovey). Gough's performance carefully frames her character's delusions caused by mental instability as simultaneously amusing and melancholy—a balance that is hard to strike.
Kushner's preferred staging of Angels in America calls for a "pared-down style of presentation, with minimal scenery" to make it an "actor-driven event." Marianne Elliott, a veteran stage director known for the National Theatre's acclaimed 2007 production of War Horse , and set designer Ian MacNeil duly oblige Kushner's wishes and the play is all the better for it. The staging is minimal, although neon lighting adds a contemporaneous feel.
"More life," pleads Garfield's Prior in Perestroika . This production achieves just that for Kushner's play.
Angels in America plays at the National Theatre in London until August 19 and will screen in cinemas on selected dates in July and August.