Venezuela's Opposition Takes to the Streets over Maduro 'power Grab'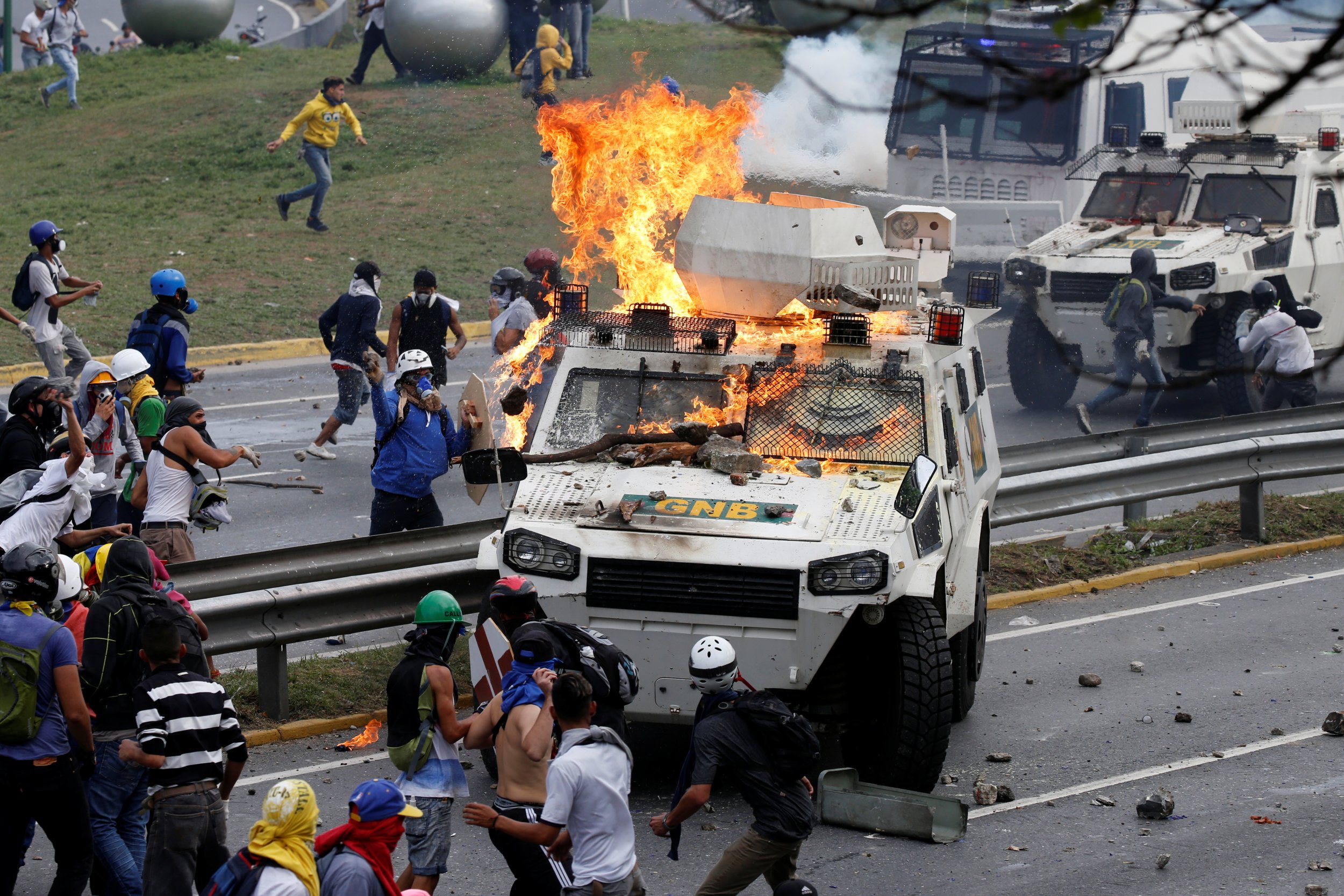 Venezuela's opposition blocked streets in Caracas Tuesday to denounce a decision by leftist President Nicolas Maduro to create a "constituent assembly," a move critics said was a veiled attempt to cling to power by avoiding elections.
Building on heightening global outcry over Maduro's government, the United States condemned the action and regional powerhouse Brazil slammed it as "a coup."
After a month of near-daily protests by opponents demanding early general elections, the unpopular leader announced Monday that he planned to set up the super-body popular assembly with the power to rewrite the constitution.
The socialist government said the opposition was promoting street violence and refusing dialogue, so it had no choice but to shake up Venezuela's power structure.
Critics of the president said he was increasingly dictatorial and planned to staff the assembly with supporters and avoid elections he would likely lose during a crushing recession in the oil-producing country.
Regional elections that were scheduled for last year have yet to be called and a presidential election is due in 2018.
Asked about elections in an interview on state television Tuesday, the Socialist Party official in charge of the constituent assembly said the electoral schedule would be respected. However the official, Elias Jaua, also suggested that current political turmoil was hindering setting a quick date.
"One of the aims of the constituent assembly is to seek the conditions of stability to be able to go to those electoral processes," Jaua said. "Those conditions of normality do not exist," he added, citing protests and institutional clashes between authorities and the opposition-led National Assembly.
The United States, as well as Argentina, Chile and Brazil on Tuesday expressed worry about Maduro's decision.
"President Nicholas Maduro's proposal for a constituent assembly is a coup d'état. It is another break with democracy, violating the country's constitution," Brazilian Foreign Minister Aloysio Nunes said in a statement posted on Facebook.
The United States said Maduro was trying to yet again "change the rules of the game" to remain in power.
"We have deep concerns about the motivation for this constituent assembly, which overrides the will of the Venezuelan people and further erodes Venezuelan democracy," Michael Fitzpatrick, U.S. deputy assistant secretary for Western Hemisphere Affairs, said in a telephone call with reporters.
Maduro's critics worry that the new body would further sideline the current opposition-led legislature and pave the way for undemocratic changes to the constitution.
The controversial decision was likely to provoke more anti-government protests, already the most sustained since 2014, as they seek to end 18 years of socialist rule that began under late leader Hugo Chavez.
Opposition barricades snarled traffic in and around Caracas Tuesday morning, with demonstrators using bags of garbage, branches, bottles, and cardboard boxes to block roads. Security forces used tear gas to disperse some demonstrators.
"We don't believe in Maduro's fake peace, what he's done is add more fuel to the fire," said Jesus Gutierrez, 64, who was with about 100 demonstrators blocking one of the main avenues in the capital. "The people have to react and that's what they've been doing."
Some 29 people have been killed, more than 400 injured and hundreds more arrested since the anti-Maduro unrest began in early April.
The government has responded with shows of force by security forces and counter-demonstrations by Maduro supporters.
Many details remain unclear about the constituent assembly, although foes say it would be excessively powerful.
"According to the government, it would have all powers," said Jose Ignacio Hernandez, law professor at Venezuela's Catholic University. "It could dissolve the National Assembly, name a new electoral council, dismiss governors, and dismiss mayors."
The opposition planned more marches Wednesday.