Anger at U.K. Border As Stranded Truck Drivers Need COVID Tests to Re-Enter France
Tensions boiled over among weary truck drivers who have spent days trapped near British ports as they were told they would need a negative COVID test in order to return to France.
Pictures taken Wednesday morning showed police officers pushing back a crowd of drivers as anger built at the Port of Dover in Kent, one of the regions in England now placed under the highest "Tier 4" stay-at-home restrictions as a result of the fast-spreading COVID mutation.
Fears over the new, more transmissible variant of COVID-19 that has been spreading across the south of England saw France put a ban on all U.K. arrivals for 48 hours, drawing thousands of freight trucks to a standstill.
The U.K. agreed on Tuesday night to conduct mass COVID tests on drivers amid warnings British supermarkets could soon run short of fruit and vegetables, just days before Christmas. The deal means rail, air and sea services between the U.K. and France will resume, to the relief of the hundreds of freight drivers stranded in southeast England—many who have spent the two-day wait in their trucks.
French citizens, British nationals living in France, and freight drivers are among those now able to travel as long as they have received a negative result less than 72 hours before departure.
Soldiers have joined staff from the U.K.'s Test and Trace service to carry out rapid tests on the stranded drivers.
The Netherlands and Belgium have also relaxed bans on arrivals from the U.K., as long as they have a recent negative result. But more than 50 other countries, including Italy, India, and Pakistan, are continuing to block travelers from the U.K.
Britain's housing secretary Robert Jenrick told Sky News it would take "a few days" to test all the drivers before they can travel to France, meaning some could still be stranded in the U.K. on Christmas Day.
Several thousand trucks have been stuck near the Kent port after France stopped them crossing the Channel, many lined up on the M20 motorway or at nearby Manston airfield. A group of drivers began booing and whistling at police just after 8 a.m., before a small number started pushing officers in an apparent attempt to break through their lines and enter the port.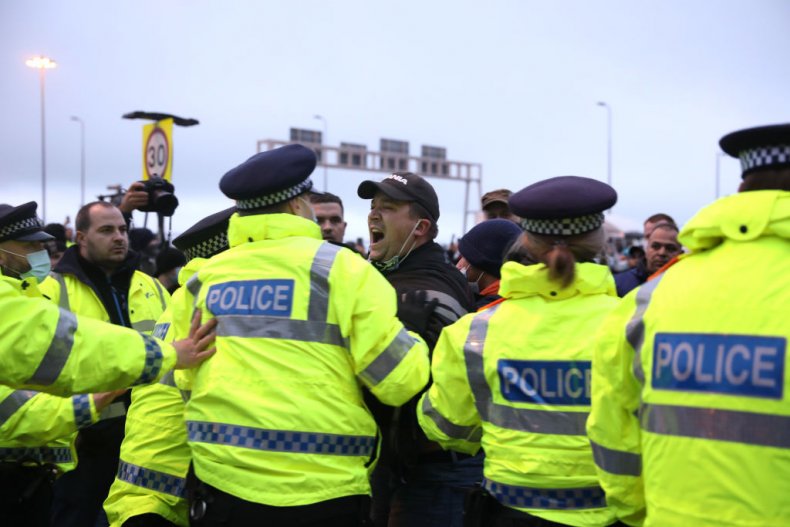 Transport Secretary Grant Shapps said the French government had agreed to accept lateral flow tests, which can return results in around 30 minutes, in order to get traffic moving again. Despite the agreement, Shapps has urged other hauliers to stay away from Kent until there are further announcements.
Eurotunnel said freight services between the U.K. and France would also resume on Wednesday. The agreement came hours after the European Union urged member states to abandon travel bans on U.K. travelers to free up the movement of goods.
The bloc's executive urged countries to continue discouraging non-essential travel to and from Britain but said that U.K. and European citizens should be allowed to return to their homes.
U.K. Prime Minister Boris Johnson announced a new strict lockdown that bans people from leaving their homes in London and the southeast of England after scientists discovered the new variant of COVID-19. Although the new strain, VUI202012/01, is fast-moving, scientists said, it so far doesn't appear to be deadlier.
England's Chief Scientific Adviser Patrick Vallance said it is "likely" the new strain has spread to other parts of England, while Peter Openshaw, an immunologist at Imperial College, said it is likely the strain is already in Europe.