Angela Rye's 'State of the Union' Will be a 'Safe Space' For Black People to Talk About Change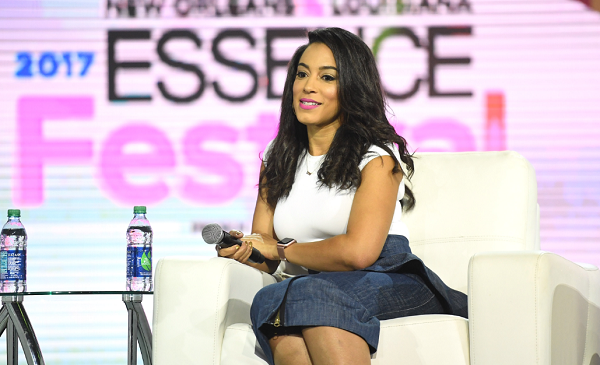 In August, Angela Rye made news going head to head with President Donald Trump's former campaign manager, Corey Lewandowski, on CNN Tonight. The political commentator, known for her sharp rebuttals and flippant eye rolls, got into a heated debate with Lewandowski about Trump's involvement in the so-called birther movement. When Lewandowski suggested President Barack Obama never offered his Harvard transcripts or admissions statement to prove his education, Rye shut him down with a "Boy bye."
The dismissal of Lewandowski—using a lyric borrowed from Beyoncé's 2016 hit "Sorry"— went viral. The candid moment also resulted in Rye landing her own BET (Black Entertainment Television) news special, Angela Rye's State of the Union, which debuted on the network Wednesday.
Rye described to Newsweek how BET chairman and CEO Debra Lee decided to give her a show. "She came on my podcast and said she heard me say, 'Boy, bye,' on CNN. Lee said, 'We have to have her on BET!'"
Rye's podcast, On One with Angela Rye, was just one of her regular platforms at the time. The former executive director for the Congressional Black Caucus regularly served as a commentator on MSNBC, C-Span, NPR, The Root, The Grio, HBO and a number of BET's past news and advocacy programs. But her State of the Union special marks the first time she will head her own program.
She's excited for the opportunity, but more importantly, the 38-year-old said she is grateful to use her platform to reach audiences of color on BET, a network specifically tailored to her community. "Our folks have always provided an opportunity for us to find our voices, hone them and make sure that we're representing and putting our best foot forward for the culture," said Rye. "And I could not think of a better place [than BET] to do specials that impact us, that talk about our issues and highlight voices in our communities that are doing the real work on the ground every single day."
Although inspired by former advocacy programs like BET's Teen Summit, which saw young people discussing everything from gun violence to sexual education, Rye says State of the Union is a "full grown-ass woman and grown-ass man show," a "safe space" to talk about the many problems black people and minorities are facing under America's current leadership. But more than just harping on the negative, Rye's BET special will offer solutions, too.
"We're talking to people who are doing work every single day to advance the community, to advance an agenda, whether we support it or not. We're going to talk about proactive ways for us to solve the community's challenges because nobody's going to do for us like we're going to do for us," she said. "We're going to start the conversation that many are having on social media and in their homes. But we want to give [viewers] some other things to think about as they go forth with their plans to take action."
After graduating from the University of Washington and Seattle University School of Law, the native of Washington state moved to D.C., where she launched a career in legislative advocacy at the National Association for Equal Opportunity in High Education, a group that works with the nation's 120 historically black colleges and universities. She later co-founded IMPACT, an organization aimed at empowering young professionals through economic, civic and political engagement.
Given all that, one might assume activism was in Rye's nature. But the daughter of longtime community organizer and historian Eddie Rye Jr. says "activist" was a label she used to run from. "I felt like my dad and I agreed on the end goal, but we did not agree on the means," said Rye. "I didn't want be an activist. I thought, 'I'm going to go out here and make money and become a lawyer, and then I'll [help make change] through my economics."
But as she got older and witnessed the entrenched social, economic and racial disparities suffered by people of color in America, her mindset shifted, and her desire to incite immediate change increased: "Activism cannot be an option when you have people who are still oppressed."
Rye hopes her decision to prioritize her civic duties will inspire others to find ways to better their communities right now, instead of holding off until they can better their own lives. "None of us can afford to decide when we want to be and activist," she said. "We all must activate, we all must move, we all must ensure that we're making life better for all humankind.
"I believe that our purpose on this earth is to make things better and easier for those who come behind us, those who are walking alongside us, even those who are in front of us," she added. "If we always wait to arrive, we will never get there."
Along with showcasing groups and organizations that are already out in the streets advocating for change, the three-part State of the Union special will feature a rotating guest panel and a thoughtful discussion with a high-profile guest who's already enacting political change. The first national leader featured on Wednesday's premiere was California Representative Maxine Waters—or, as Rye refers to her, "The face of the resistance."
The host insisted that all of her show's content will be empowering, but also thought-provoking. The intention, said Rye, is "to challenge us in where we are, challenge us on where we need to go and really get at thinking about the importance of movement, constantly moving and ensuring that the movement is forward."
And it is moving forward, she insisted, "despite what current leadership looks like."
Angela Rye's State of the Union airs on Wednesdays at 10 p.m. on BET.
Angela Rye's 'State of the Union' Will be a 'Safe Space' For Black People to Talk About Change | Culture