Angry Activists 'Appalled' Over Mass Arrests at London Solidarity Die-In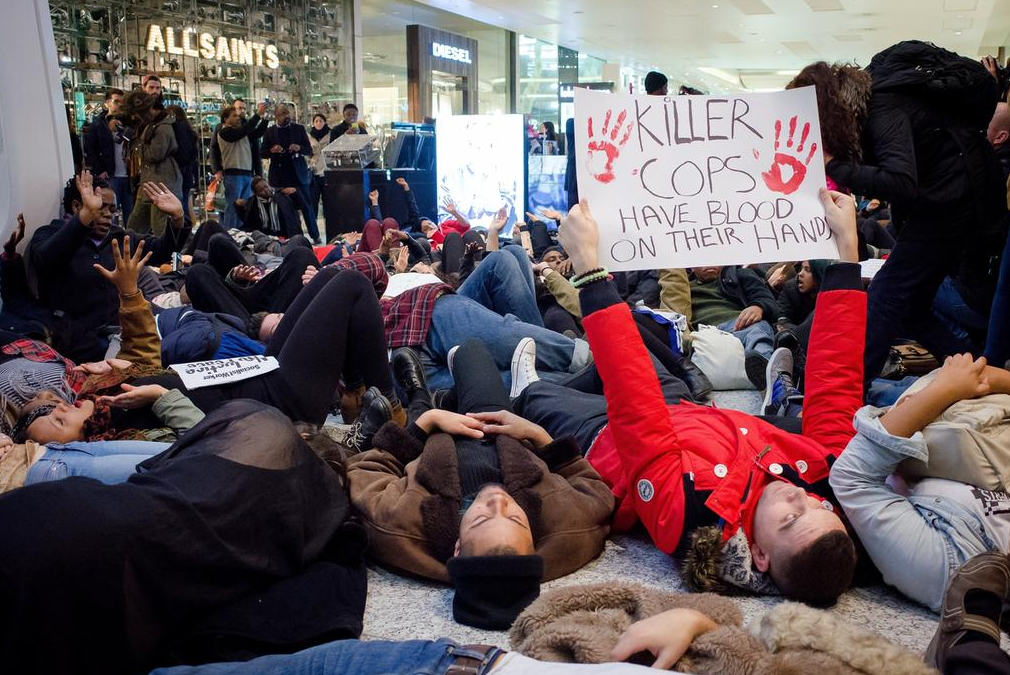 The organisers of a 'die in' protest, held at Shepherd's Bush Westfield on Wednesday evening have said that they "are appalled that the Metropolitan Police chose to arrest 76 people", saying that some of those were "non-participants" and have accused them of trying to "smear protesters campaigning for police accountability".
In an statement railing against the Metropolitan Police, published on the London Campaign Against Police and State Violence (LCAPSV) website, the group condemned the "indiscriminate practice of kettling, attacking protesters with metal batons and mass arrests. This dubious practice has resulted in several children, and visibly identified legal observers, one NUJ registered journalist and an unknown number of unfortunate bystanders, as well as dozens of innocent protesters, being held overnight across London for 'violent disorder'."
600 people took part in the protest which took place both inside the shopping center and outside. It was held in solidarity with the rallies that have been occurring across America in the last week in the wake of the death of Eric Garner, an unarmed black man who died in July after being put in a chokehold by a police officer. A grand jury decided not to indict the officer in question leading to widespread protests in the U.S. The decision closely followed that of the decision not to indict a white police officer over the shooting of unarmed black teenager Michael Brown.
The Westfield event was organised by three separate groups: the NUS Black Students' Campaign, the London Campaign Against Police & State Violence (LCAPSV) and a group known as the London Black Revolutionaries - whose Facebook page states that they are "fighting for justice at any cost".
LCAPSV said that while the mass arrest was not a new police tactic, "what is new is the seriousness of the possible charges, apparently if black people organise a protest against police violence by lying down in a shopping centre, it is 'violent disorder'."
They continued: "We've seen these shameful tactics used against many anti-racist groups, anti-war campaigners, grieving families demanding justice after their loved ones died in police custody. It includes spying on Stephen Lawrence's family and even authorising the use the birth certificates of dead babies to create false identities for Met undercover officers who then later father children with women before disappearing."
The group also believe that the motive behind these tactics is the gathering of intelligence and state surveillance on peaceful protesters. "That's not our opinion," a spokesperson said, "that is the oral evidence that Assistant Met Commissioner Lynne Owens gave on 29 March 2011 to parliament in response to the UK Uncut mass arrests."
Westfield declined to give a verbal comment, instead sending a pre-written statement which said they had worked closely with the police to manage the protests, and that a "designated area" was provided outside the station for the event, although a group of protesters also gathered in the the centre and demonstrated peacefully there. "A small group of protestors later attempted to force entry to the centre past Westfield security. Members of this group were detained by Met police officers. This is now a police matter." They also added that "Throughout the protest the centre remained open and trading."
The Metropolitan Police have issued a statement saying: "A group of protesters broke away from a larger group and attempted to force entry to the shopping centre assaulting security staff and causing damage to property. In response to this police used a number of tactics - including a containment for the purpose of preventing violence and effecting arrests."