Angry Chef Pours Boiling Oil Over Customer's Face After He Complained About Delayed Food Order
A hotel chef in India was recently taken into custody after being accused of hurling boiling oil at a customer who aggressively complained about a delayed food order.
The altercation broke out on Friday morning inside the Hotel Harmain in Chandrayan Gutta, a region of Hyderabad city in the state of Telangana. The victim of the attack was 29-year-old Mohammed Bin Bakshadi—a businessman from Hashamabad, the Telangana Today newspaper reported.
The cook was identified only as Jahangir. News segments from local media outlets uploaded to YouTube show the victim lying on a hospital bed, suffering from severe burns and wearing an oxygen mask.
The incident had been sparked after Bakshadi waited over 30 minutes for a food order—despite being told by the chef it would take between 10 and 15 minutes, according to the New Indian Express. The victim went to the hotel for breakfast, ordering a type of fried bread known as puri.
The situation escalated after Bakshadi shouted at hotel staff and the chef about the delay. Jahangir took offense to abusive language allegedly used by the man and threw oil from the kitchen in response.
G. Koteshwar Rao, the Chandrayan Gutta police inspector, told Telangana Today: "[Bakshadi] also shouted at the manager and the cook Jahangir for the delay. Jahangir then picked up an argument with Bakshadi for abusing him in vulgar language. In the heat of the argument, Jahangir took boiling oil from the pan and threw it on the latter's face. He was rushed to a private hospital and is undergoing treatment."
The victim reportedly suffered burns to his hands, face and neck. A criminal complaint was filed against the hotel chef after he was accused of voluntarily causing grievous harm, the local police department said.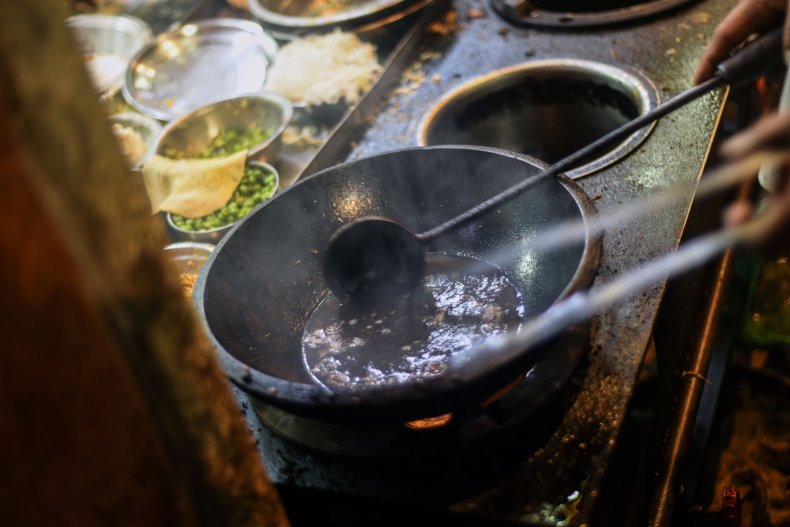 Culinary disagreements are in no way confined to India. In the U.S., police have been forced to respond to a slew of violent incidents often involving customers enraged by lengthy waiting times for fast food.
Only last week, a Tennessee woman identified as Marquenta Glidwell was charged with aggravated assault after being accused of attacking a 19-year-old McDonald's drive-thru worker with a stun gun and pulling him through a store window by his head because her food was delayed.
A similar incident broke out in June at a Florida Taco Bell after a fuming customer called Taurus Latron Ford, 37, confronted a staff member, punching him in the ribs and then smashing a store window.
In March, a handful of Taco Bell employees were fired after video footage emerged of them beating up a customer who complained about in-store waiting times blamed on a barrage of online orders. "They put me on the ground, and I don't really remember too much else," the victim, Bryan Reese, said at the time.