Angry Customer Shot Dead After Driving Truck Into a Chick-fil-A in Nebraska
After causing a scene, a man backed his pick-up truck through the front entrance of a Lincoln, Nebraska Chick-fil-A at 1 p.m. on Tuesday. A uniformed railroad officer shot him dead for refusing to comply with orders and allegedly displaying threatening behavior, according to witnesses who spoke to the Lincoln Journal Star and officer testimony.
Speaking to KOLN, Officer Luke Bonkiewicz has reported there's no ongoing threat to the public, the scene has been secured and that the suspect was deceased. The investigation is still ongoing, and the location, at SouthPointe Pavilions, will remain closed until it is complete. The location is currently being evaluated by building and safety crews.
David Arias, a Chick-fil-A employee, told the Lincoln Journal Star that the suspect "just went off". At first flipping trays and punching at and agitating customers while overturning tables, the unnamed customer began throwing food while screaming profanities about a sandwich.
He left the establishment when another individual confronted him and escorted him outside, only to return in his Ford Pickup, backing it through the doors, then emerging to cause more property destruction and chase customers from the establishment to their cars.
As employees helped to evacuate and customers fled the scene, the suspect remained within the Chick-fil-A.
Eyewitness video posted by KOLN and provided by Shawna Nedgo shows customers fleeing in a panic as dust and smoke rise from the scene from the man's having rammed his car into the building. The apparent suspect can be seen punching what appears to be the restaurant's lemonade dispenser.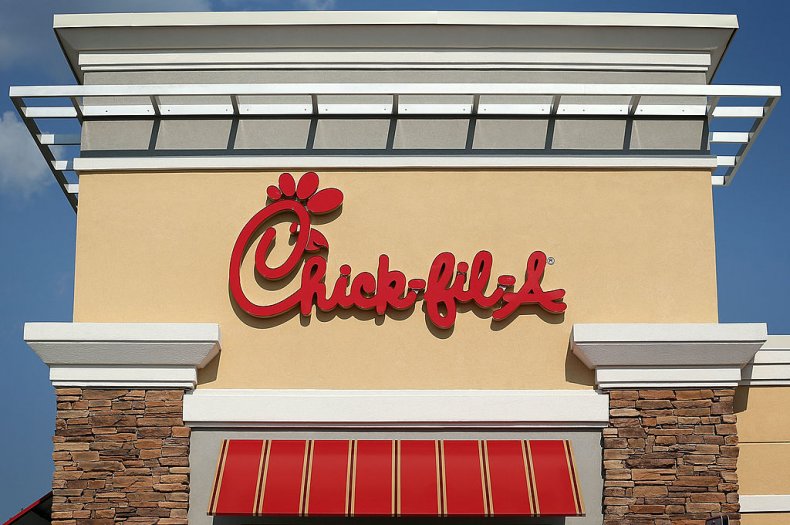 Police surrounded the restaurant, entering into the establishment via the drive through lane. After requesting the man calm down according to witness testimony, the suspect was apparently shot after threatening the officers with a weapon, thought to be a stun gun by witnesses. Witnesses also report hearing two shots, as well as seeing Lincoln Fire and Rescue crews in the parking lot giving mouth to mouth to a man in the parking lot later. The lifesaving efforts were apparently not successful, and he was covered by a white sheet.
Twenty to thirty witnesses have been questioned by police, according to sources. Then customers were allowed back into the restaurant to gather their belongings.
Franchise owner Charlie Colon could be seen in the parking lot huddled with his employees, leading them in a prayer for the suspect.
"This will not define us," he told them. "Your [God's] love will."
Southwest High School, located nearby, went into lockdown in response to the incident.
There are no reports of any further injuries on the scene.
Updated 10/8/2019 8:17 PM: With corrections and news from the police press conference.