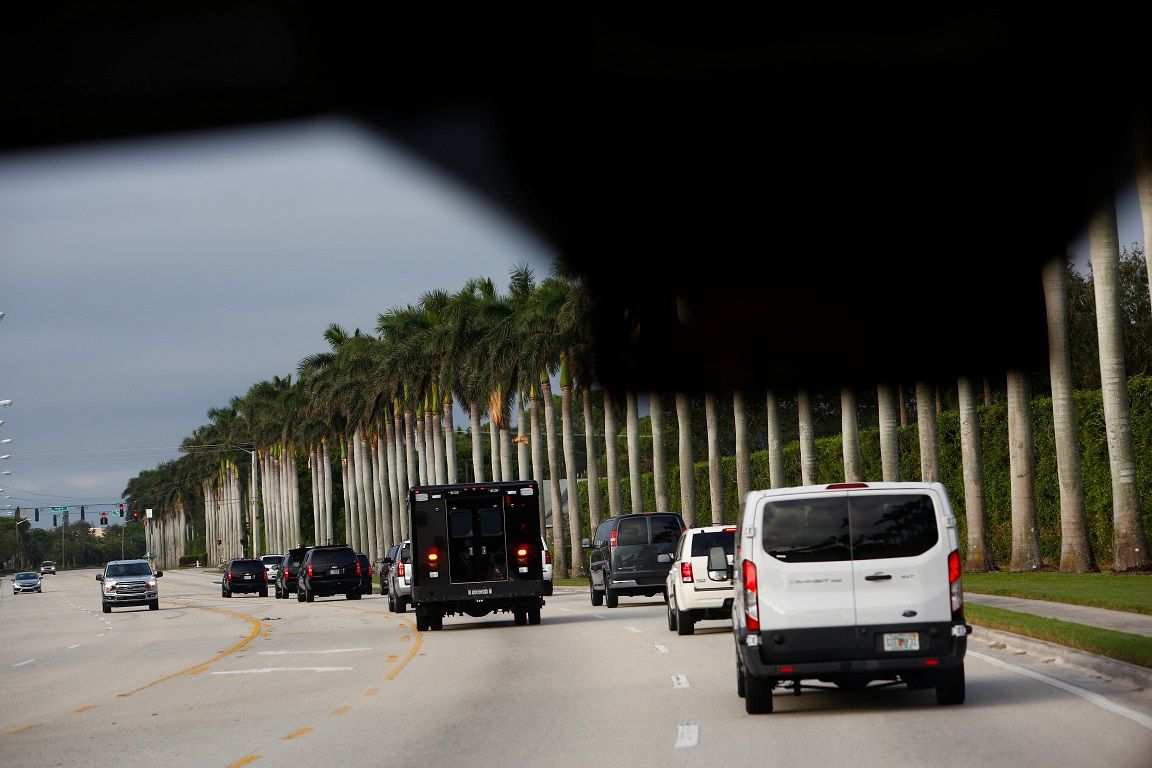 Donald Trump's motorcade was disrupted on Saturday, Nov. 25, by a driver in a red van who reportedly cut in and made "obscene gestures and screamed several expletives" at the U.S. president.
The incident happened as Trump made his way back to his Mar-a-Lago residence in Florida after spending his morning playing golf at Trump International in West Palm Beach.
"At one point a man in a red van attempted to cut into the motorcade," a White House pool report stated. "Local law enforcement pulled over the vehicle, where the driver made obscene gestures and screamed several expletives."
Trump's trip to Trump International was the fourth day in a row that the president has visited one of his golf properties over the Thanksgiving holidays.
The Florida trip also marks the hundredth day he's spent at a property he owns since his inauguration earlier this year.
Read more: Trump has been on a golfing binge in Florida, delaying white house duties.
The Associated Press reported Trump was playing golf with golf champion Jack Nicklaus in West Palm Beach, just a day after playing with Tiger Woods, Dustin Johnson and Brad Faxon at another nearby course.
Trump criticized former President Barack Obama for spending time playing golf during his time in office, however at his current rate, Trump is on track to triple his predecessor's time spent on the golf course. The president is expected to return to the White House on Sunday.
It is not the first time Trump has been at the receiving end of obscene gestures, after a woman flipped off the president's motorcade on Oct. 28 as it passed her.
A photo of Juli Briskman raising her middle finger at the president from her bicycle made headlines last month and resulted in her employer firing her from her role in the marketing team at the government contractor Akima LLC.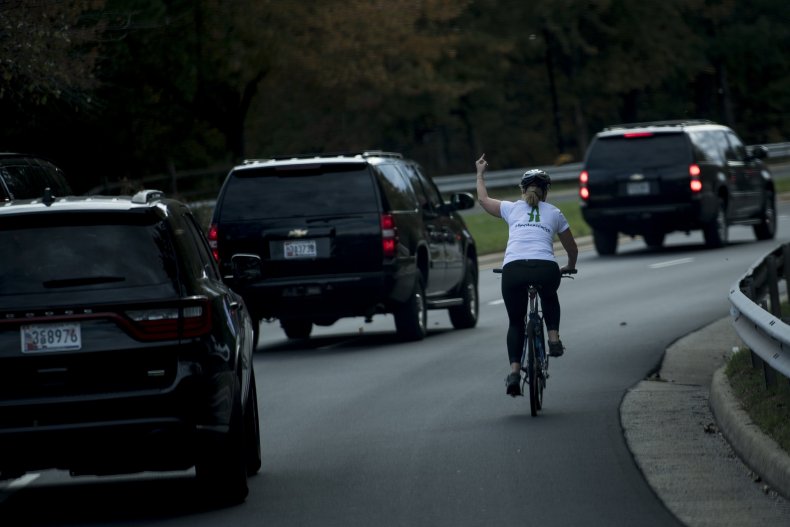 "My finger said what I was feeling," Briskman told CNN after she was fired from her job of six months for violating her firm's social media policy. "I'm angry and frustrated.
"Healthcare doesn't pass but you try to dismantle it from the inside. Five hundred people get shot in Las Vegas; you're doing nothing about it. You know, white supremacists have this big march and hurt a bunch of people down in Charlottesville and you call them good people."
Trump's motorcade was also disrupted in August after a vehicle experiencing brake difficulties crashed into a closed-off road that the president's motorcade was traveling on, though a collision was avoided.
Later in September, Trump delayed his motorcade after a police officer on a motorcycle was injured.