Angry Giants Fan Threatens to 'Shoot Up' New England Town After Patriots Sign Antonio Brown
A New York Giants football fan threatened to shoot up a Massachusetts town "white boy" style, all because last year's Super Bowl winners signed a top wide receiver.
Tobias Gray, 44, is a resident of East Providence, Rhode Island, and a Giants football fan. The New England Patriots, who won the Super Bowl last season, signed wide receiver Antonio Brown on Saturday, one day after getting released from the Oakland Raiders. The Patriots' home field is Gillette Stadium in Foxborough, Massachusetts.
Gray apparently was not happy with the transaction, so he went to Facebook to vent his frustration, and made a threat in the process.
"I'm going to pull a white boys school shooting at Foxboro you might as well hand them the ring right now I'm if I ever get my hands on a gun which I don't have one yet but I'm looking I will go shoot up random people at Foxboro," Gray wrote, according to WBZ, the CBS affiliate in Boston.
Police arrested Gray at his home Sunday, and he appeared in court — for unrelated charges — wearing a Giants jersey. He was charged with simple and domestic assault, and additionally he was charged with threatening police officers while he was getting arrested.
The Facebook post has since been deleted, but not before WSZ grabbed a screenshot of the threat.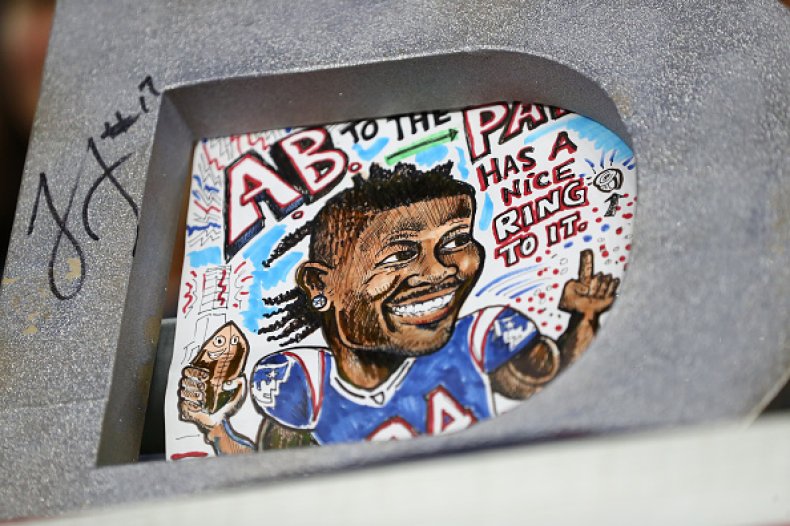 Gray's attorney, Stefanie DiMaio Larivee, told reporters outside the court Monday that "many fans" of NFL teams were not happy about the Patriots signing Brown, but could not explain her client's actions.
"He just really didn't get into why, he's a Giants fan apparently," she said. "He was not happy about it as I can see online many, many fans of many other football teams were not happy about it."
Gray reportedly has an extensive record with the law, and he allegedly posed with guns in social media photos.
Lucy Camara is a neighbor to Gray, and said she often hears Gray get into loud arguments with his girlfriend.
"Always fighting out here, always going crazy," Camara said. "But I never thought he would do that."
The Foxboro police released a statement before Gray appeared in court on Monday.
"Chief [William] Baker has indicated that the Foxborough Police are withholding comment at this time on any specific action our agency may have taken, or may take in the future, in response to the ongoing challenge of malevolent or criminal social media posts," the statement read. "In general Chief Baker says the department will respond vigorously and in close collaboration with our local, state and federal partners to take appropriate action as the law allows."
The report did not indicate whether or not Gray had access to Sunday's NFL scores in opening weekend. His Giants suffered a 35-17 defeat in Dallas, and the Patriots throttled the Pittsburgh Steelers, 33-3, on Sunday night.
Brown has been one of the best wide receivers in the NFL the last several years as a member of the Pittsburgh Steelers. He was selected to seven Pro Bowls in the last eight seasons, and he was named All-Pro four-consecutive years.
After last season, the Steelers traded Brown to the Oakland Raiders for a pair of draft picks. In the offseason, Brown got frost bite on the bottom of both his feet from cryotherapy, had an issue with the league's new helmet policy, got into an argument with the Raiders general manager and threatened to assault him while calling him a "cracker."
After Brown was fined for an unexcused absence from practice and fined even more for conduct detrimental to his team, he asked for a release from his $30 million contract. He was released by the Raiders on Friday, and signed with the Patriots on Saturday.
Brown was not allowed to play in the team's season opener, but is expected to play in New England's game this week at the Miami Dolphins.