Angry Passengers Argue With Flight Attendant Over Lack of Social Distancing on Packed Flight in Viral Video
A video showing passengers arguing with the crew aboard a packed flight in Spain over the lack of social distancing aboard has gone viral.
Journalist Efrén Hernández posted the clip of the confrontation aboard the Iberia Express flight from Madrid to Las Palmas in Gran Canaria on Twitter on Sunday.
It shows several passengers seated in different rows having a heated discussion with a male flight attendant.
As the camera pans around the area, every seat in the cabin appears to be occupied and every passenger and the attendant is wearing a mask.
"Where is the safety distance Iberia?" Hernández wrote alongside the clip in Spanish. "The plane is almost completely full and there is not even a separation seat between passengers. This is a shame."
The clip has since been viewed more than 500,000 times on Twitter and attracted comments from shocked critics.
Iberia Express responded to the clip, writing on Twitter: "Hello, we are sorry to read your message. However, we want to assure you that we comply with all the security regulations set by the authorities.
"We have reinforced the daily cleaning and disinfection of the cabin and all its elements and our fleet has a 99.9% effective HEPA filter and air system against viruses and bacteria." The airline has been contacted for additional comment.
Several Twitter users criticized the airline, while others questioned why the passengers were traveling to Gran Canaria.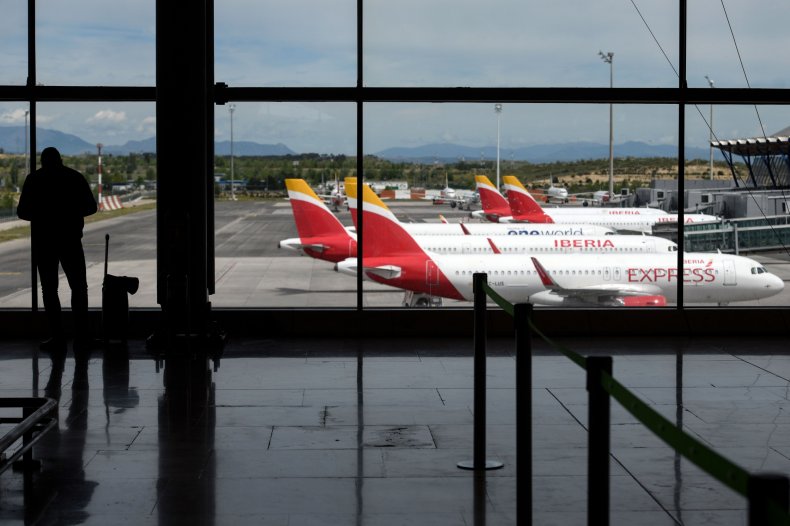 "Ladies and gentlemen, this is the way a pandemic spreads," one commenter wrote.
Andrea Cor, who was apparently on the flight, shared a different clip that showed passengers boarding.
"Iberia Express Madrid-Gran Canaria plane today," she wrote alongside the video on Twitter: "What the hell is this? How can this be allowed?Are we crazy?"
Spain is one of the worst-hit countries by the coronavirus pandemic, with more than 227,000 confirmed infections and more than 20,000 deaths, according to Johns Hopkins University. Only the U.S. and Russia have more confirmed cases.
The controversy comes as some airlines pledged to stop selling middle seats in a bid to help travelers social distance while flying amid the pandemic.
Among them was United Airlines—but a photo posted over the weekend showed one of the airline's flights from New York City to San Francisco was packed.
"I guess @united is relaxing their social distancing policy these days? Every seat full on this 737," Dr. Ethan Weiss wrote in a now-viral tweet on Saturday.
Weiss, who was traveling home after helping to fight the pandemic at hospitals in New York City, added that the airline has previously emailed him to say middle seats would be kept empty.
A spokesperson for the airline told Business Insider that it could not guarantee that customers would be seated next to an empty seat, but "based on historically low travel demand and the implementation of our various social distancing measures that is the likely outcome."
This infographic, provided by Statista, shows the countries with the most COVID-19 cases.