Angry Pastor Again Confronts 'Nazi' Police Investigating Church COVID Violations in Video
An angry pastor posted a video Saturday calling local police the "Gestapo" and "Nazis," after they presented him with a court order related to investigations that his church is violating COVID-19 safety protocols.
Artur Pawlowski, a lead pastor of Street Church in Canada's Alberta province, tweeted a video Saturday claiming that a police SWAT team had disrupted his church service for the second time.
"And they did it again! Today, the Gestapo Attacked our Church Again! History is being repeated in front of our eyes! Another sad day for Freedom and democracy!" Pawlowski wrote.
Along with the tweet, Pawlowski shared a video of the encounter, in which he can be heard calling Calgary police officers "Nazis," "fascists" and names of other paramilitary forces used in Nazi-era Germany.
In the video, police officers present Pawlowski with a notice stating that his church may be under investigation for violating coronavirus safety guidelines. A female officer can be heard stating that police are not intending to "disrupt" the church service, but rather to stand in the back of the church to perform a safety inspection.
In response, an infuriated Pawlowski can be heard screaming: "I do not cooperate with Gestapo!"
"I'm not interested in any word that you have to say. I do not cooperate with Gestapo, I do not talk to the Nazis," he said, adding: "Brown shirts of Adolf Hitler. You are Nazi, Gestapo, communist, fascists! I do not cooperate with Nazis!"
"Talk to my lawyer. You are not allowed here, you are not welcomed here. You come into the place of worship to intimidate and to harass," Pawlowski added, before screaming "make an appointment another day!"
The police officers can then be seen calmly leaving and telling the pastor to "have a nice day."
After they left, Pawlowski addressed the camera, stating: "Sickening what this country came to! Coming to the place of worship with their uniforms, their guns, again! They could do it another time, they could do it another day. No! They are following the orders of their Fuhrer. They are wicked, evil people."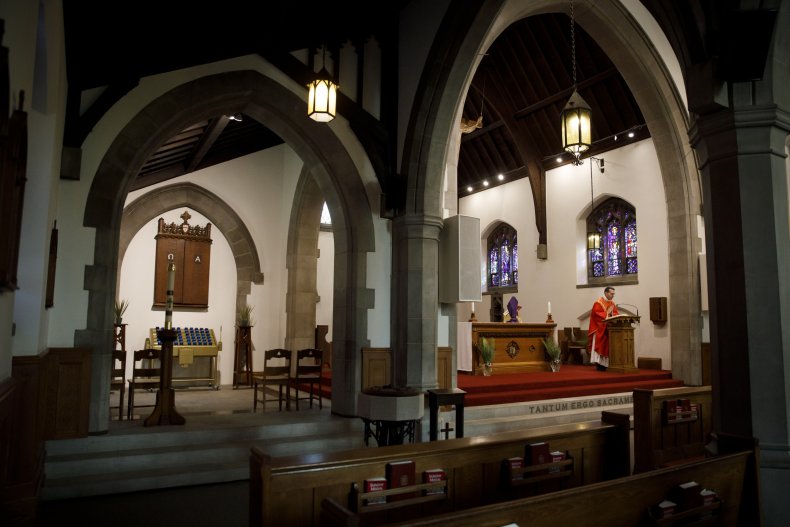 Saturday's encounter was not the first time Pawlowski referred to police with Nazi-era insults. On Easter Sunday, the pastor gained international attention after posting a video showing local police telling worshipers to leave the service due to COVID-19 safety violations.
Appearing in a segment on Fox News days later, Pawlowski likened the investigations by police to growing up in Poland under a communist dictatorship.
"I grew up under a Communist dictatorship behind the Iron Curtain, under the boot of the Soviets, and I'm tell you that's no fun at all. It was a disaster," he said.
"So, it was like a flashback when those police officers showed up at my church. Everything kind of came back to life from my childhood, and the only thing I could do is to fend off the wolves as a shepherd, and I use my voice to get rid of them," he added.
Newsweek contacted Calgary police for additional comment, but did not hear back in time for publication.