Angry Snapping Turtle Hagar the Horrible Finds New Home
A snapping turtle that was found near a riverbank in Staffordshire, England, has been given a new home at the National Turtle Sanctuary within Lincolnshire Wildlife Park.
The BBC reported that the turtle, which has since been called Hagar the Horrible, was picked up near a waterway by a man and placed in his bathtub while the Royal Society for Prevention of Cruelty to Animals responded.
The organization then asked Lincolnshire Wildlife Park to house Hagar in its turtle sanctuary, which officials agreed to do.
The park's zoo manager Andy Ferguson told Newsweek other sanctuaries were unable to house Hagar due to space issues.
"We agreed that he could come to us and remain in our sanctuary," he said. "He requires much more space than our other residents."
"Believe me, the horrible bit is correct," said Steve Nichols, the park's CEO.
Ferguson said Hagar becomes angry when out of the water, like other snapping turtles, and needs hiding spaces in his pond to hunt from and to feel secure in.
Per the BBC, it is believed that the turtle may have been a family pet that escaped or was abandoned.
According to its website, the park's turtle sanctuary is meant to provide a home for abandoned turtles.
"The sanctuary will include a number of purpose-built turtle pods, which have been designed by experts in herpetology to provide the turtles with the conditions they need to live healthy, happy lives," the website's page read.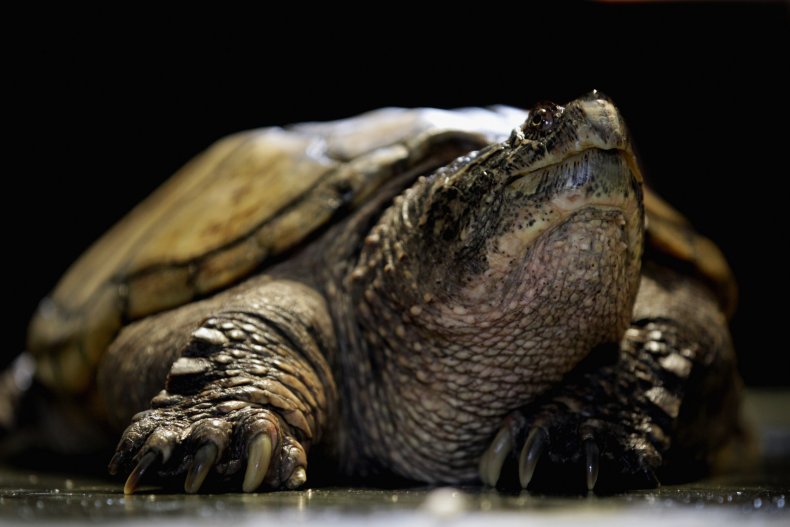 Ferguson told Newsweek that the sanctuary works with the RSPCA in rehoming unwanted or abandoned turtles. There are more than 250 turtles that live in the sanctuary.
The pods will hold up to 12 turtles each and there are plans to build more pods in the future. Per the website, the sanctuary hopes to bring in roughly 1,000 different species of abandoned turtles and terrapins.
"Turtles are very cute when small, so without prior research, it's only when they begin to reach maturity that owners begin to realize what a huge responsibility they've taken on," the turtle sanctuary said.
However, they can be difficult to rehome and many end up in local waterways.
According to Encyclopedia Britannica, snapping turtles are primarily found in North America. However, they are also seen in parts from Mexico and Central America to Ecuador.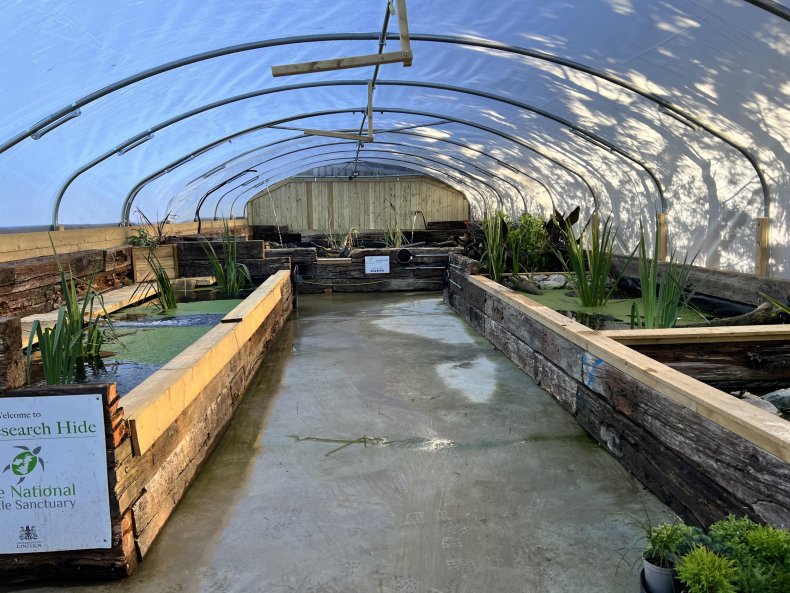 "Snapping turtles are noted for their large size and aggressive nature," Britannica said of them.
Although they are omnivores, snapping turtles generally prefer animal prey.
Newsweek previously reported on another turtle that found itself in an unusual location in September.
After a turtle meandered onto the runway of an international airport in Japan, five flights were delayed. Traffic control officials were notified of the reptile on the tarmac and staff collected it. After the turtle was removed, officials check the area for other objects.
They believed the turtle may have escaped from its retention pod just yards away from the airport, according to Mainichi Shimbun.
Newsweek reached out to the Royal Society for Prevention of Cruelty to Animals for further comment.
Updated 10/21/2021, 5:35 p.m. ET: This story has been updated with comments from Lincolnshire Wildlife Park Zoo Manager Andy Ferguson and a new photo.