Anheuser-Busch Manufactures Water for Storm Victims in Texas, Oklahoma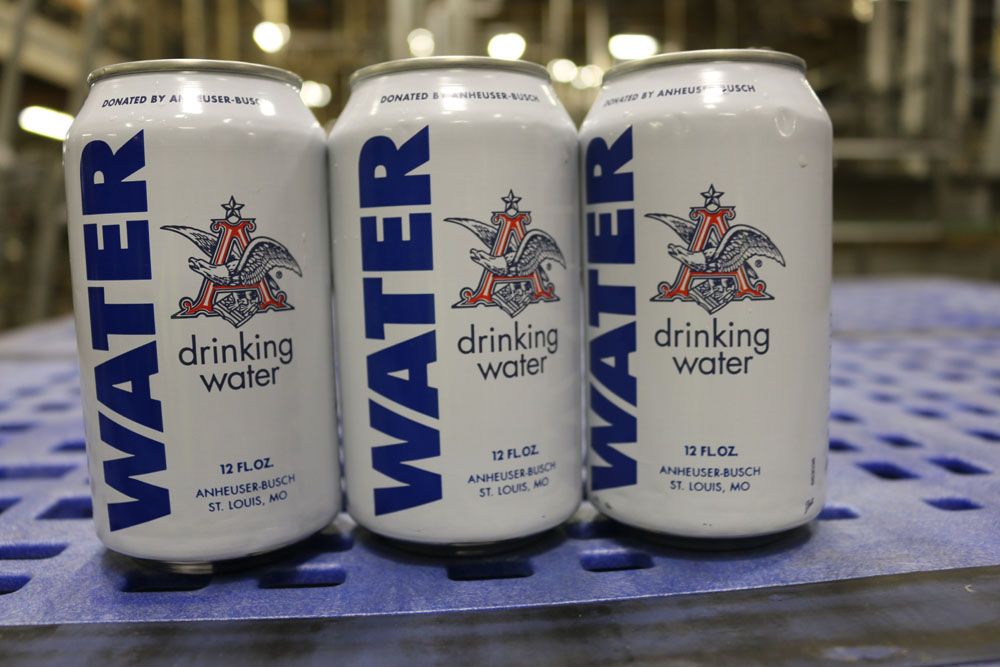 Anheuser-Busch is encouraging Americans to crack open a cold can of...water.
One of the beer giant's 12 breweries produced thousands of cans of emergency water for storm victims in Texas and Oklahoma, where this week heavy rain, flash floods and tornadoes have killed at least 25 people, left dozens of residents injured or missing and destroyed thousands of homes. The Blanco River, typically no more than 10 feet deep, crushed records in Texas by Sunday morning when it crested at 43 feet.
Early Thursday morning, the company's brewery in Cartersville, Georgia, began manufacturing the water, and finished by night, says Rob Haas, general manager of the brewery. Employees plan to deliver the cases to residents in Texas and Oklahoma within the next few days.
Some media reports credited Anheuser-Busch with halting beer production while the company produced water for storm victims. But the company confirms that just one production line was used for water, and beer manufacturing continued as normal.
Water production seems an unlikely endeavor for a beer company. But at least twice a year, Anheuser-Busch manufactures emergency water in its partnership with the American Red Cross. The Cartersville brewery is responsible for packing all emergency drinking water distributed for disaster relief efforts across the country.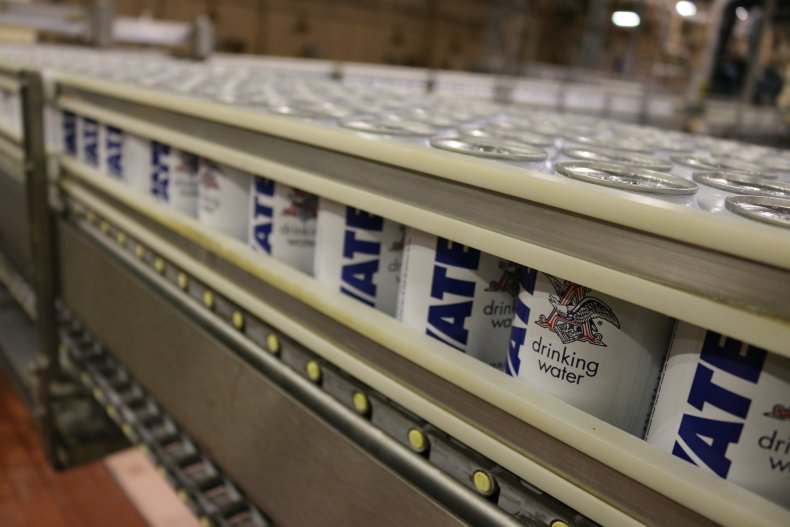 Residents in both Texas and Oklahoma have experienced severe weather conditions since last Saturday. The Red Cross initially opened eight shelters across central Texas, one of the hardest hit areas, says Bristel Minsker, communications director for the central and south Texas region. About 500 residents visited the shelters throughout six days, with numbers slowly decreasing closer to the weekend.
The humanitarian organization now is focused on providing emotional support, clean-up efforts and mass care, which includes providing food and shelter to people, says Minsker.
Most of the flood threats have diminished, and pockets of rain are predicted for the weekend. But the Red Cross is urging residents to remain aware. The grounds are saturated and water continues to invade people's property and seep into their homes.
"We are still at risk," Minsker says. But "to see the way the community has rallied around their friends and neighbors has really been a testament of how resilient they are."
St.-Louis based Anheuser-Busch, established in 1852, began helping communities cope with disaster since 1906 when German co-founder Adolphus Busch donated to the Red Cross for victims of the San Francisco earthquake that year. Since 1988, the company has given more than 73 million cans of emergency drinking water in the wake of disasters.
The beer giant is the creator of several different brands, including Budweiser, Goose Island, Shock Top and Stella Artois.